---
We start this week with an unlikely collaboration between the airlines of Saudi Arabia for citizens to follow social distancing and health guidance. Saudia, flyadeal, flynas and SaudiGulf have all come together to produce this airline safety video styled production to support the nation's efforts to overcome the spread of COVID-19.
Hotels across the world, many empty due to current global travel restrictions and social distancing advice have adopted a 'Lights of Love' outlook, turning some room lights on and others off to display a heart logo on the sides of their properties. As the team at San Francisco International Airport highlight with the example of the Grand Hyatt at SFO property "these lights show solidarity and unity for employees and the local community as a symbol of love and hope".
The idyllic Seychelles archipelago may only currently have a handful of confirmed COVID-19 cases, but its national carrier Air Seychelles has ceased international flying as tourist demand has dried up. The airline's chief commercial officer, Charles Johnson, says the nation benefits being a small, isolated nation in the middle of the Indian Ocean as it can "self-isolate naturally" and does not "have to take extreme measures of confinement". The airline speaks for the entire industry when it says, "we'll be back!"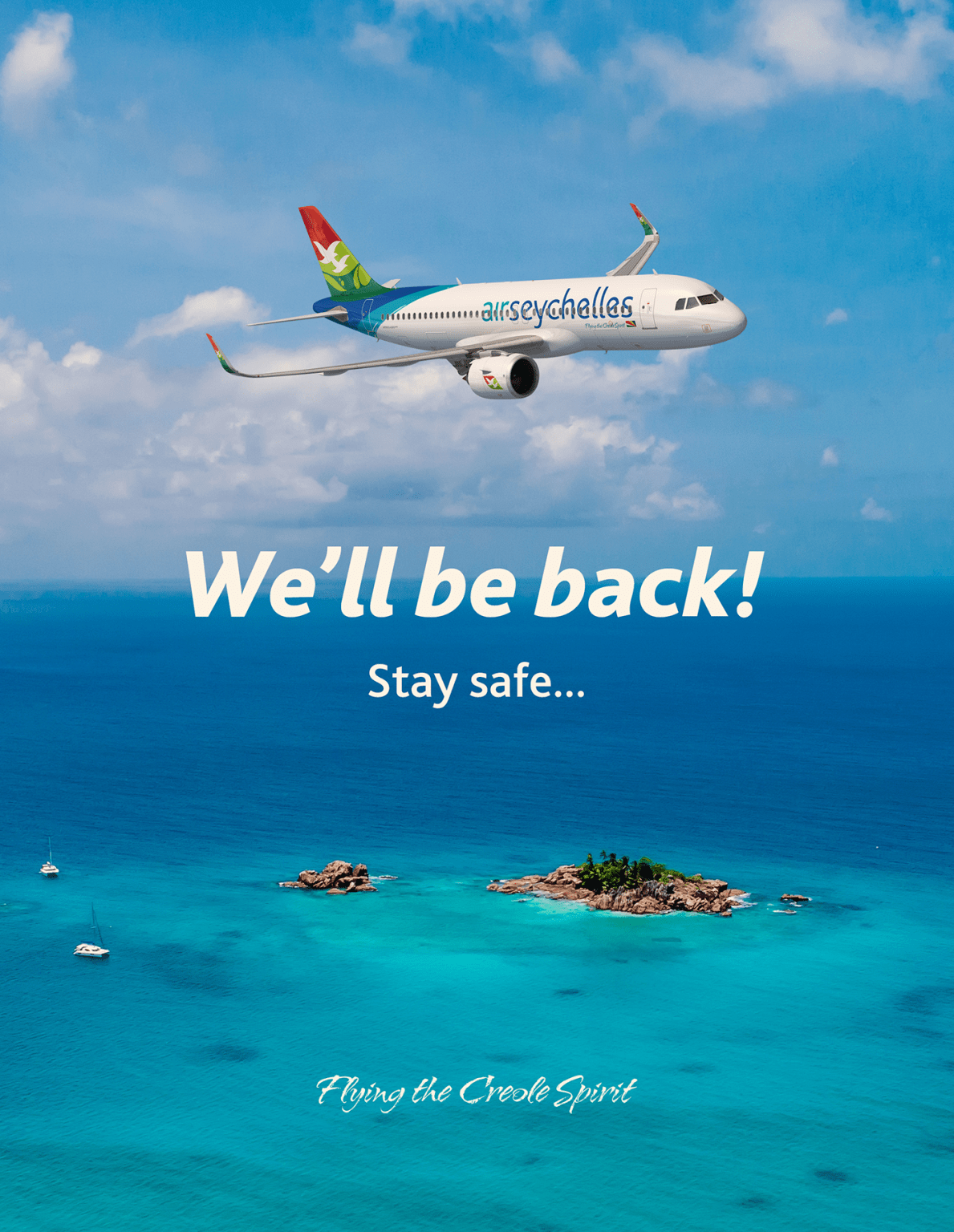 Air Malta was quick to suspend its own operations as the virus spread across Europe, but continues to provide what it describes as a 'lifeline schedule' to facilitate outbound travel for stranded individuals to their home countries and ensure essential connectivity for critical medical cases. This sees the airline offering a subject to demand timetable to the likes of London, Paris, Amsterdam, Brussels, Frankfurt and Vienna. Meanwhile, much of the airline's fleet is going into self-isolation.
In a social media post and video to support the need for social distancing and self-isolation it says: "We are staying indoors for now, so that we can fly soon. Stay home, stay safe, so that we see you soon. We will come out of this stronger together."
Also supporting the #StayHomeSaveLives initiative, UK train operator LNER, which runs services linking London to Scotland along the East Coast Mainline, highlights the importance of following government advice, In a parody of Celine Dion's famous 'All by myself" song, train manager Davey Quokka is feeling rather lonely onboard one of the company's recently introduced Azuma trains.
The train operator says: "We may not want to be all by ourselves... ...but by staying at home, and socially distancing, we could literally save thousands of lives."
"Caring for people is what we do in hospitality. It is who we are," says the InterContinental Hotels Group (IHG) in a social media post which highlights how, in these challenging times, it is finding new ways to care for its communities. Like many accommodation providers it has seen occupancy levels at its hotels hit the floor, but like others it has opened its doors to provide rooms for key healthcare workers and the homeless. As it says: "While our hearts haven't changes, the world around us has."
It is a sad time that so many airline staff are currently suffering furloughs, but as SAS Scandinavian Airlines highlights, many of its own cabin crew are already making a difference by retraining as healthcare professionals. This is part of the airline's initiative for employees to get the opportunity to contribute to society and take temporary work where they are needed the most. It is not alone, across the world many employees who just a couple of weeks ago were working at 38,000 feet are now supporting the COVID-19 fight on the ground. As SAS says in a social media post: "A different shade of blue - but the same heart, ambition and dedication."
Tour operator TUI regularly uses its brand name in marketing campaigns. One recent slogan was "we dot the 'i's, cross the 't's and put you in the middle". Now, it says #LetsTUIthistogether in the hope #WeWillSoonBeTakingOffAgain. The company this week shared the following image on its social media channels, which was created by Vincent Snauwaert, one of its public affairs team in Belgium. We think it sums up all of our hopes right now.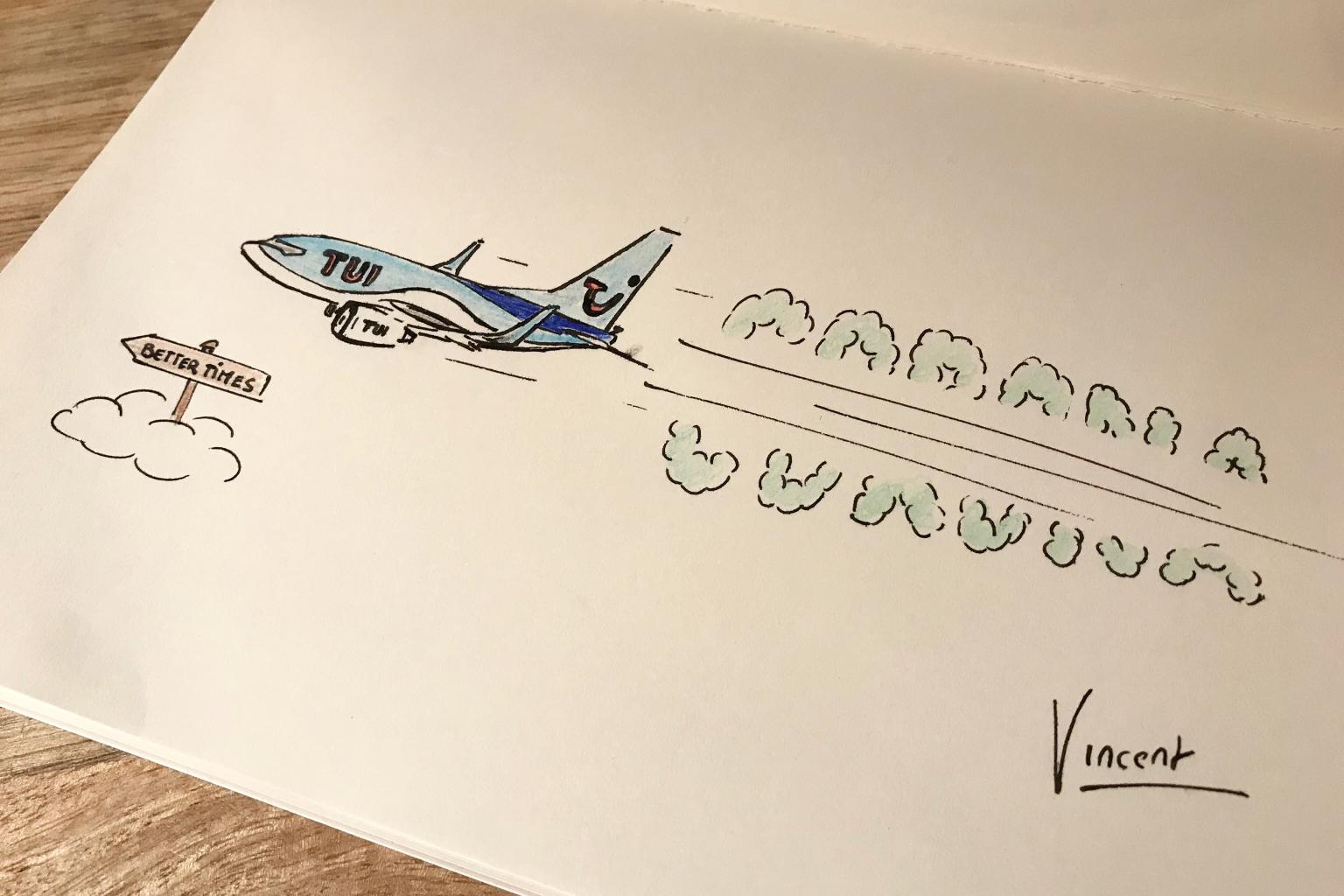 This year's April Fool's Day was no time for jokes. For Campbell Wilson it marked his return to Singapore-based LCC Scoot. The airline, part of the Singapore Airlines Group, hopes to the COVID-19 clouds will shortly pass. In a letter to all his employees on his return, Mr Wilson highlights the important role frontline staff have, and continue to play, during this global crisis. He says: "Whether they be cabin crew, customer service staff, healthcare workers, cleaners, supermarket staff and so many others. They keep the world running, and deserve our thanks." We couldn't agree more!
We all know that securing rights to fly into London Heathrow Airport is near impossible without deep pockets to acquire a slot pair or two. Well, this week UK regional carrier Loganair has introduced its first flight into the UK hub as it maintains the Isle of Man's essential air service to London for British Airways over the next month while London City Airport is closed. As the airline's CEO, Jonathan Hinkles, acknowledges "a sign of the strange times in which we find ourselves."
Maybe the team at Perth Airport in Australia have a little time on their hands while things are quiet as they hope to use the force to bring back some normality to air travel. Stephanie Juszkiewicz, vice president of aviation business development, says the airline marketing team at the airport are busy behind-the-scenes preparing to strike back! "May the force be with all our airline, airport & industry," she says. It is just a month before Star Wars enthusiasts celebrate the annual 'Star Wars Day'. The date was chosen for the pun on the catchphrase "May the Force be with you" as "May the Fourth be with you".
For all of you that are used to speaking to colleagues in airport codes, this week we leave you with some new ones to learn while we work from home. As we all know, there are examples out there that really make no sense and even the most well travelled among us couldn't identify. We have added a few of our own to the original list that has been circulating on social media, including a few obscure ones.
LVG - living room; DNR - dining room; BTH - bathroom; BKY - backyard; PAT - patio; MBR - master bedroom; OFC - office; WNC - wine cellar; RJM - loft; OUT - shed; CAR - garage; FRG – fridge; DSK – desk; LKD – linkedin; WAP – whatsapp; LPT – laptop; ZZZ – Working from home; OWN – self isolation; SOD – social distancing ; HEL – too much family; MAD – not another joke; DOG - daily exercise; DHL – home deliveries; FAR – post COVID-19; BAR – keep hydrated; and most importantly... CPA - CAPA analysis!