---
We start this week with one airport that has seen an increase in aircraft movements over the past couple of weeks. This is Teruel International Airport in Spain, which despite being located between some of the largest cities in the country: Madrid, Barcelona, Valencia, Zaragoza and Bilbao (60% of Spanish GDP and more than 20 million within 400 km) it has not become successful for its passenger operations, but as a graveyard for airliners. It is home for Tarmac Aerosave, which is currently responsible for an increasing number of aircraft that have gone into storage - both short- and long-term - due to the Covid-19 demand crunch.
https://twitter.com/TeruelAirport/status/1252621287492640780
Many airlines are continuing to provide a vital role supporting the carriage of essential cargo around the world. This week we feature SAS - Scandinavian Airlines and the story of a shipment from China to the life-science lab at Karolinska in Sweden's capital Stockholm.
Some airlines are also operating a number of repatriation flights to bring nationals back home. The crew at Kuwaiti carrier Jazeera Airways display their uniform for the flights the airline flew back into Kuwait City, As Jazeera's CEO says: "The safety of our crew is a very high priority, and they deserve the best Personal Protective Equipment while operating these flights!"
Staff at a number of airlines are following the #dontrushchallenge. Eurowings have excelled with crew at three of its bases producing videos. First, we feature the #WingsFamily at Cologne...
... now Dusseldorf...
... and finally Stuttgart.
The crew of leisure carrier Correndon Airlines have also joined the fun. Here's their version.
Here's another from the crew at Lufthansa.
This is the offer from Helvetic Airways from Switzerland.
The #dontrushchallenge has taken on an original angle at regional carrier Loganair. The UK airline has recently expanded across the UK and into Europe, but its heritage is in Scotland, and it is very proud of that fact. The Tunnock's caramel wafer -which packs five layers of wafer and four layers of caramel into a milk chocolate shell - is a Scotland favourite, and shared by Loganair on its network of flights.
British Airways and Cathay Pacific have taken an alternative theme on the #dontrushchallenge using it to exclusively promote their high numbers of female flight crews. Here's the version from the Hong Kong-based carrier.
The British Airways female pilots decided to use their video as a vehicle to thank the NHS and the key workers who are doing all they can to keep the country running and to keep us safe. Many of the group are actually volunteering in any way they can. They have all made a donation towards Comic Relief's Big Night In, which will see funds distributed to many charities, including local charities keeping people safe from harm, mentally healthy and with access to food, warmth and shelter; as well as helping people stay connected, active and positive through these extraordinary times. You too can donate here: Just Giving - BA Pilots
This cartoon caught our eye on social media and made us chuckle. It is important for our mental health that we bring some humour into our lives so we will be looking out for more of these in the coming weeks.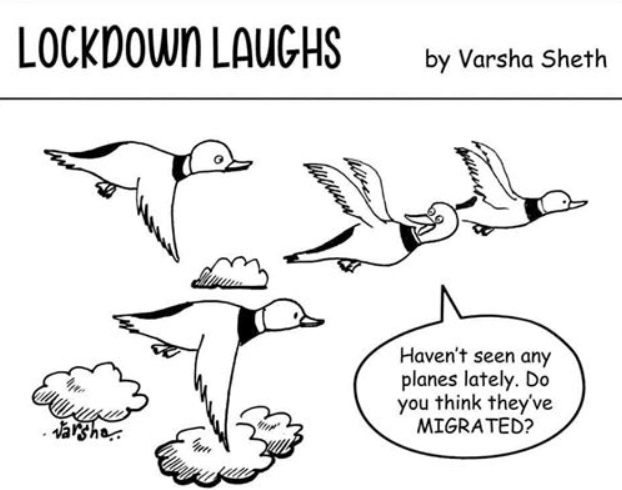 We highlighted in a previous edition about how onThursday evenings at 8pm in the United Kingdom people have stopped what they are doing ans stood on their doorsteps, in gardens, on balconies or at windows and completed a "Clap for Carers" tribute, saluting NHS staff and other key workers dealing with the coronavirus pandemic. We previously featured the fire services team at Manchester Airport And it is great to see this has now spread among airports and airlines across the country.
We end this week with the 'pretend to be on a plane' challenge in China. Travelers were expected to make 73 million airline trips for February's Chinese Spring Festival. Many weren't able to take to the air due to travel restrictions across the country, so many creative people decided that they should fake it.