It is now some time since the mainland China lockdown came to an end and despite a few isolated concerns domestic reported cases of Covid-19 remain low. Businesses remain cautious though, but confidence is slowly returning with sentiment studies showing more people are feeling safe to return to their former ways of life, with the added physical distancing that is now an accepted part of life.
But the recovery is taking much longer than most anticipated delivering a blue print that will worry other nations across the globe. While China's domestic market is seeing capacity levels closing in on last year's levels, the growth in demand is flagging behind and this traffic remains dominated by the visiting friends and relatives demographic and some leisure travel.
Encouragingly, business demand has bounced back but numbers are understandably down. Travel manager members of the Corporate Travel Community (CTC) are seeing encouraging signs of the beginnings of a recovery in domestic corporate travel in China. But that same cannot be said of international travel where restrictions and enforced quarantines dilute demand.
In China's corporate travel community a key milestone took place last month when CTC hosted delegates at its CTC Roundtable Discussion – China – the first live CTC event since global lockdowns were enforced. With the support of Accor, the half-day event took place at the Fairmont Peace Hotel in Shanghai, China on 17-Jun-2020 and was one of the first live events to take place since the global pandemic outbreak.
You can learn more about the event and the discussions that uncovered the perspective of both travel vendors and travel managers on adapting to a post-Covid-19 world, here:
https://corporatetravelcommunity.com/the-corporate-travel-community-came-together-last-week-in-shanghai-for-its-first-2020-roundtable-discussion-in-2020/
A survey of attendees provided some additional insights into the business travel mindset in China and how travel buyers plan to adapt to the changed environment. More than three quarters of businesses (77%) believed that more than half of employees would be happy to travel once travel restrictions are lifted with just under half (48%) suggesting that the majority of their staff would be happy to travel.
A high majority (87%) were seeing growth in domestic travel bookings, but less than 10% were seeing the same with international travel bookings. The rise in domestic travel bookings among the respondents varied significantly with almost equal numbers seeing growth ranging from low single-digits, high single-digits and double-digit rates.
INFOGRAPHIC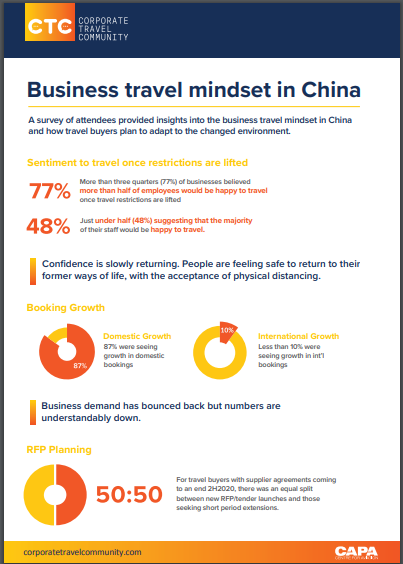 CTC Survey Inforgraphic – click link to to see a summary of the findings
Interestingly, among the travel buyers with supplier agreements coming to an end over the second half of 2020 there was a pretty equal split between those planning to launch new RFPs or tenders and those seeking just short period extensions.
The world is a very different place now and many of the things required to make the old process work – historical data, staff support for both companies and hotel properties, confident projections for hotel rates or corporate travel demand – have all been obliterated by the pandemic and subsequent economic downturn.
Some argue that the normal no longer works, especially with plummeting hotel rates and volatility expected to remain for the next year or longer. In the face of these difficult dynamics, some have said the best response would be to roll over negotiated rates from 2020 to 2021 and opt out of a hotel RFP season this year. But that could mean that given the circumstances that travel buyers would have to agree to pay inflated rates, potentially for as long as 12-18 months as the market recovers.
Will we now see a different perspective on many aspects of business? The old mantra: "we have always done it that way" that has subdued innovation and development has now hopefully been dismissed to the history books.