As Egencia highlights, "doing business in-person has never been so important". At a time when there are more ways to digitally connect than ever before, making face-to-face, in-person connections has become a competitive advantage. "Building a company culture that invests in business travel can lead to greater innovation, increased opportunities for growth, and better overall performance," it explains.
The 'Travel Culture – Your Innovation and Growth Advantage' report illustrates how in-person collaboration is critical. "Companies with a strong travel culture - one where the company, its leaders, and its processes support the use of corporate travel as a form of strategic investment with business value - produce better business results," it explains.
The findings are based on a survey of 587 respondents who were familiar with their organisation's corporate travel policies and culture. They show that three-quarters of companies with a strong travel culture and two-thirds with very effective business travel management agree that face-to-face collaboration is extremely important to innovation in their organisation.
But, as the report discusses, real innovation goes beyond collaborating with colleagues. "To truly stay agile in a fast-paced environment where the market, competitors, and customer's wants and needs are continually shifting, companies have to deepen their relationship with their clients, partners, and suppliers," says Rob Greyber, president of Egencia.
"Innovation must happen with them - in person, face-to-face, and not in silos. In other words, use corporate travel as a strategic lever for growth," he adds.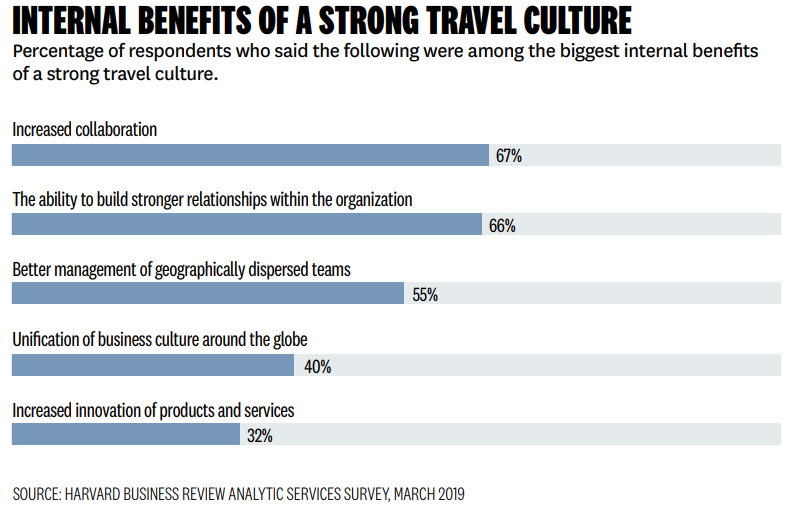 The report demonstrates that investing in employee travel can certainly help to create the conditions necessary for growth and innovation. Specifically, six out of ten respondents say in-person collaboration is very important to innovation and delivering new products and services for their organisation. An even greater number of those respondents whose organisations' business travel management was very effective say so (68%), as did 72% of those in organisations with a very strong travel culture.
It appears from the report that for many companies, particularly those in hyper-growth mode, investing in business travel and in the positive experience of that process is exceedingly important for the sales function. The vast majority of respondents say that sitting down face-to-face is the best option for meeting new clients (89%), understanding customers (82%), and negotiating contracts (71%).
However, well over half also say that in-person interactions are best for activities such as initiating discussions with potential targets for mergers and acquisitions, identifying new growth opportunities, and managing major projects in other countries.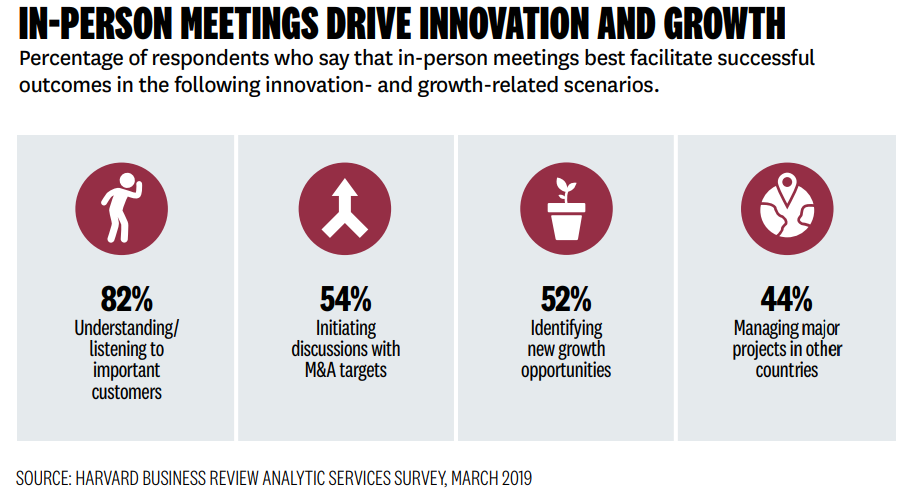 The report also highlights how the value of empathy in innovation has become evident in recent years and illustrates that business travel - whether to talk one-on-one with customers about how to solve their biggest pain points or meet with suppliers or strategic partners - is a proven empathy builder.
Four in five business leaders (81%) say that travel gives them greater awareness of and empathy toward customers and coworkers. Around the same number also say that in-person meetings are necessary to ensure positive, long-term relationships across the board - with key business partners and suppliers (80%) and among employees and coworkers (78%).
Even more importantly, it notes that those in organisations with a strong travel culture are more likely than other respondents to have seen significant increases in business performance that correlate with innovation and growth.
They were not only more likely to see significant improvements in their new product and service innovation and speed to market over the past year, half of them report significant improvements in customer loyalty and almost as many cited significant increases in profitability and market share.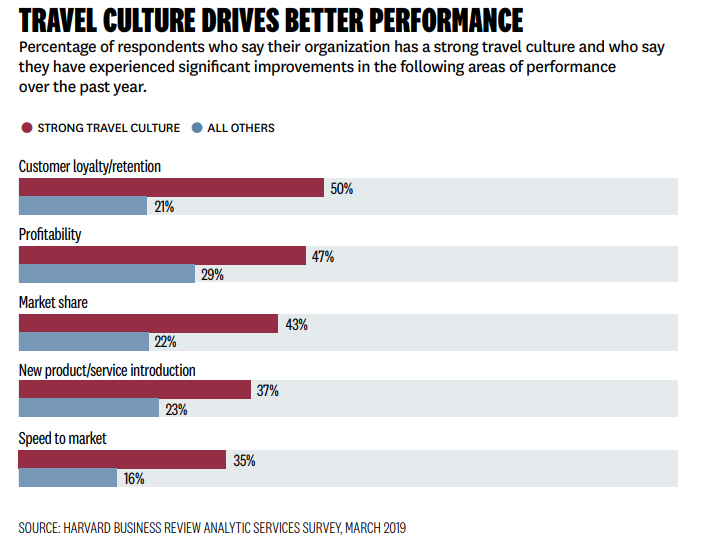 Despite the proven connection between travel and the innovation and growth that most organisations seek in this era of disruption, respondents nonetheless report significant hurdles to business travel in their companies. Lack of funding is far and away the biggest obstacle to business travel, cited as an issue even in those organisations with a strong travel culture.
The report notes that those working in stout travel cultures were less likely to encounter issues such as lack of leadership buy-in to the value of business travel, clunky travel and expense systems, unclear travel processes, and inflexible travel policies and options.