On 14-Mar-2022 the UK government announced the end of the remaining restrictions on international travel. From 4am on 18-Mar-2022 nobody arriving in the UK has needed to take a test for COVID-19 or complete a passenger locator form – regardless of vaccination status.
The UK suffered a bigger fall in air travel capacity during the depths of the pandemic but recovered its historical position as Europe's biggest market by seats in Feb-2022. When the government announcement was made it was still only at 67% of pre-pandemic seat numbers compared with a Europe-wide average of 71%.
The end of international travel restrictions has already made a strong impact on booking levels and travel schedules as has the move into the Northern Hemisphere summer schedule. This should ensure that the UK retains its lead, but also provides a case study for other markets, especially those across Asia Pacific that have been slower in removing COVID-19 international travel restrictions.
UK travellers feel optimistic about international travel
Research from Collinson, the global end-to-end travel experiences, airport services and travel medical company, has revealed that most UK travellers now feel optimistic about international travel, marking a significant milestone for the sector regionally, as well as globally.
As a follow-up to its 'The Return Journey', a 2021 global report that examined attitudes and expectations towards travel before and during the pandemic, Collinson, in conjunction with market research firm Censuswide, has polled over 2,000 UK air travellers to understand their new priorities as we start to witness positive signs of travel recovery.
Strong support for return of corporate travel
From a business travel perspective, the research shows that eight in ten (84%) travellers plan to travel abroad for business before Sep-2022. Notably, one in four (26%) business travellers say that not being able to travel for business has put them at a competitive disadvantage, a more than doubling of the 10% that said the same back in 2020.

Return of business traveller will further boost leisure demand
The strong demand for business travel is a major boost for an industry that has struggled throughout the pandemic, and will further boost the overall recovery of travel. Approaching nine in ten (88%) business travellers also plan to travel for leisure in the next year, according to the Collinson findings. A significant 93% of leisure travellers already plan to travel abroad by air for leisure in the next year, based on the research.
Frequency of travel and consumer spend likely to increase
The findings reveal that 43% of travellers have put money aside during the pandemic specifically for future travel. Importantly, the research suggests that both frequency of travel and consumer spend are likely to increase over the next year, with 44% of travellers intending to travel abroad more frequently post-COVID-19 and 46% reporting that they'll spend more money on travel this year than they would have prior to COVID-19.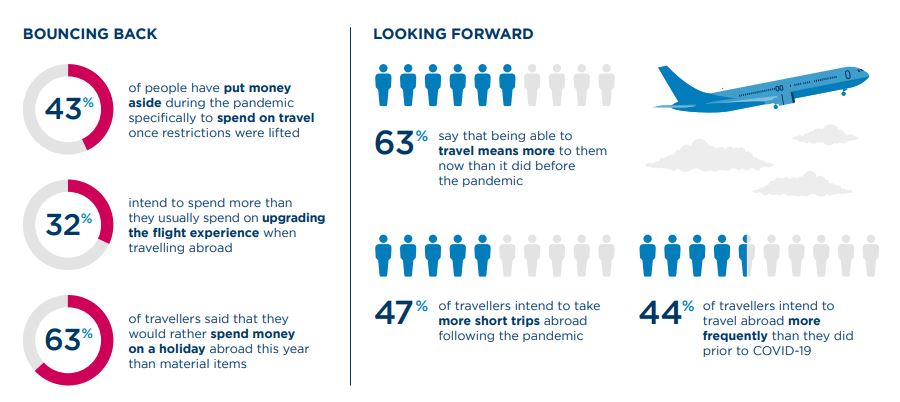 Consumers are also set to prioritise international travel over physical products during the next year, with almost two-thirds (63%) of travellers reporting that they would rather spend money on a holiday this year than material items. The prospect of travelling again was a key motivator for Brits during the pandemic and the same level (63%) say that travel means more to them now than it did before the pandemic.
Confidence to travel remains inhibited by concerns
While two in five (39%) travellers are confident about travelling internationally in the next year, a similar level (38%) still have some concerns, according to Collinson's research. Just under half (48%) remain concerned about losing money because of COVID-related cancellations and (48%) admit that their decision to book a trip would be influenced by more flexible re-booking policies or COVID-19 insurance as standard.
Around a third (32%) of travellers today are concerned with their mental health, up from 24% in 2019, and the possibility of quarantine causes headaches, with a third (34%) of travellers putting this as one of their top concerns for their journey. Cost is also a key concern: 30% are worried about the costs and hassle of cancelled flights.
A clear and pent-up demand for travel, but a need to allay concerns
This may be UK research, but it highlights a trend for many other parts of the world. It shows a clear and pent-up demand for travel, but that there is a need to allay concerns, and to make the experience both enjoyable and efficient. This brings new travel options to the forefront.
The research suggests many travellers are willing to pay for additional services during their forthcoming journeys; 29% would pay for fast-track security, and 30% would pay for fast-track passport control. On the flight, 30% would pay for extra legroom and 20% would pay for extra hold luggage.

Furthermore, over a quarter (27%) would pay for airport lounge access to improve their wellbeing at the airport, and two-thirds (66%) want socially distanced spaces to sit in, showing that many people are prioritising their wellbeing and taking time out to relax during the journey.
Positive progress, but stress of travel remains
Almost half (48%) of travellers in the Collinson research admitted that flying this year will be more stressful than last year – a 10% percentage point increase on those who flagged that travel in 2020 would be much more stressful than in the past.
Despite increased traveller confidence, the research shows health and safety remains hugely important to consumers, with three quarters of travellers (75%) flagging they'd still like to see clear health and safety measures in place at airports.
Industry has important role to play supporting traveller needs
The entire travel ecosystem has a role to play in enabling travellers. The research highlights that almost a third (30%) of travellers admit that understanding COVID documentation (vaccine passports etc) was stressful, and 29% said the same about testing requirements.
"As an industry, we need to come together to mitigate these concerns," says David Evans, joint CEO at Collinson. We're starting to see green shoots, as people look to re-capture the magic of travelling abroad. They've saved up for trips, and now it's up to us, as an industry, to continue making that experience enjoyable and efficient for them."
"One of the aspects of travel that we lost during the pandemic was that seamless, end-to-end experience that people crave when travelling, and it's really important that we, as an industry, continue to work together to re-build traveller enjoyment," he adds.