One of them is Groningen Eelde Airport, which is situated 200km to the northeast of Amsterdam in the province of the same name. Groningen is an old but lively University city with 55,000 students, once a regional power of the northern Netherlands, a semi-independent city-state and member of the Hanseatic League. Today it has a population of 200,000 and a wider metropolitan one of over 300,000, making it the largest in the north of the Netherlands , and it hosts one of Europe's leading rock music festivals and conferences.
Groningen is also connected by rail to most of the major cities in the Netherlands and is the sort of trendy smaller city that could attract millennials seeking alternative weekend-stay locations, and possibly airlines attuned to that mindset, like Joon.
MAP – Located around two hours from the Netherlands' main international gateway of Amsterdam Airport Schiphol, Groningen is the main municipality as well as the capital city of the eponymous province in the Netherlands and the largest city in the north of the country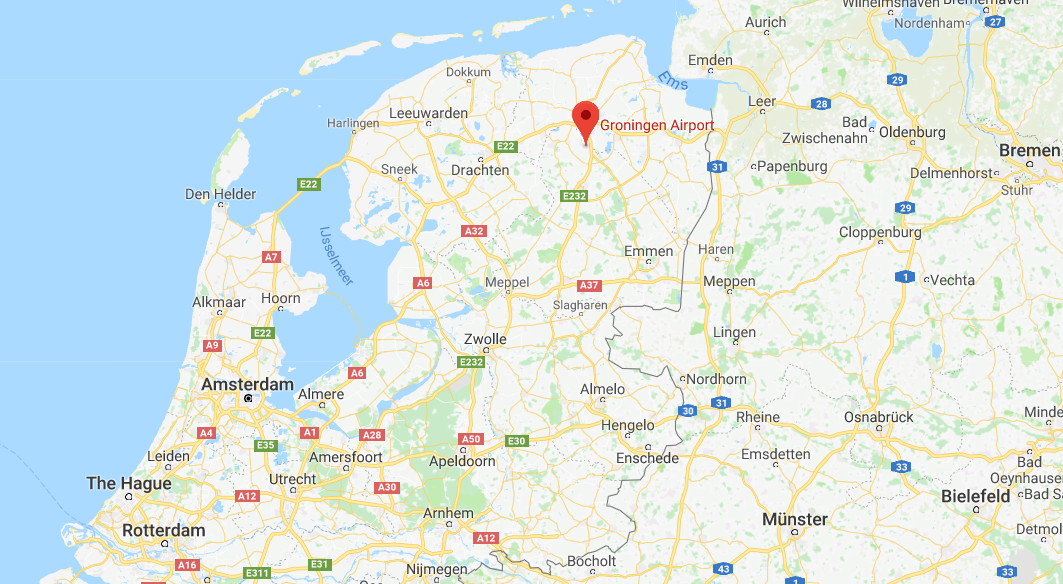 Source: Google Maps
Groningen Eelde Airport serves the city and the surrounding provinces of Friesland and Drenthe. The airport's traffic is mainly leisure-oriented. At one time numerous destinations in the Mediterranean region were served by the LCC transavia.com but currently there is only a Canary Islands service by that airline and, in summer, one to Heraklion (Crete), Faro and Palma. Correndon Airlines also operates two seasonal charters and will be joined by Aegean Airlines (one route) in 2018.
Otherwise, the three main scheduled services are unusual. Flybe operates a service connecting the city with London Southend, the smallest and most distant of the six London airports, and the service has just been expanded from six flights weekly to 18 weekly. Right now it has the greatest capacity with 2,520 seats per week. Meanwhile Estonian flag carrier Nordica operates to Copenhagen and Munich and will add seasonal service to Ibiza and Nice in 2018.
CHART - Groningen Eelde Airport's traffic is mainly leisure-oriented with the United Kingdom and Denmark responsible for more than two in three seats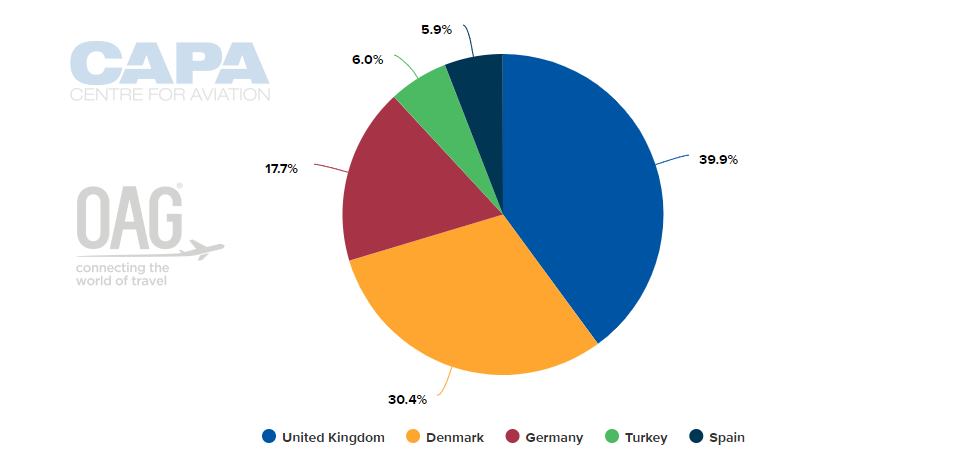 Source: CAPA - Centre for Aviation and OAG (data: w/c 09-Apr-2018)
Traffic growth has come in fits and starts as the chart below makes clear. There was a huge increase of 58% in 2012, when clearance was finally given to a runway extension that had first been mooted in 2000 and which prompted Ryanair to add three new routes, returning to the airport for the first time in eight years. However, Ryanair quit Groningen again in 2014, 18 months after the extended runway was put into service.
CHART - Groningen Eelde had seen annual traffic levels decline in 2013, 2014 and most recently in 2016, but enhanced connectivity saw passenger numbers grow by just under a third in 2017 to deliver a record performance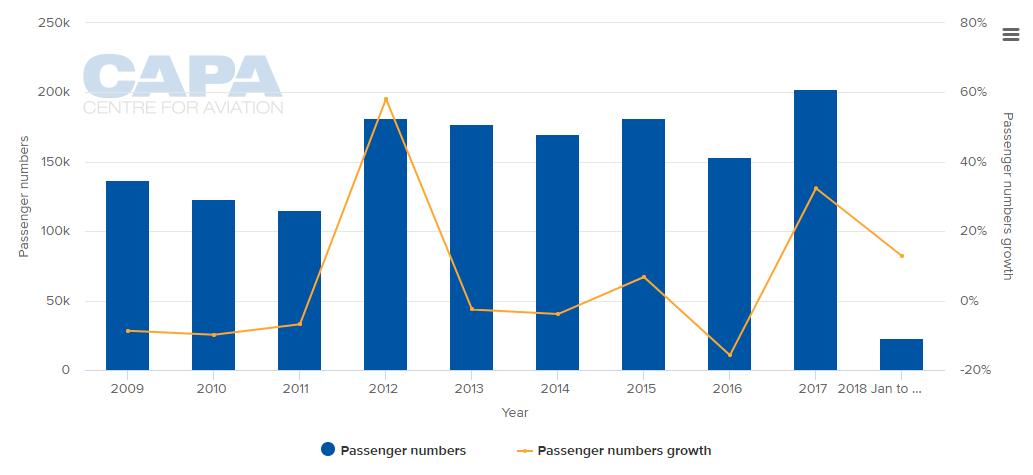 Source: CAPA - Centre for Aviation and Statistics Netherlands
After that, growth levelled off again and went into negative figures (-15.7%) in 2016, before increasing by 32.4% in 2017 to the highest level ever recorded (202,000), mainly on account of the scheduled services. Growth in the first two months of 2018 continued strongly, at +12.9%.
In Mar-2018 the airport's director, Marco van de Kreeke stated the airport is "a serious alternative to Schiphol", arguing the airport boasts faster arrival times to Copenhagen, Munich and London than when travelling via Schiphol. He also revealed that the airport will serve over 100 destinations in summer 2018, with 37 weekly scheduled services. The management believes Groningen can accommodate an additional six to ten carriers and targets a passenger increase to 600,000 by 2023.
Groningen has plenty going for it. There is an almost perfect 50:50 split between full service and low cost capacity (and, ergo, between alliance and unaligned capacity). Most of that capacity is concentrated in just nine of the 24 hours, with gaps at most times of the day that could be filled by new services without imposing on operational organisation.
According to the CAPA Airport Construction Database, EUR13.8 million (USD15.2 million) will be invested in the airport by the Province of Groningen for short term projects. EUR46 million (USD50.4 million) in investment is required over a longer 10 year period, as part of which the terminal will be modernised. At 1,800m the main runway can take most of the point-to-point short haul jet aircraft types that are operated by Europe's main LCCs and network airlines.
https://corporatetravelcommunity.com/new-connectivity-puts-groningen-on-the-map-but-can-a-regional-partner-succeed-where-lccs-have-failed/
But it has its disadvantages, the most significant one of which is its distance from Amsterdam. Even Ryanair could not realistically call the airport 'Amsterdam-Groningen'. So, can it be a serious alternative? Well, yes! The airport certainly has a greater role to play than it does now, and it can certainly help to fill a gap until the Lelystad 'solution' for Amsterdam's capacity issues is enacted; assuming that it ever is.
It will never be an alternative to Schiphol for long haul flights or connecting services but it can remove some superfluous O&D demand for Schiphol while boosting the economic prospects of the five municipalities and provinces that own it by attracting more airlines that can bring visitors to what remains a largely unknown region of the country.