While the Group only had just over 65 members at the last count, there is growing opposition to the decision to destroy part of the airport's heritage, and not only out of sentimentality. While the original T1 pier that is still operational is totally unsuitable to modern aviation, with few air bridges, and a series of confusing step-changes through different levels, especially for arriving passengers, there are large parts of the terminal that are perfectly serviceable and which would be attractive to budget airlines under the new regime. In other words it could become the 'low-cost' terminal that Manchester once planned to convert out of a maintenance facility but never did.
A look at the detailed Manchester Airport profile on the CAPA - Centre for Aviation website highlights the role of low cost carriers at the airport. According to this week's flight schedules they account for 49.3% of seat capacity at Manchester Airport, with Ryanair and easyJet alone accounting for 14.6% each. Perhaps Ryanair might even be attracted to the idea of owning and operating its own terminal if the alternative was a more expensive operation in a revamped T2 or T3.
One reason for the demolition is that there is an apron/taxiway 'pinch point' where T1 and T2 aircraft movements merge, which is better understood from the graphic below.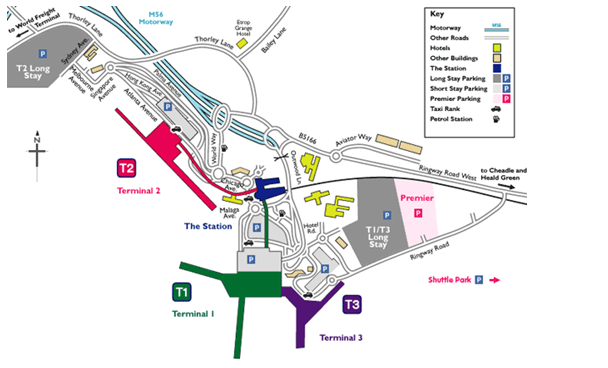 But to the west of the area shown above, in the 'white space' which is currently where remote parking takes place that should not be needed when the T2 expansion is complete, there might be room for an additional taxiway and the 'pinch point' would be reduced by demolition of the T1 pier.
Other revelations included that T2 will have a 'walk-through' duty free area, reflecting a desire amongst passengers not to be forced to run the gauntlet of retail outlets and to be able to chose an alternative path to the gate if they so desire. Manchester was heavily criticised for excessive retail focus when it revamped T1 following the 2006 terrorist liquid explosives plot which forced airports to move retail concessions airside.
The proposed US Customs and Border Control immigration pre-inspection facility, which Manchester was invited to apply for - along with London Heathrow - three years ago, and which would be situated in T2, still awaits a decision. Cost is an issue, along with reluctance amongst some airlines to sign up to the concept. It could be argued that it is a facility Manchester really needs, especially if Heathrow adopts it and if Dublin, which is already part of the programme, sees an expansion of transatlantic services that could be fed from alternative airports to Manchester in the north of England.
The conference was mainly concerned with surface transport. A representative from HS2, the high-speed rail line which will eventually connect London with Birmingham, Manchester, Leeds and other places made a positive presentation in respect of how it should benefit Manchester, its airport and the wider region, but was unable to deny the suggestion that its implementation period is so epic (2026 to Birmingham, 2033 to Manchester) that it might be made redundant by emerging technologies such as Hyperloop.
A Principal Strategic Planner at Network Rail made the observation that the much-vaunted 'Ordsall Chord' project, which opened in Dec-2017 and which connects Victoria and Piccadilly stations by a previously discarded bridge, and which theoretically makes it easier for rail services to operate from the north of Manchester directly to the airport, is not really working yet as it should.