Melbourne has been Royal Brunei's only destination in Australia since late 2011, when it dropped Brisbane and Perth as part of a major network restructuring. Royal Brunei also previously served Darwin and Sydney.
Royal Brunei decided to focus on Melbourne as its only Australian destination, rescheduling the flight and upgrading it from four weekly flights to daily in 2012 to maximise connections. More than 70% of Royal Brunei's Melbourne passengers transfer beyond Brunei, with London the most popular destination.
While Australia-Brunei is a very small local market, the airline strategically needed to maintain one Australia route in order to help feed its daily London service and keep its widebody fleet sufficiently utilised. Bander Seri Begawan-Melbourne and Bander Seri Begawan-Dubai-London Heathrow are the only regular year-round routes operated by Royal Brunei's fleet of four 787-8s, which replaced 777-200s in late 2013 and early 2014.
Royal Brunei's capacity to Australia – and its overall system-wide capacity – has been flat the last five years. The airline since the beginning of 2012 has operated at a system-wide capacity level approximately 30% below 1H2011 levels. Royal Brunei's Australia operation peaked in 2011, when it generated 293,000 seats and flew 180,000 passengers to and from Australia. In 2016, the airline flew only 130,000 passengers to and from Australia and generated 184,000 seats with an average load factor of 71%.
Royal Brunei Airlines annual passenger traffic and average load factor to/from Australia: 2007 to 2016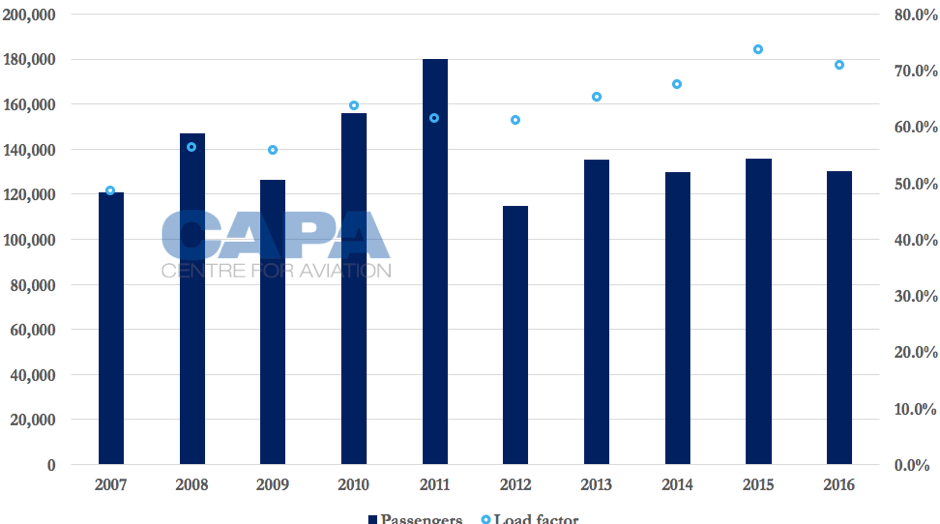 Source: CAPA – Centre for Aviation and BITRE
Royal Brunei is planning to resume expansion in 2018, driven by the delivery of four growth aircraft. The airline is committed to taking a fifth 787 in 2018. Royal Brunei also has orders for seven A320neos, four of which will replace four of its six A320ceos and three of which will be growth aircraft.
Royal Brunei is slated to receive one A320neo in 4Q2017 and the remaining six aircraft in 2018. However, delays with the Pratt & Whitney powered A320neo could push back the 4Q2017 delivery until early 2018.
Royal Brunei is now studying several potential new routes which would be launched in 2018 with the A320neos. Royal Brunei CEO Karam Chand told CAPA on the sidelines of the Jun-2017 IATA AGM that while new destinations in India and North Asia are the main focus, Royal Brunei is also looking at resuming services to Brisbane. "The neo brings Brisbane into the mix," he said. "We did Brisbane before so we will relook at it pretty hard."
Royal Brunei CEO Karam Chand: While new destinations in India and North Asia are the main focus, Royal Brunei is also looking at resuming services to Brisbane. The neo brings Brisbane into the mix.
Brisbane is approximately seven hours from Brunei, making it feasible with the new generation A320neo but out of range of the A320ceo. Melbourne and Sydney are longer routes and are just outside the range of the A320neo. Darwin and Perth can be operated with the A320ceo or A320neo but Brisbane at this point is a higher priority. Royal Brunei previously used A320 family aircraft to serve Darwin and Perth while Brisbane was previously served with widebody aircraft.
Royal Brunei is closely assessing the economics of operating the A320neo on Bandar Seri Begawan-Brisbane to determine if it can generate sufficient revenues and yields to cover the relatively high cost of a seven hour narrowbody flight. As most of its traffic from Brisbane would transfer beyond Brunei in highly competitive city pairs such as Brisbane-London and Brisbane-Bangkok, the average yield may not sufficient to cover the operating costs and justify launching the route.
However, Royal Brunei has been satisfied with its performance in Melbourne the last few years despite having to rely heavily on transit traffic on highly competitive city pairs. "We are totally happy with Melbourne. It's done well," Mr Chand said, adding that Royal Brunei is among the top three or four airlines based on market share from Melbourne to London.
Royal Brunei is considering upgrading London to nonstop after it takes its fifth 787, which would significantly improve its position in the Melbourne market and also give it a more competitive product in Brisbane if it launches Brisbane. Royal Brunei has been able to attract significant Melbourne-London passengers despite the current two stop product but at the expense of yields. A one-stop product to London should enable Royal Brunei to improve its Australia yield and attract more passengers.
The likely launch of flights to southern India should also improve Royal Brunei's position in Australia as it will be able to offer Melbourne passengers another popular one-stop destination. Passengers in other Australian cities are able access the Royal Brunei network through Royal Brunei's interline with Qantas and Virgin Australia. Mr Chand said Virgin Australia is one of the airline's largest partners in terms of revenue and traffic.