---
Summary:
The concession to run Athens International Airport is to be extended by 20 years; EUR3 billion in investments will be made;
While the country's economic crisis isn't over the bailout programme has ended; further transactions are still anticipated as Greece sells off more assets;
Traffic growth in the last five years doesn't suggest there ever was a crisis with passenger levels hitting record levels.
---
The European Commission authorised the 20-year extension in Feb-2018. The Commission ruled AIA receives no undue economic advantage or state aid, with EUR1.1 billion in fees respecting market conditions. The concession extension is one of the transactions included in the Greek Government's privatisation programme, to which Greece committed under the European Stability Mechanism support programme concluded on 20-Aug-2018.
In Oct-2018 The Blue Swan Daily reported that the Hellenic Republic Asset Development Fund (HRADF) was hoping to sell its 30% stake in Athens International Airport (AIA) by early 2019. HRADF had approved the price revision of EUR1380 million for a 20-year extension of the AIA concession in mid Sep-2018.
https://corporatetravelcommunity.com/austerity-measures-could-prompt-sale-of-significant-athens-international-airport-stake/
With regard to the EUR2.9 billion in investments through to 2046 that is not a great deal of money for a capital city, over 21 years. When 14 Greek regional and island airports were concessioned to Fraport Greece in 2016, apart from the upfront fee and a continuing royalty payment Fraport Greece committed to an investment of EUR1.4 billion over the term of the lease contract. In context, this is spread over mainly small island airports, the largest of the group being Thessaloniki, which is just over a quarter the size of Athens.
Athens International is a relatively new airport, having opened in 2001 in time for the 2004 Olympic Games and replacing (H)Ellinikon International Airport near to the port of Piraeus which is now being turned into a metropolitan park.
As such, there is comparatively little construction activity there presently on an airport which is only 18 years old and in a country which has suffered a devastating financial crisis. According to the CAPA – Centre for Aviation Airport construction database the only known works there are a southwest terminal extension project with a contract value of EUR18 million with completion scheduled for 31-May-2019 and a EUR1.8 million contract for interior renovations and improvements at the main terminal Schengen departures lounge for completion in Apr-2021.
Of course, further construction work will depend on how Greece comes out of its recession. In an article eight months ago, The Blue Swan Daily concluded that the Greek financial and debt tragedy was "slipping into history".
https://corporatetravelcommunity.com/athens-international-airport-is-on-the-up-as-their-are-clear-signs-the-greek-financial-tragedy-is-slipping-into-history/
Shortly afterwards the country emerged from the bailout programme which involved a transfusion of over EUR300 billion but with an economy 25% smaller than it was when the crisis began. Greece can borrow on international markets again but will still have to undergo quarterly reviews of its finances (which are more frequent than during the bailouts) and adhere to strict budget constraints. It will be expected to sell off more state assets, so a further transaction involving the airport is only to be expected.
It remains the case, though, that passenger traffic at Athens International Airport has barely been influenced by the crisis. The main international gateway to Greece, it hosts passenger and cargo traffic from over 40 regional and international airlines and is a hub for airlines including Olympic Air and Aegean Airlines, which together account for just under half of all capacity. Ryanair is also a major player, with 13% of system seats.
Passenger traffic figures fell consistently from 2009 to 2013 but on only one occasion (2012) did the decline get into double digit territory. Then the figure shot up in 2014 and by 2015 it had already exceeded the 2009 figure by almost two million passengers. Since then, passenger numbers have continued to climb consistently and the current rate (Jan-2019) is +8.4%.
CHART – Despite the slip in traffic between 2009 and 2013, passenger levels at Athens International Airport have quickly rebounded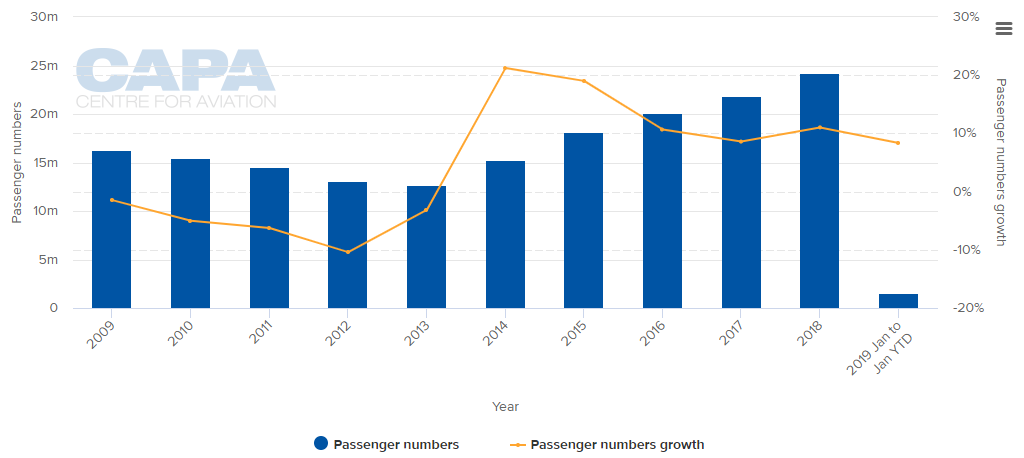 Source: CAPA - Centre for Aviation and Athens International Airport reports