The first rise in domestic approvals was observed last week (w/c 6-Apr-2020), and has been confirmed in the latest weekly results (w/c 13-Apr-2020), as 8.7% of respondents reported an increase in domestic approvals. All respondents that observed an increase in domestic travel approvals are based in China (with the exception of one respondent based in Australia who is involved in government-led travel repatriation efforts).
CHART - Have domestic travel approvals increased in the past week: YES (%)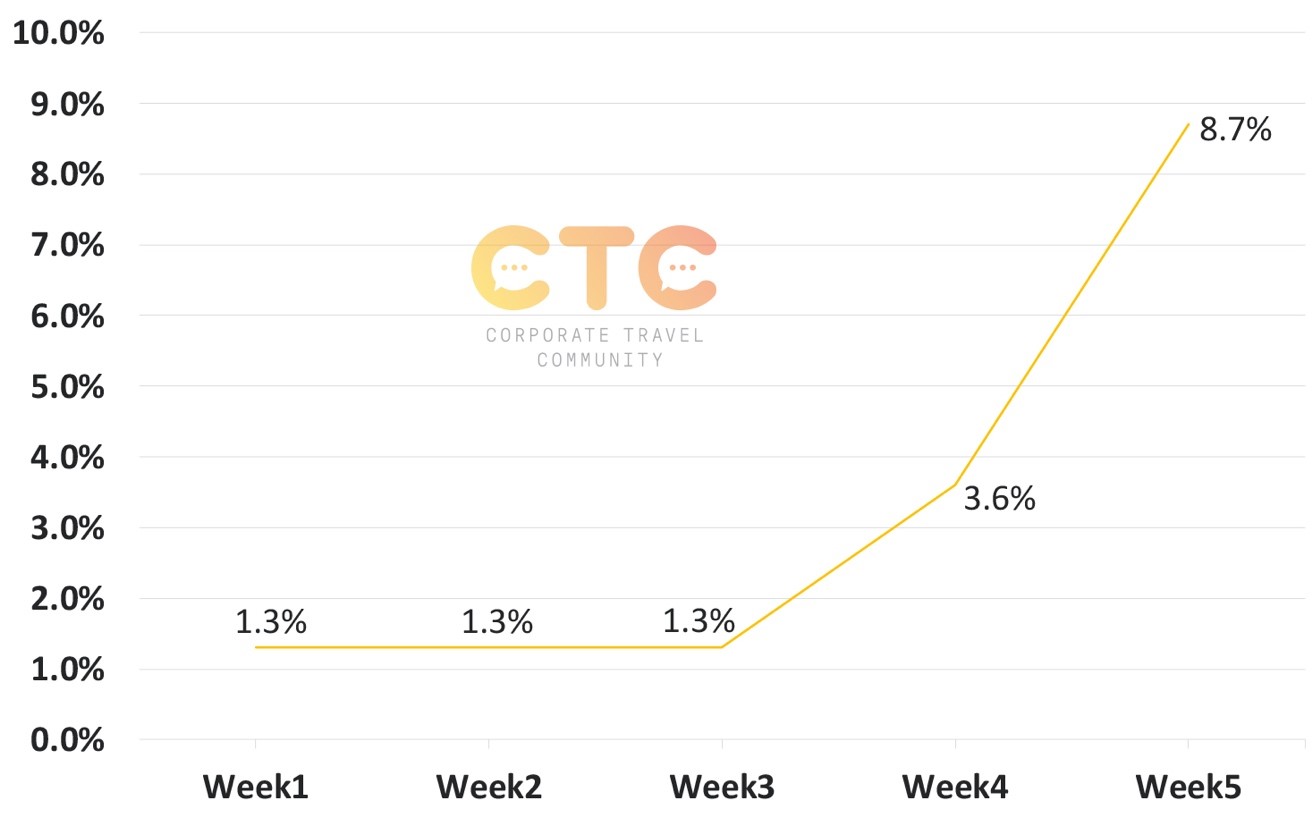 Source: CTC Corporate Travel Sentiment Survey(NOTE: Week 1 = 16-Mar-2020; Week 2 = 23-Mar-2020; Week 3 = 30-Mar-2020; Week 4 = 06-Apr-2020; Week 5 = 13-Apr-2020)
DTG Global, one of China's fastest growing next-generation digital TMCs, has indicated to CTC that the corporate travel market is rebounding inside China after the initial lockdown and corporate travel bans were imposed in late Jan-2020.
The company, which has developed multiple online booking tools offering all required services to corporate travellers, told CTC that average monthly domestic air volume in China across its system was approximately 47 million trips in 2019. Volumes were decimated in late Jan-2020 and Feb-2020, but recovered to 9.9 million domestic air trips in Mar-2020 – or just over one-fifth of the average 2019 monthly volumes.
DTG Global says that traffic improved further through Mar-2020. It anticipates domestic air volumes to be rise to 35-40% of previous levels in Apr-2020 and to 50% by May-2020.
China's total corporate travel market (air, hotel, rail and ground) was worth approximately CNY266 billion in 2019, up from CNY226 billion in 2018 and CNY190 billion in 2017. Air travel accounted for some 81% of the total in 2018, and the ratio of domestic to international is estimated to be around 75:25.
TABLE - DTG Global's weekly China corporate travel volumes: Jan-Mar 2020

Source: DTG Global
Some China-based corporate travel managers see the start of a recovery
The DTG data reflects anecdotal reports from individual travel managers in China of a nascent recovery in corporate travel demand.
CTC has established a China Task Force of travel managers based in China, representing some of the largest global enterprises, to gain on-the-ground insight into trends in the China corporate travel market. The CTC China Taskforce member companies spend approximately USD100 million on corporate travel annually.
According to a recent Task Force call, some 'green shoots' are emerging, with around half of the Task Force members reporting an 'unfreezing' of approvals and bookings for domestic travel.
One Task Force member said that the first three domestic bookings occurred in early Apr-2020 as there was an urgent need for a factory visit by key staff. Another advised there had been a 50% increase in domestic travel compared with the previous week in each week since mid-Mar-2020, but off a very low base, as urgent meetings with suppliers drive travel requests.
In both cases, stringent domestic China travel bans, which were introduced in late Jan-2020, had been eased. No longer were global or country executive leadership approvals required, but approvals had been devolved to department heads – a significant change. But international travel bans remain in place for all CTC China Taskforce members – and will remain so for the foreseeable future.
China domestic seat capacity back to 75% of 2019 levels
China's domestic corporate travel market has one advantage over most other countries – an abundance of choice of flights and frequency. It is relatively easy for Chinese corporate buyers to book travel, once a ban is lifted and travel restrictions are eased.
In other markets however, where flights have effectively been grounded, it might be difficult – if not impossible – to find a flight to book. Chinese airlines are also operating a skeletal international network to provide emergency options.
CHART - China weekly total domestic seat capacity rises to around 75% of 2019 levels (million)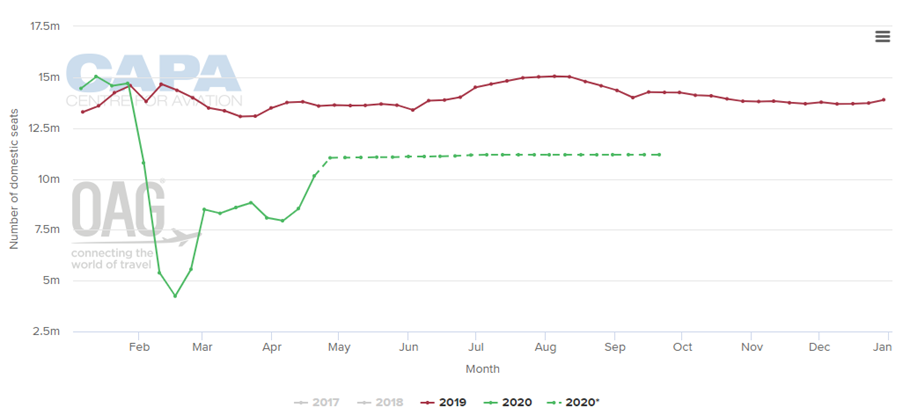 Source: CAPA - Centre for Aviation and OAG(NOTE: * These values are at least partly predictive up to 6 months from 13-Apr-2020 and may be subject to change)
Buyers concerns about air travel and TMC health
Finding a flight in China may not however be the main challenge. Finding travellers willing to traverse airports could be the issue. CAPA's Chairman Emeritus, Peter Harbison, told CTC, there are "the inevitable health and safety duty of care issues and they will resound loudly for a long time to come and health will forever now be a heightened challenge. No government can forget this event, the way most managed to forget SARS".
Mr Harbison added: "We always talk about sitting next to people on aircraft (where the air is well purified), but a greater risk is often the crowded atmosphere of airports, so passenger flows are going to have to be much better monitored, and testing on departure and arrival will probably be essential. That means major infrastructure and process changes. Think post-911 inconvenience of security changes and multiply that by three."
CTC China Taskforce members reported a rising interest amongst domestic travellers in high-speed rail as an alternative to air travel, and even self-drive options. Several members also reported concerns about the potential for higher air fares, and some also indicated hotel average daily rates had not fallen as much as had been expected. VAT reforms in China, affecting the hotel sector, also caught the attention of many of the Taskforce Members.
Other Taskforce members cited concerns over the financial health and operational capacity of their TMC to make bookings as markets unfreeze and there was a general move towards more risk analysis of travel suppliers.
The aviation industry will undergo massive change, especially outside China. CAPA's Peter Harbison said it needs "very long-term thinking. He explained: "Things will never be the same again, let alone a bounce back in 2021. Even apart from the new viral forms that will emerge, COVID-19 is going to be very active at least until there is widespread vaccination and it is likely to be the end of 2021 before a vaccination even exists. And 'active' means people dying".
Mr Harbison expects Asia, led by China, to come out of crisis faster than the rest of the world, as some Asian countries have been better prepared. "Domestic markets will recover fastest. Then international will take some time. It will depend on a complete re-evaluation and recasting along the travel chain, based around internationally agreed standards for health monitoring and people movements," he said.
He added that China and several countries in Asia do seem to have things largely under control – "yet they will be anxious not to allow foreign travel reinfection. It's probably only when there are internationally agreed standards in place that things will become easier," he said.
[perfectpullquote align="full" bordertop="false" cite="" link="" color="" class="" size=""]CTC is planning to host its CTC China Gathering in Shanghai on 17-Jun-2020 at the Waldorf Astoria Hotel on the Bund

Subject to final clearances, and the introduction of special preventative measures, the event will bring together travel buyers from across China and especially Shanghai to address many of the issues outlined above.
For more information on this landmark gathering, see: CTC China Gathering[/perfectpullquote]