The findings from the B2B4E travel management platform shows that overall, travellers from Asia Pacific are more likely to have increased creativity (65%) and productivity (64%) compared to travellers from the Americas (58% and 60% respectively) and Europe (53% and 51% respectively). These findings are not really a surprise, says Niklas Andreen, executive VP and chief traveller experience officer at CWT. "Travel energises people, fosters fresh thinking, creates connections – and nothing beats a face-to-face meeting," he adds.
Looking more closely at the millennials segment and that the Americas leads the way with more than three quarters (77%) of travellers feeling more creative and productive, followed closely by those in Asia Pacific (75% feeling more creative and 73% more productive). European millennials rank third but with levels considerably lower than the leading regions (58% and 57% respectively).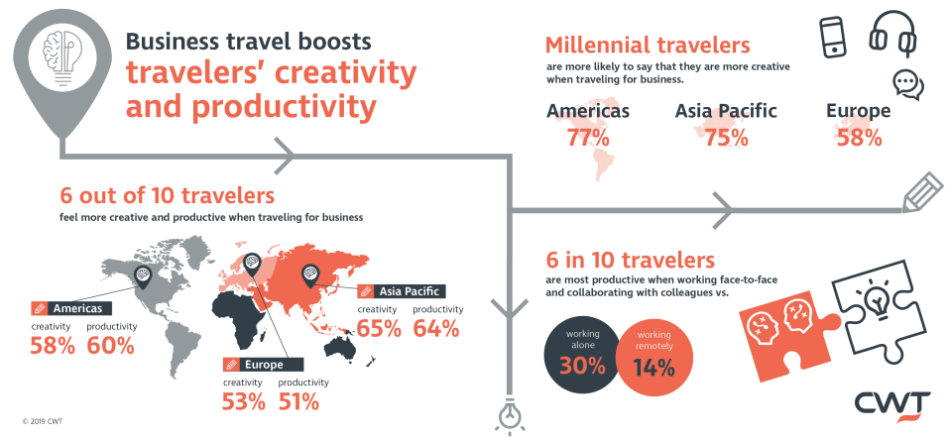 There is a clear generational divide when it comes to creativity and productivity and these percentages drop significantly when it comes to Generation X travellers and even more dramatically when we talk about baby boomers, but there are some exceptions.
For example Generation X travellers in Asia Pacific are millennial-like: 72% feel more creative and 67% more productive. The American percentages do see a little drop to 59% and 64%, respectively, and interestingly, while still lower the European percentages of 60% and 56% actually out perform the millennial figures on creativity.
Baby Boomers are the group least inspired by travel boosting creativity and productivity. Asia Pacific travellers still rule in this age frame with 48% feeling more creative and 51% more productive. Americans follow with 42% and 43%, and Europeans rank third at 39% and 40%. But, the European figure (an average) has notable variations by nationality - Italians feel 70% more creative and 72% more productive when travelling, while in Spain, 68% feel more creative and 75% more productive.