OBT usage was stable at around 48% globally during Jan-2019 and Feb-2019, after a 6% increase from Oct-2018 to Dec-2018. CWT Solutions Group forecasts it to rise again in Mar-2019 and then again in Apr-2019, surpassing the 50% figure for the first time ever.
Alongside the rise in mobile usage across the travel sphere, there has been an increasing effort to improve the content available through OBT channels. At the same time, corporate travel management teams are increasingly encouraging travellers to book through OBTs and mobile apps.
CHART – CWT Solutions Group predicts the use of Online Booking Tools to pass the 50% figure over the next two months, reaching a rate of 50.5% in Apr-2019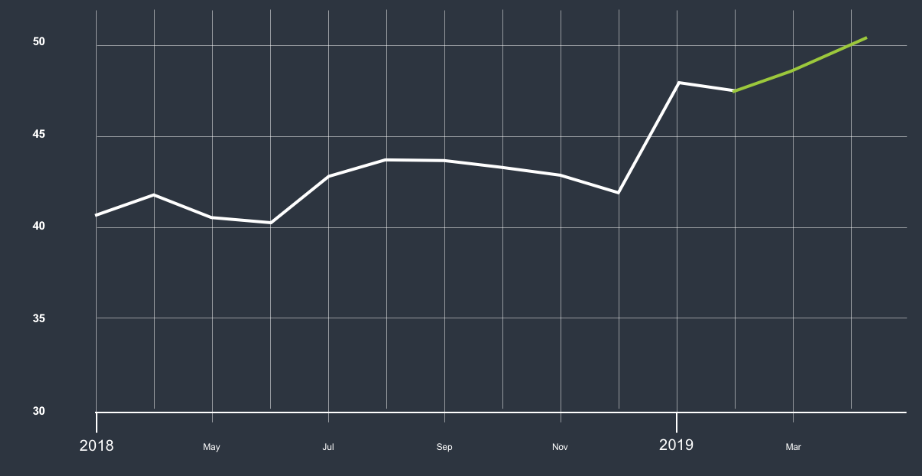 Source: CWT Solutions Group's Air Trends Report
The rise in OBT usage comes as the Air Trends Report also identifies a worsening in advance purchase behaviour by travellers over the coming two months. Stricter enforcement of travel policies as a result of year-end budget considerations and belt-tightening had seen improved advance purchase behaviour in Dec-2018, and this carried over to Jan-2019 and Feb-2019, says the report, but companies are now relaxing those travel restrictions.
For the first two months of the year around 47% of tickets were booked more than 14 days prior to departure, but that is now expected to slip to around 43% in Mar-2019 and Apr-2019, the report predicts.
Offering guidance to travel managers to keep a handle on costs it suggests the need "to stress the importance of booking in advance, either as a message displayed on the OBT or through targeted communications to individual travellers" and highlights it is also important "to ensure that OBTs are properly set up to reflect the organisation's travel policy, or to configure these tools with bespoke settings for each market".
This is particularly important given that the CWT Solutions Group algorithm predicts that global average ticket prices will continue to rise in 2019, although we could see a short-term reprieve in the increase as the market corrects itself.
CHART – Average ticket prices for air bookings (in USD) rose sharply in the first two months of 2019, but will likely 'correct' themselves during Mar-2019 and Apr-2019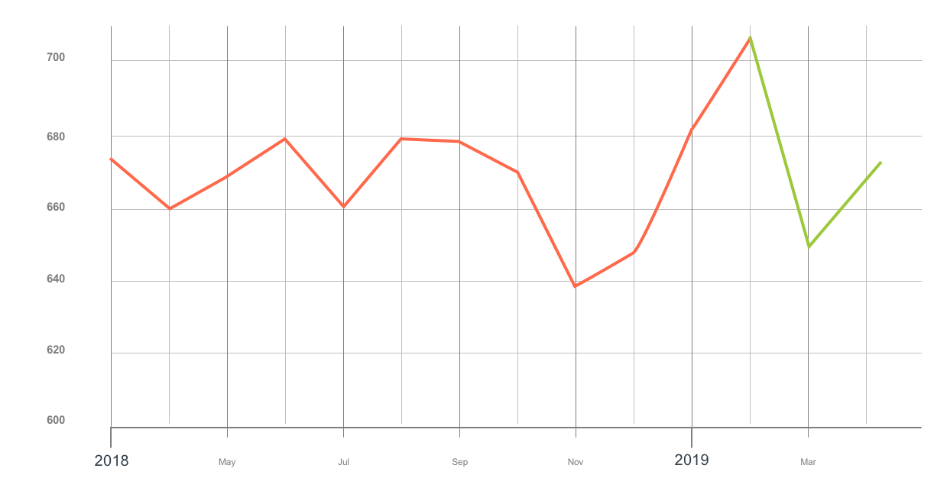 Source: CWT Solutions Group's Air Trends Report
The global average ticket price climbed approximately 6% month-on-month in Jan-2019, and then a further 3% in Feb-2019, to reach USD702. This was largely the result of airlines across the globe implementing new commercial policies and revenue management models, which pushed up airfares, says CWT's consulting arm. It now expects this to drop again to around USD673 by Apr-2019, down just over 4% from the Feb-2019 levels, as published fares correct from the sharp increase seen in the first two months of the year.
But a continued upward trend in the average ticket price will continue through 2019," says Christophe Renard, vice president of CWT Solutions Group. He explains: "One of the reasons is that more airlines are looking to adopt IATA's New Distribution Capability (NDC) standard as a means to generate greater ancillary revenues such as seat selection and baggage fees. Post-booking price tracking tools can be an effective way for companies to optimise the cost of expensive tickets before upcoming departures."
The Air Trends Report also notes the continuation of a trend for multinational companies to amend their travel policies to allow their travellers to fly Premium Economy, as it is increasingly offered by carriers and this is contributing to a reduction in the usage of Economy Class. After a gradual decrease of 1% from Nov-208 to Jan-2019, Economy Class usage remained stable at around 90% of total tickets booked in Feb-2019, but could increase by 1% in Mar-2019 and remain flat in Apr-2019, according to the forecast.