Cypriot passenger air traffic increased 34% over the last two years. There was a 36% increase in passenger flights with the country adding a total of 40 new routes. Over 12,700 jobs in the tourism industry across Cyprus are sustained by the operation of Larnaca and Pafos airports, which themselves contribute more than EUR500 million to the economy of Cyprus, corresponding to approximately 3% of the GDP of Cyprus. Consequently, Larnaca and Pafos International Airports are considered to be among the major drivers of economic growth in the country and are acknowledged as key generators of thousands of jobs.
Hermes Airports Ltd, a company registered in Cyprus, assumed management and control of Larnaca International Airport and Pafos International Airport in May-2006, under a 25-year BOT (Build-Operate-Transfer) concession agreement with the Republic of Cyprus. It is an international consortium of nine shareholders, being a mix of Cypriot and international partners.
The National Tourism Strategy (NTS) seeks to make Cyprus a year-round tourist destination. The country has already seen a 66% increase in winter season tourism between 2013-2014 and 2016-2017. A series of major projects have been undertaken such as a casino, marine attractions and golf courses. This contributed to a 32% overall increase in tourist arrivals over the period, yielding EUR2.4 billion in 2016.
CHART - The target for the NTS is to attract more than five million tourists per annum. The growth rate has slipped slightly in the first eight months of 2017, to 14.7% from 19.8%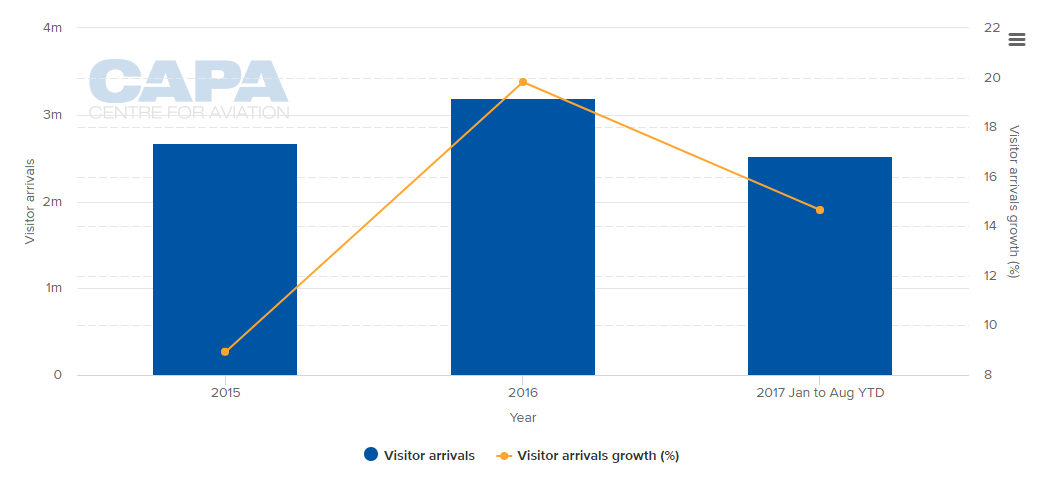 Source: CAPA - Centre for Aviation and Cyprus Statistical Service
Public consultations for the strategy began to take place at the beginning of October and aim to get input from specialised services, local communities, business persons and any other interested parties.
But there are other, long-standing issues to deal with apart from seasonal tourism, such as outdated hotel units and a lack of high quality infrastructure projects.
The local travel agents association, ACTA, is pressing for ministerial representation for tourism in the form of an Undersecretary of State.
CHART - The UK remains the largest international market for tourism arrivals, ahead of Russia, but the latter is now growing at a considerably faster rate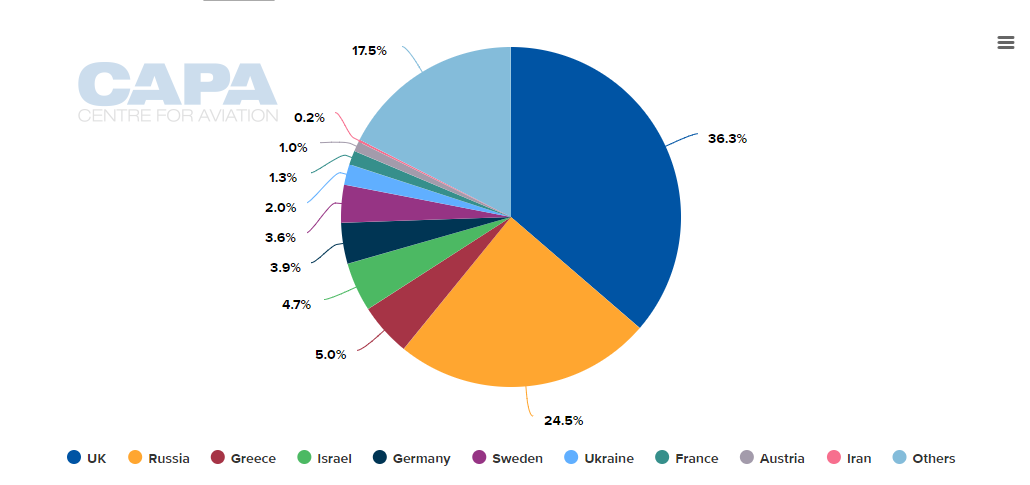 Source: CAPA - Centre for Aviation and Cyprus Statistical Service
The UK remains the largest market. Independence from the UK was achieved in 1960. Together with the Russian market it makes up almost 61% of the total but the UK market is smaller than in previous years. In 2008 for example it was 51.7% while the Russian market – second placed even then – was just 7.5%. The fastest growing markets are Israel, which increased by 82% in 2016 (but is still just 4.7% of the total), Germany (+ 58%), Austria (+50%) and Sweden (+17%).
Thus there is something of a dilemma for the tourist authorities; the same one faced by other countries where the British have had the largest share of tourists but it isn't growing any longer. Do you stick with what you know best and try to lure them back from other countries which are attracting them now (e.g. Spain) or do you pump marketing expenditure into trying to attract tourists from other countries from which visits are increasing rapidly but which still make up only a very small part of that pie?
The impact of 'Brexit' in the form of the fall in the value of the British pound has so far yet to be felt though a continuing decline could affect package vacation prices adversely next year, leading to fewer visitors from the UK. It has not 'tanked' as many people thought it would. If it were to fall to parity or less, which has happened before, long before Brexit, then that might be a different matter.
CHART - Over the course of the last year the value of the pound GBP against the euro EUR has varied from a high of 1.2 to a low of 1.08 and currently sits at 1.11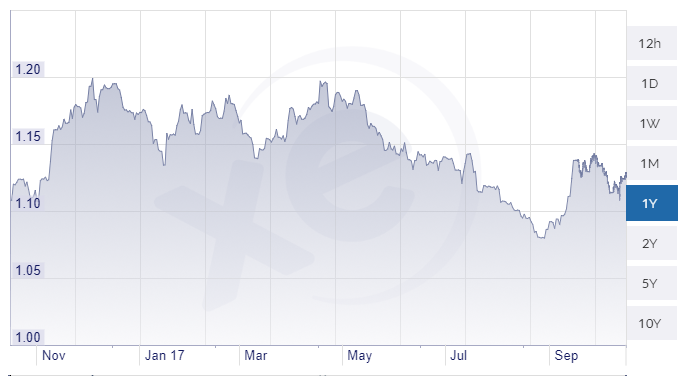 Source: www.xe.com
The lack of flight connectivity with new markets has been an issue but matters are improving. Since the collapse of Cyprus Airways, Larnaca Airport is more diverse in its range of carriers and there are over 70 of them, operating year-round or seasonally. The largest, Aegean Airways, has only 11.1% of capacity. Relatively recent start-up Cypriot LCC Cobalt Air also operates to Israel as Aegean does, while the Russian S7-sponsored Charlie Airlines, which has obtained the right to use the Cyprus Airways name, will offer additional capacity to Russia. Wizz Air offers flights from a range of cities in Eastern Europe.