In fact the small regional airline could not have selected a better brand name having hit the industry spotlight for a journey that has taken in and out of the Etihad Airways Partners concept - alongside the likes of airberlin and Alitalia – and now under the effective control of Eastern European carrier Adria Airways.
Supporting its core strategy of supporting its Ticino home, Darwin had evolved to a model providing point-to-point services to major hubs for both business and leisure travellers from regional airports. With many European network carriers withdrawing from thinner routes as they rationalised their regional feeder schedules to cut costs, independents like Darwin were able to find new opportunities connecting smaller regional airports and hubs.
This opportunity was partly behind the investment of United Arab Emirates (UAE) carrier Etihad Airways in the business, a deal that was formalised in 2014 when it acquired a 33.3% stake and rebranded the business under the Etihad Regional banner.
Under the latest change in ownership, Slovenia's national carrier has agreed to acquire a 99.1% shareholding in Darwin through a Swiss subsidiary and hopes to close terms on the small remaining equity very shortly, after agreement with Etihad and other shareholders.
It will continue to fly under its own Air Operator Certificate (AOC) from its Lugano base in Southern Switzerland as well as from Geneva, but Adria will take over some administrative and operational tasks and market the Swiss airline's services. It will also cease to operate under the Etihad Regional name, but trade under the Adria Airways Switzerland title with Adria's chief financial officer Heinrich Ollendiek replacing Maurizio Merlo as chief executive officer.
"Darwin is an excellent airline with experienced management and staff. Extending our network and, consequently, optimising cost structures will create a win-win situation for both carriers," says Arno Schuster, chief executive officer, Adria Airways.
Despite its well-known former shareholder, Darwin is a small player in the European market serving just ten destinations in four European countries (Switzerland, France, Italy, and Spain) with a fleet of 10 aircraft – six 50-seat Saab 2000s and four 68-seat ATR72s, according to data from the CAPA fleets database.
Its scheduled operations reduced significantly in summer 2015 and its network offering is currently at its lowest level since the start of the decade. The Geneva – Ibiza and Geneva – Biarritz routes are its busiest offering more than 500 weekly seats.
Darwin Airline Network Capacity (2012 – 2017)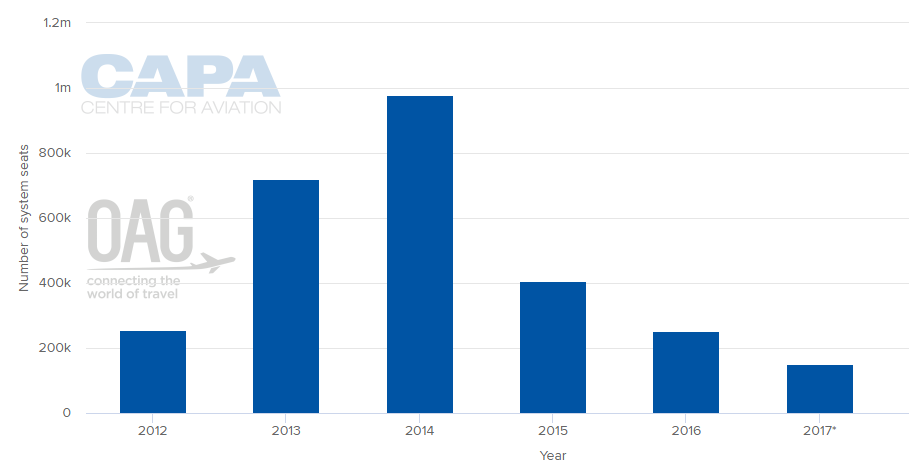 Source: CAPA – Centre for Aviation and OAG
The agreement marks the first airline asset sale for Etihad since it began reassessing some of its equity partnerships last year and comes just a matter of weeks after James Hogan, the man behind the controversial strategy, stood down as group chief executive of the business.
"We are convinced that with its extensive expertise, its strong route network, especially in the Southeast European market, Adria Airways will be very beneficial not only to the future of Darwin but also to the Ticino region we serve, which needs good connections with the rest of Switzerland and throughout Europe," says Emilio Martinenghi, chairman of the board of directors, Darwin Airline.