For a long time, Hong Kong has traded off its advantageous geographical position. This has turned the small nation into a major regional economy and global transport hub. However, it is this same location that has supported its growth that is currently impacting its future.
Bloomberg has this week described Hong Kong as "showing symptoms of a failed state" citing empty supermarket shelves and rising public distrust in the coronavirus-hit city as ticking most of the boxes.
What is clear, is that with tens of thousands of Chinese travellers entering the nation, concerns are high over the continued spread of the deadly virus. Like some others, Hong Kong has now introduced a mandatory two-week quarantine for anyone arriving from mainland China, in a fresh effort to contain the deadly new coronavirus.
It is a challenging time and this is hitting its local airlines. Hong Kong Airlines has cut around 400 staff, around 10% of its workforce due to weak demand. Meanwhile, flag carrier, Cathay Pacific, has announced a significant network cull over the coming two months. This includes flights into mainland China, with the exception of Beijing, Chengdu, Shanghai and Xiamen services, plus international flights to the likes of London Gatwick, New York Newark, Rome and Washington.
Cathay Pacific has also introduced a voluntary special leave scheme to all employees during its reduced schedules. ). Under the scheme, all employees will have the option to take three weeks of unpaid leave from 01-Mar-2020 to 30-Jun-2020.
The Cathay Pacific Group also includes the activities of its wholly-owned subsidiary Cathay Dragon (formerly Dragonair), but here we purely focus on the mainline operation.
ABOUT
Cathay Pacific is the de facto flag carrier serving Hong Kong International Airport. The carrier is majority owned by logistics corporation Swire Pacific, with significant shareholdings from Air China parent CNAC. Utilising a fleet which includes widebody Boeing and Airbus aircraft, Cathay Pacific's extensive network serves destinations throughout the Asia-Pacific, Africa, Europe, the Middle East and North America. Cathay Pacific is a founding member of the oneworld alliance and wholly-owns short-haul operator Cathay Dragon and HK Express.
GLOBAL RANKING (as at 10-Feb-2020)

NETWORK MAP (as at 10-Feb-2020)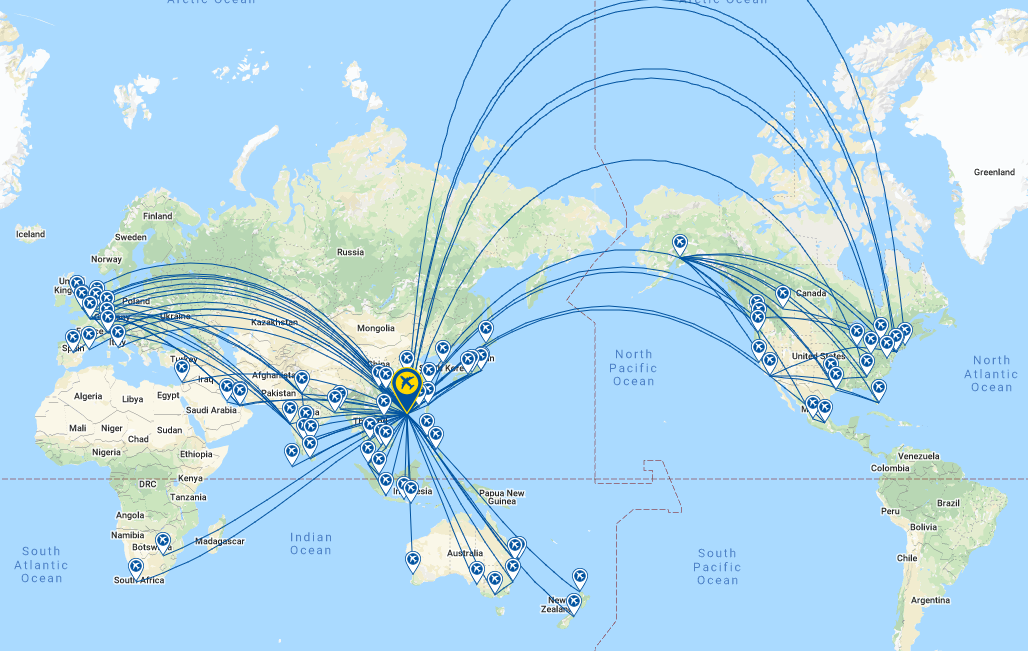 DESTINATIONS (as at 10-Feb-2020)

ANNUAL PASSENGER TRAFFIC (2010 – 2019)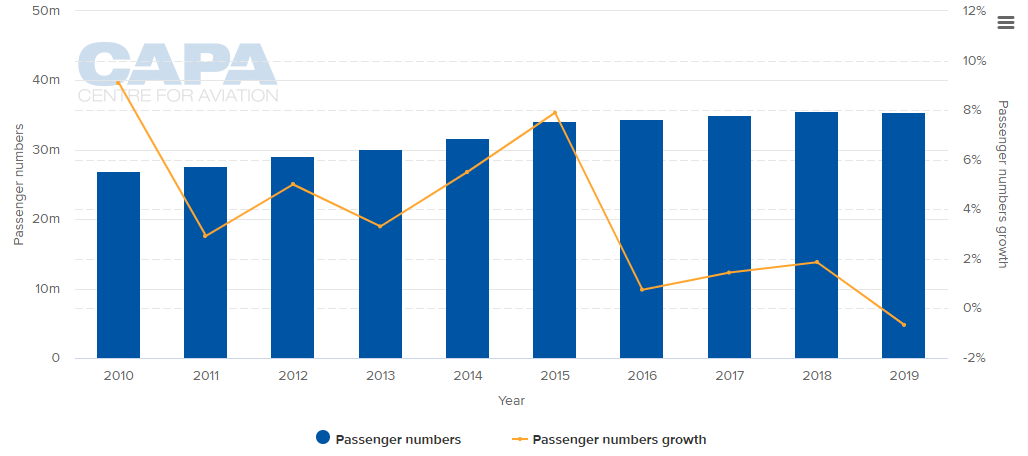 ANNUAL CAPACITY (2012-2020*)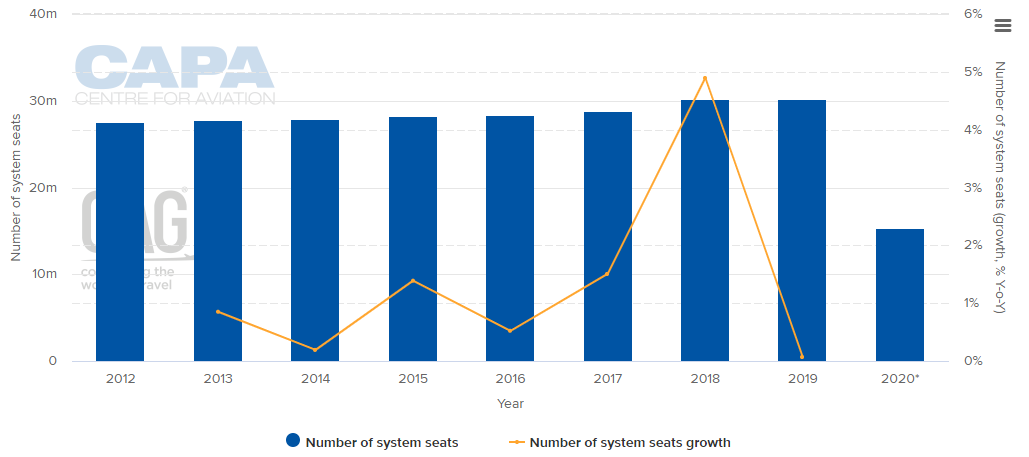 (NOTE:The values for this year are at least partly predictive up to 6 months and may be subject to change)
MONTHLY CAPACITY AND SEASONALITY IN CAPACITY (2017 – 2020*)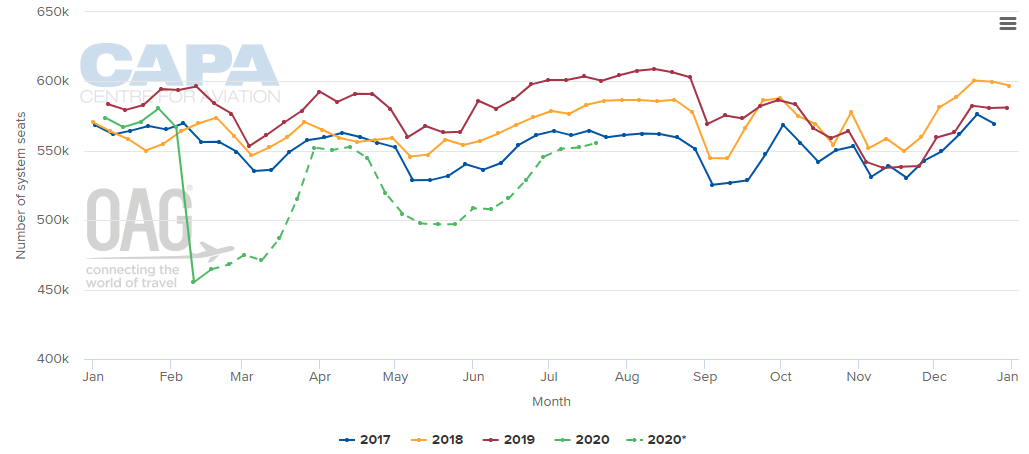 CAPACITY SPLIT BETWEEN DOMESTIC AND INTERNATIONAL OPERATIONS (w/c 10-Feb-2020)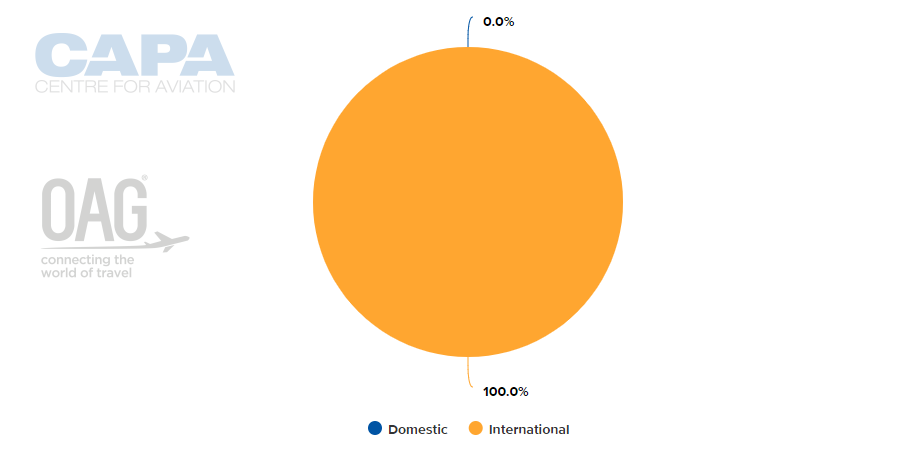 LARGEST NETWORK POINT (w/c 10-Feb-2020)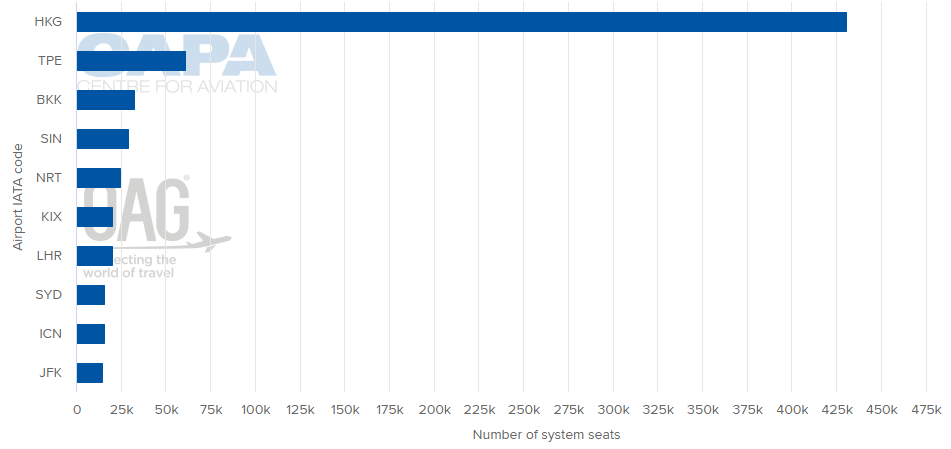 LARGEST INTERNATIONAL MARKETS BY COUNTRY (w/c 10-Feb-2020)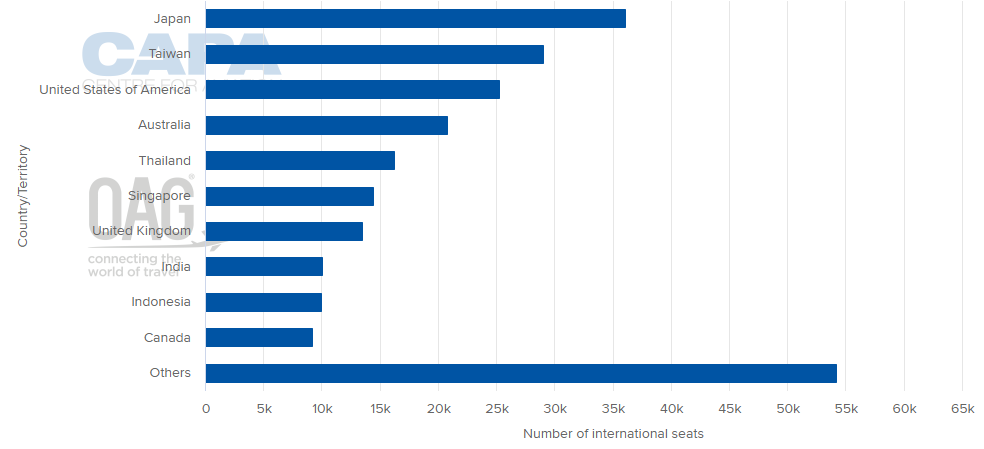 BUSIEST INTERNATIONAL ROUTES BY CAPACITY (w/c 10-Feb-2020)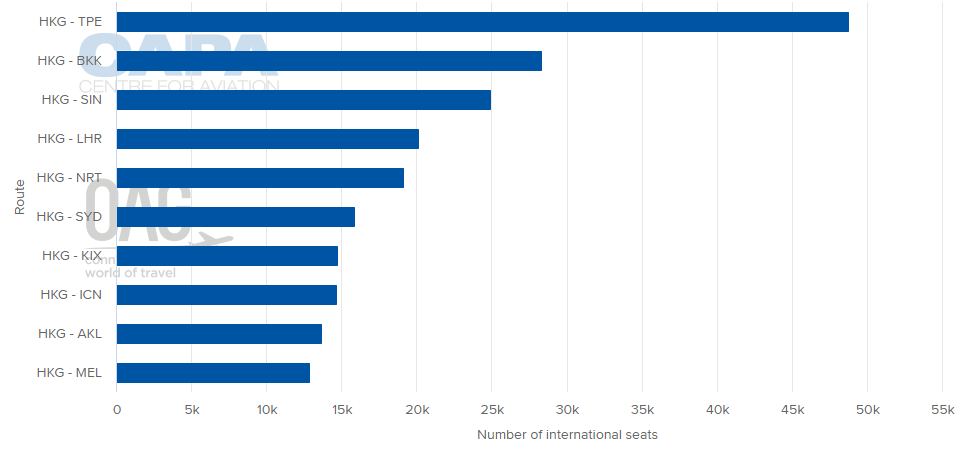 AVERAGE FLIGHT LENGTH (w/c 10-Feb-2020)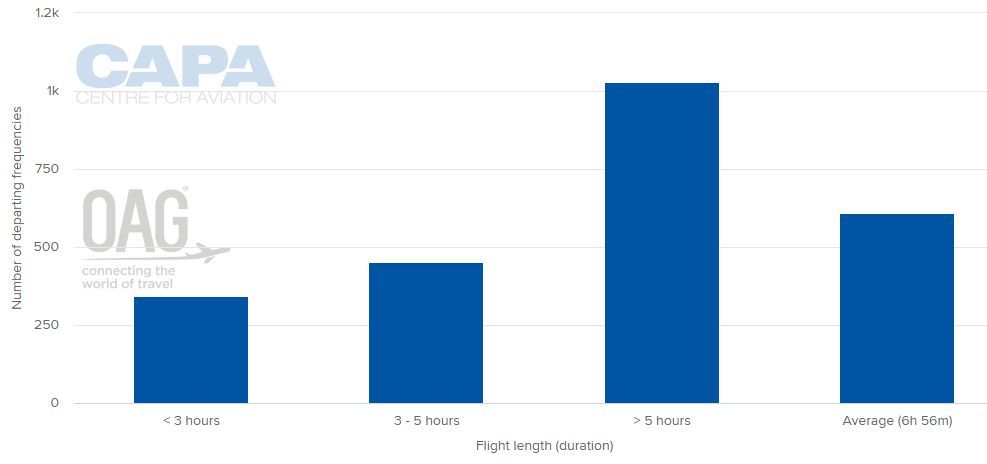 FLEET SUMMARY (as at 10-Feb-2020)
AVERAGE FLEET AGE (as at 10-Feb-2020)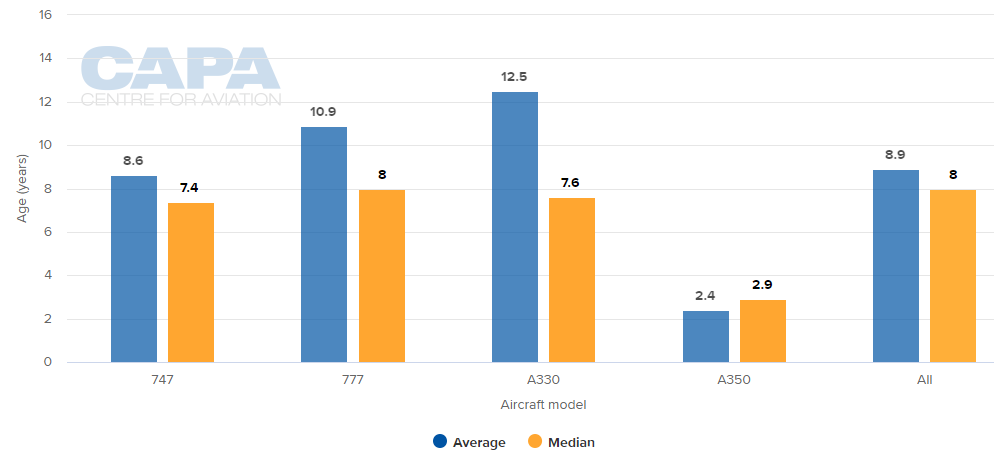 AIRCRAFT OWNERSHIP SPLIT (as at 10-Feb-2020)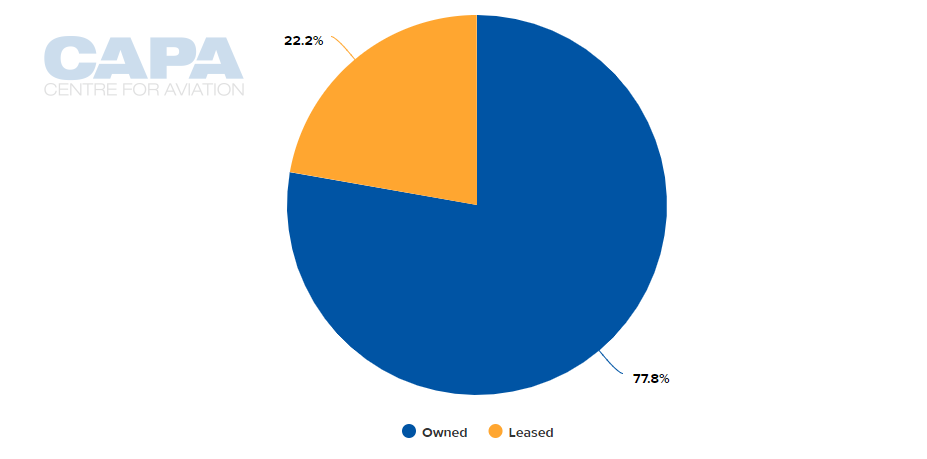 MORE INSIGHT...