The sister venture to national entity Saudia, has successfully penetrated the large local domestic market and with it currently exclusively focusing on its home environment it is less exposed to Covid-19 now Saudi Arabia has started to open its skies. In fact after resuming operations this week, schedule capacity filed with OAG suggests that its operations could return to around 70% of the level the airline was operating this time last year.
Saudi Arabia's General Authority of Civil Aviation (GACA) permitted flights to operate within the kingdom after the government announced a gradual phased reopening of activities across the country, except Makkah. The resumption of flights will be in phases "to ensure a safe travel journey for travellers through Saudi airports while taking all necessary preventive measures," according to a statement.
Speaking exclusively to The Blue Swan Daily last year and long before Covid-19, flyadeal's CEO Con Korfiatis provided us with some insight into how the airline would manage a challenge. When asked about recent challenges, he said: "The main difference is they keep coming faster!". With an industry entering the health crisis with "excess capacity, rising costs, and some economic slowdown" there were certain to be challenges, but he believed Saudi Arabia had some positive dynamics. "We do have an advantage in that we still have a young market which is not yet mature," he said.
ABOUT
flyadeal is a state-owned Saudi Arabian LCC based in Jeddah King Abdul Aziz International Airport. Saudi Airlines Corporation announced the establishment of the carrier in Apr-2016, stating its new low cost venture will operate domestic operations using A320 equipment, set in a single-class configuration. flyadeal secured an AOC on 20-Sep-2017 and launched operations on 23-Sep-2017, with Jeddah-Riyadh service.
NETWORK MAP (as at 01-Jun-2020)
DESTINATIONS (as at 01-Jun-2020)

CAPACITY SNAPSHOT (versus same week last year)

ANNUAL CAPACITY (2012-2020*)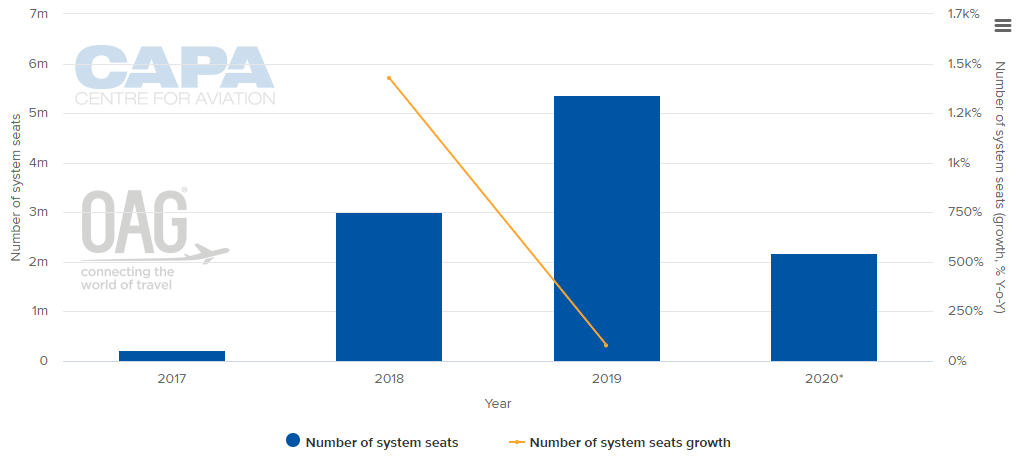 (NOTE:The values for this year are at least partly predictive up to 6 months and may be subject to change)
WEEKLY DOMESTIC CAPACITY (2017 – 2020*)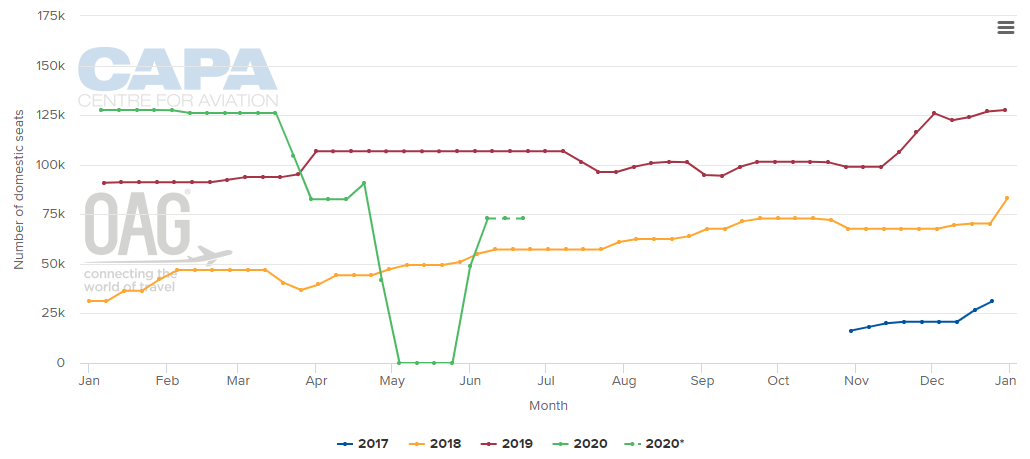 CAPACITY SPLIT BETWEEN DOMESTIC AND INTERNATIONAL OPERATIONS (w/c 01-Jun-2020)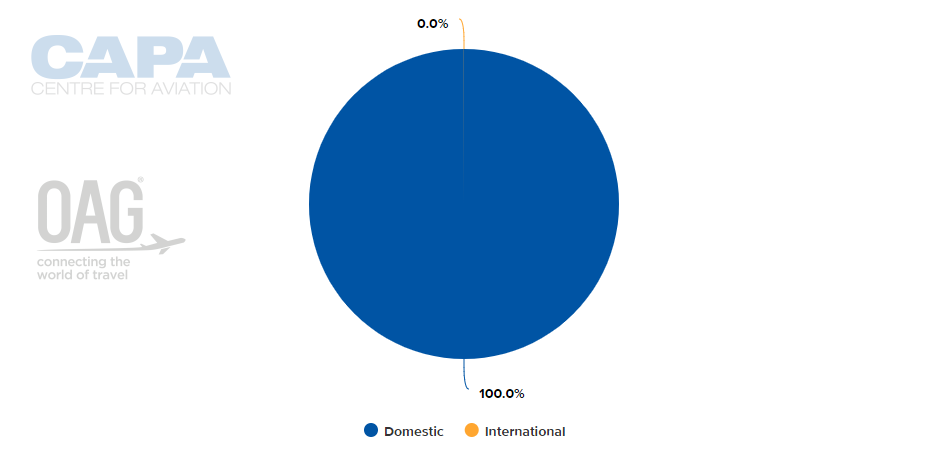 LARGEST NETWORK POINT (w/c 01-Jun-2020)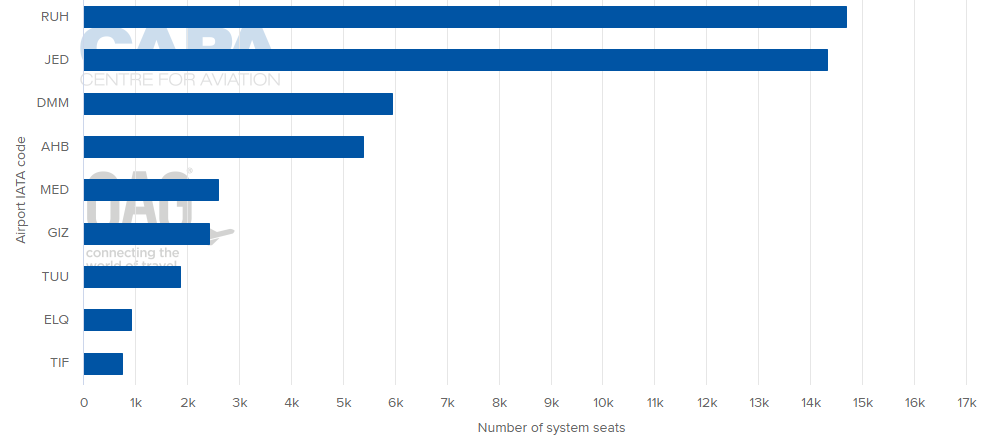 BUSIEST DOMESTIC ROUTES BY CAPACITY (w/c 01-Jun-2020)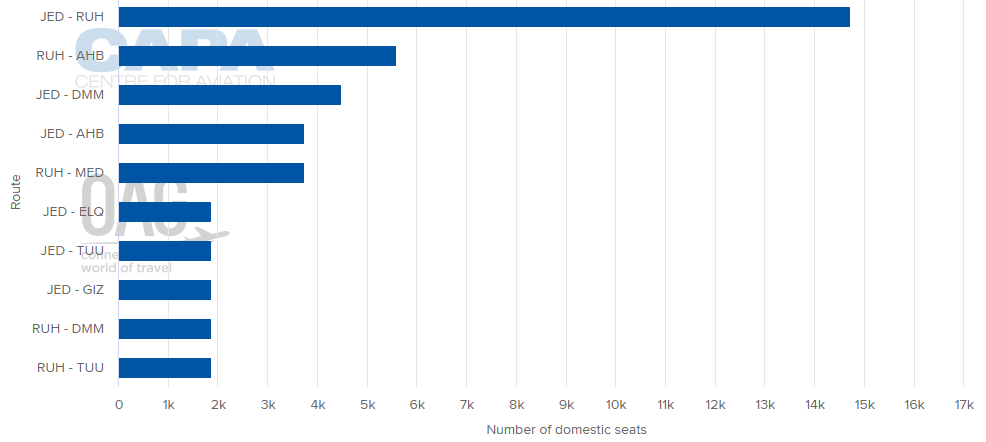 DEPARTING SYSTEM SEATS BY CLASS (w/c 01-Jun-2020)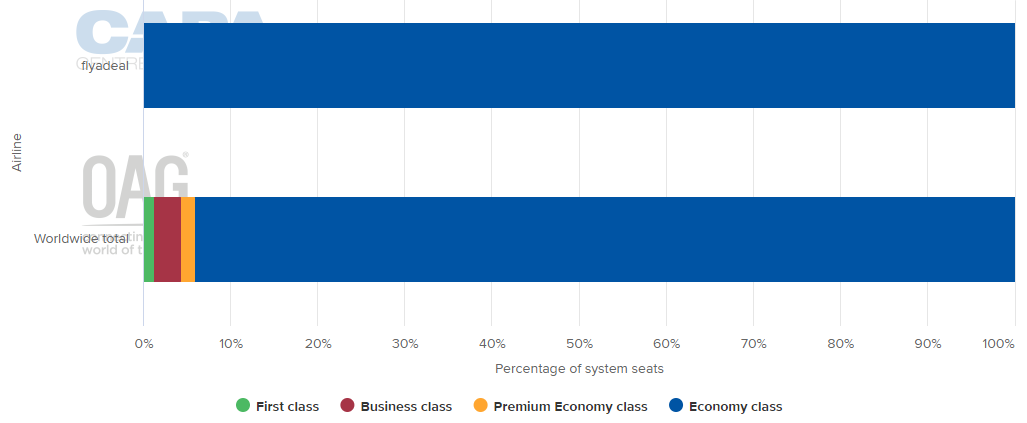 AVERAGE FLIGHT LENGTH (w/c 01-Jun-2020)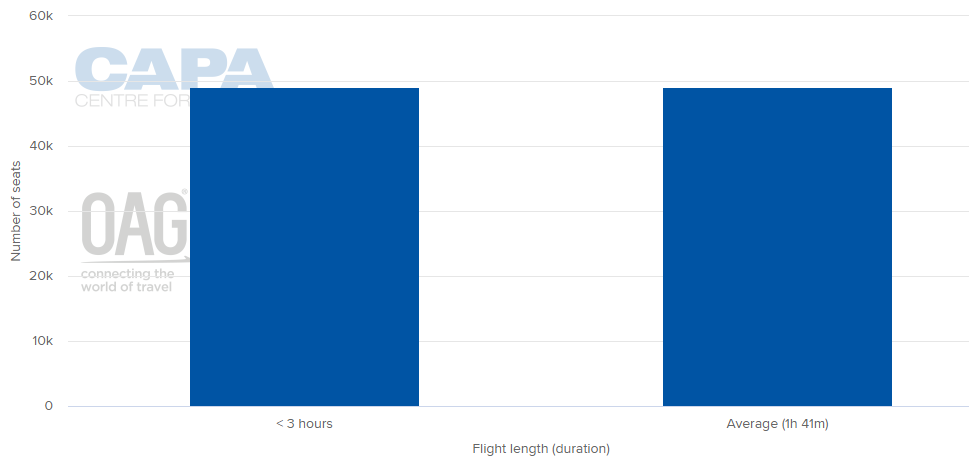 FLEET SUMMARY (as at 01-Jun-2020)

AVERAGE FLEET AGE (as at 01-Jun-2020)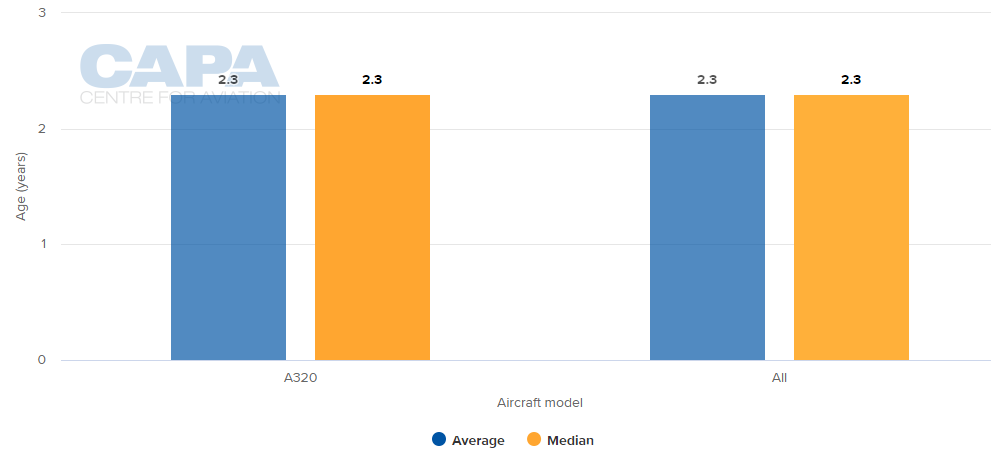 MORE INSIGHT...
flyadeal shakes the market with its A320neo order, dropping the MAX
Middle East and Africa LCCs: huge growth opportunities, but challenges
Suddenly Middle East aviation is becalmed; Africa too is stalling - again
Saudia: transformation and dual brand strategy drive rapid growth