The story of the airport's development is one that many major cities across the world will envy with the opening coming just over five years after ADP Ingénierie, a division of Groupe ADP, was first notified that it had been selected to develop the architectural design of Terminal 1 at the airport.
ADP Ingénierie's design of the terminal includes vertically stacked international and domestic levels within the terminal rather than horizontally; something it calls "audacious". This "compact" design is intended to improve economic and operating efficiency, and enhanced passenger experience. It also reduces the distance between terminals compared with other Asian or European terminals of comparable size, with the farthest boarding gate at a maximum of 600m from any point in the terminal.
MAP - The new Daxing International airport is located to the south of Beijing, less than 50km from the centre of the capital and a similar distance from the Xiong'an New Area, a key hi-tech development hi-tech hub serving the Beijing-Tianjin-Hebei (Jingjinji) economic triangle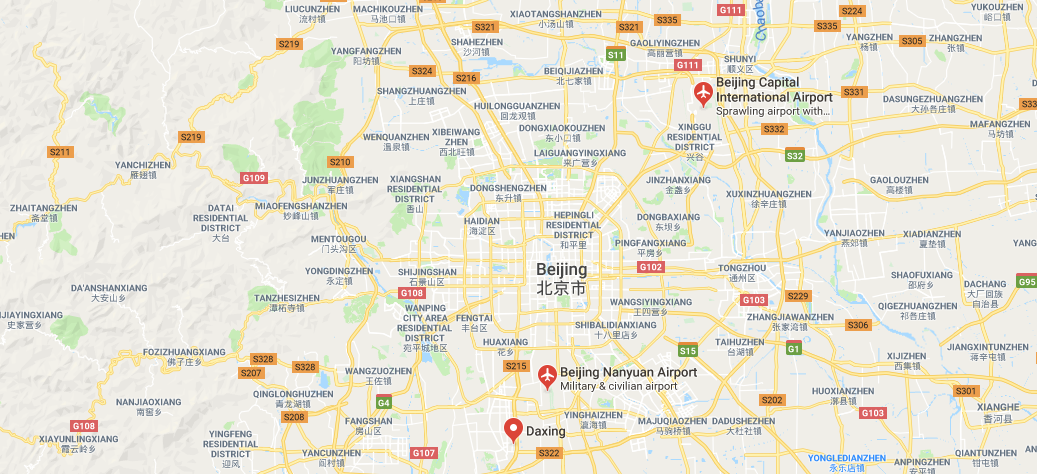 Source: Google Maps
The new airport will ultimately operate with seven runways and with a total capacity of 100 million passengers per annum across a surface area of 700,000sqm and as such will become one of the world's largest air gateways. T1 will have a capacity of 45 million passengers per annum upon opening, increasing to 72 million.
This capacity highlights the expected growth of aviation in China and in particular in Beijing, where network growth has been heavily restricted by capacity constraints. Daxing will complement the existing Capital gateway, which handled over 100 million passengers in 2018 (+5.4%). The Blue Swan Daily had previously highlighted that it was the only airport that could realistically overtake Atlanta's Hartsfield-Jackson International in the immediate future as the World's #1 airport.
SEE RELATED REPORT: Atlanta retained its #1 global passenger airport ranking in 2018; Beijing continued its growth, but Dubai is stalling
This will be deferred for some time as the city's second airport opens. In fact, even before airlines start to move capacity to Daxing, Capital's own growth level has declined this year, indeed into negative figures year-on-year, at -0.6% for the period Jan to May-2019 as the trade war with the USA impacted.
CHART - Capital International has recorded strong and fairly uniform traffic growth this decade, but levels have slipped into negative territory over the first five months of 2019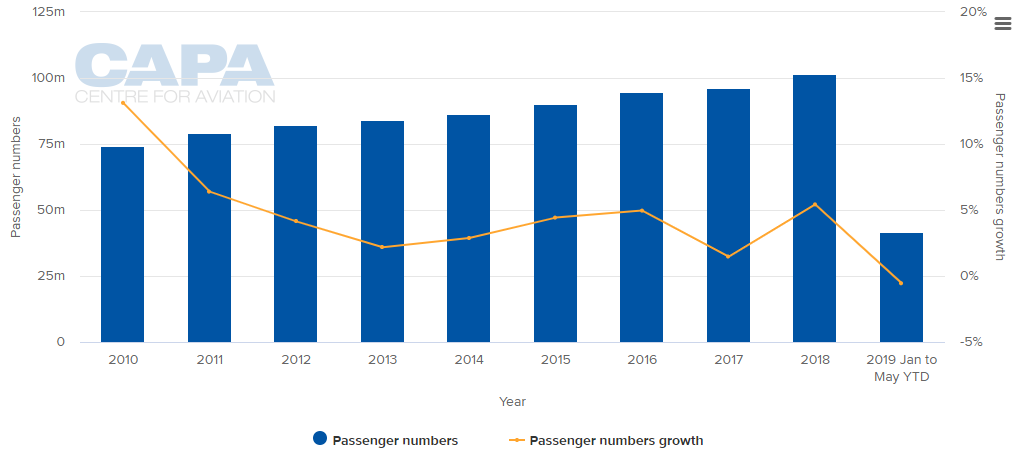 Source: CAPA - Centre for Aviation and Beijing Capital International airport reports
Together, the two airports are expected to handle 170 million passengers annually by 2025. China's growing middle class is fuelling the travel boom there and, current economic circumstances being resolved, the world's second-largest economy may displace the US as the largest aviation market by 2022.
With the new USD12.9 billion airport, Beijing is joining a short list of major cities such as London, Paris, Rome, Milan, New York, Chicago and Tokyo that have multiple international airports and we are now starting to see how capacity may be split between them.
The new airport has the IATA code PKX and will be dominated by the operations of China Eastern Airlines and China Southern Airlines, who will start flying from the new facility later this year and gradually focus their operations there from 2020 and at least by 2021. China Southern Airlines Group (excluding Sichuan Airlines and Hebei Airlines) will have 40% of total slots, China Eastern Airlines Group (30%) and the other airlines will share the remaining 30%.
China Southern has confirmed it will transfer its first batch of 13 routes from Capital to Daxing, effective 27-Oct-2019, initially serving Ho Chin Minh City, Xining, Yinchuan, Daqing, Yanji, Anshan, Changde, Yiwu, Zunyi, Tongren, Nanchong, Changchun and Jieyang from the new airport. China Eastern plans to transfer 10% of frequencies this winter with the rest following by summer 2020, except Beijing-Shanghai service it says will remain at Capital.
In terms of foreign carriers, Finnair will launch a three times weekly Helsinki – Beijing Daxing service from 03-Nov-2019 flown using A330 equipment. This seems to be in addition to it current daily Helsinki – Beijing Capital flight. Similarly, LOT Polish Airlines plans to launch a four times weekly Warsaw-Beijing Daxing service from 28-Oct-2019, operating with Boeing 787-8 and 787-9 aircraft. Both Kenya Airways and Philippines AirAsia have suggested plans to serve Beijing Daxing when the airport opens.
British Airways is the first foreign airline to clearly state its intent to move operations from Capital to Daxing with all flights switching to the new airport from 27-Oct-2019. It will continue to serve London-Beijing daily with Boeing 787-9 aircraft in the winter and 777-300s in the summer.
While the new airport will see the existing Capital International gateway slip from its position as the world's second busiest airport, it will deliver much-needed new capacity into the Beijing system, a market, like many in China, that has failed to keep pace with the growth of air transportation. This growing demand could mean that slip down the global airport rankings will just be temporary and could see Beijing soon rival London in becoming the world's largest city market for air travellers.