---
Summary:
Delhi's Indira Gandhi International Airport is set to expand to 100 million ppa during the 2020s;
In recent years its expansion has been overlooked by the huge rates of growth being recorded at Chinese and Gulf airports;
Decision time is approaching on the planned supporting second airport, which itself could handle up to 50 million ppa.
---
DIAL expects DIGIA to handle 70 million passengers in 2018 and to exceed 80 million passengers per annum by 2020, with the potential to surpass London Heathrow Airport by passenger traffic in the coming years. The fourth runway is expected to be completed by the end of 2022.
DIGIA was the world's 16th busiest airport by passengers in 2017 but the interesting statistic is its growth rate of +14.1% was the second highest of the World's top 50 airports after 50th-placed Moscow Sheremetyevo. The previous year's growth rate was +21% and in the first nine months of 2018 it is +12.9%.
That 2017 growth figure is higher than any Chinese airport in the top 50, and almost three times that of Dubai International. The development of Indian airports have been eclipsed by those in the Gulf in previous years but that is clearly no longer the case.
Airports Authority of India (AAI) aims to increase DIGIA's handling capacity by approximately a third (30%) to 95 aircraft movements per hour by 2021. The AAI plans to improve complementary ground infrastructure, airspace use and air traffic management processes at Delhi, include the development of rapid exit taxiways and enhancing surveillance to ensure airlines adhere to slot schedules.
The government announcement, concerning an airport that within the last 20 years was handling only 10 million ppa, contrasts with others this year, notably the recent cancellation of the New Mexico City Airport project. Prior to that, a final decision was made on a third runway at London Heathrow Airport after only six decades wait. Even in Asia Pacific there is vacillation, for example over a new airport for Manila, while in India itself the Navi Mumbai Airport project has been very slow going.
CHART - Traffic at Delhi's Indira Gandhi International Airport has more than doubled this decade from 25.8 million passengers in 2010 to over 63 million in 2017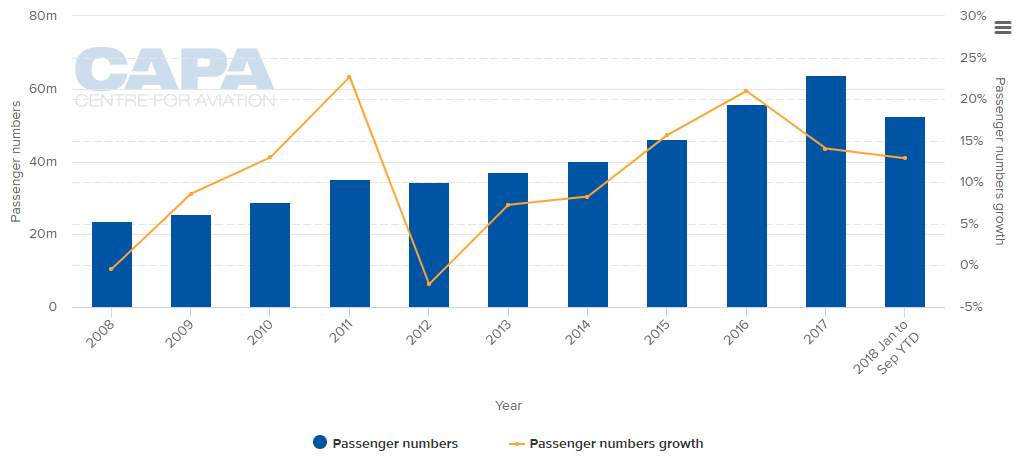 Source: CAPA - Centre for Aviation and Airports Authority of India
Even before this announcement, according to the CAPA Airport Construction Database, USD1.8 billion had been committed in the long-term for terminal expansion, two projected new terminals, commercial property development, including a new hotel, and a new taxiway as well as the projected fourth runway. The last completed piece of work was the renovation of Terminal 2 and work on Terminal 1 is under way.
CHART - Indian airlines currently dominate at Delhi's Indira Gandhi International Airport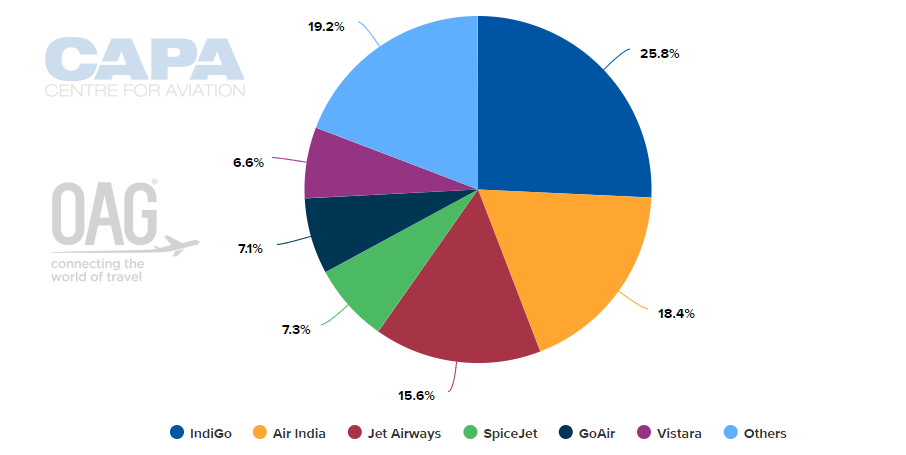 Source: CAPA - Centre for Aviation and OAG (data: w/c 29-Oct-2018)
DIGIA has a good mix of airlines providing capacity and all of the main ones are Indian, demonstrating how the industry there has matured. Indeed, the ratio of foreign airlines (seat capacity) is only 15.4%. At London Heathrow Airport the local/foreign ratio is almost 50:50 and even at Dubai International it is 22.7% foreign, for all the power of Emirates Airline.
CHART - DIAL's ownership is still split between Airports Authority of India, GMR Infrastructure and Fraport. Malaysia Airports Holding Berhad sold the 10% stake it held since 2006 to GMR in Mar-2015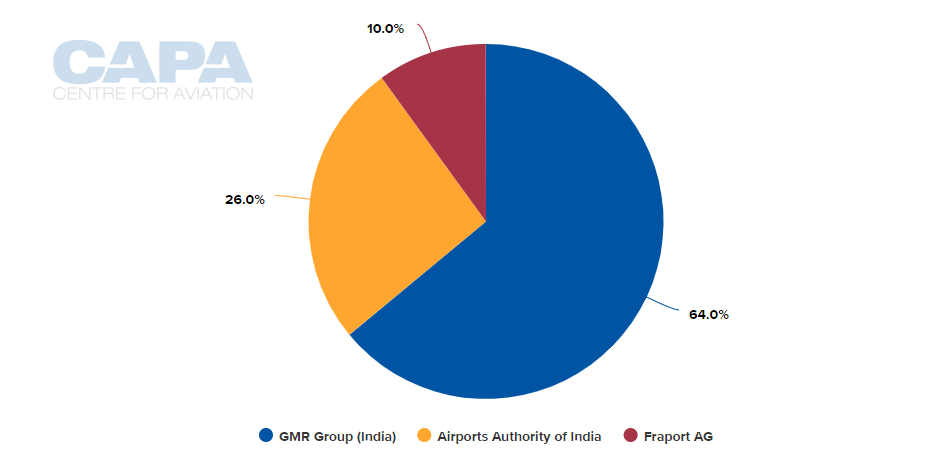 Source: CAPA - Centre for Aviation Airport Profiles
A new 'Delhi Greater Noida/Jewar Airport' is proposed to be built to supplement DIGIA. Plans were approved in Jun-2015. The facility will require a 2200-acre site and construction is expected to take three to four years. The land acquisition process should be completed by the end of 2018 and a tender to secure a private operator should be in place also by that time. Investment of over USD3 billion is anticipated with the airport having a handling capacity of 50 million ppa.