Delta is the largest operator between USA and Africa and the only US major to currently serve the African continent on a non-stop basis since United Airlines ended flights between Houston and Lagos in June 2016. Alongside its Nigerian operations it also links Atlanta to Johannesburg, while New York is already connected to Accra in Ghana and Dakar in Senegal. These are among 13 non-stop city pairs currently scheduled between USA and Africa.
CHART – Delta Air Lines is the largest operator between USA and Africa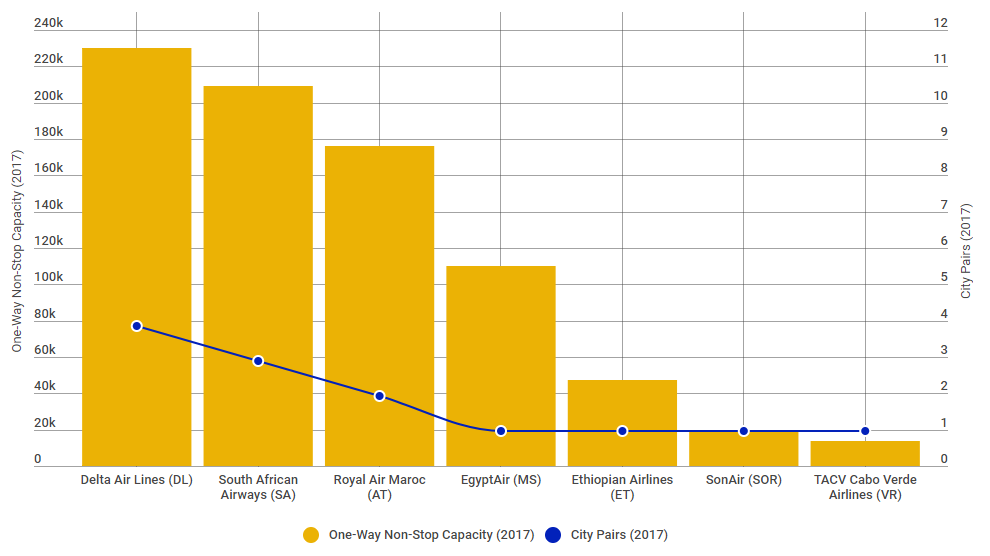 Source: The Blue Swan Daily and OAG
Delta's senior vice president – Transatlantic, Dwight James, says Nigeria "has been a strategically important market for Delta" over the past 10 years and is "a mainstay" in its African network." The deployment of the A330-200 will bring 1,404 two-way seats into the city pair with the widebodied aircraft configured with 34 first class, 32 premium economy and 168 economy seats.
Arik Air introduced flights between Lagos and New York in April 2010 itself filling a two-year hiatus since North American Airlines closed its doors in May 2008. It initially utilised a wet-leased A340-500 on the route, but switched to the smaller A330-200 from October 2015. It suspended the route in February 2017 after the Nigerian government was forced to take over the business to avoid its collapse.
Nigeria's aviation sector has been hard-hit by the country's currency crisis, but it is now emerging from the recession that has hurt the industry over recent years and business confidence has been rising sharply in recent months.
The Blue Swan Daily analysis of OAG traffic data shows that even before it launches the New York – Lagos route, Delta is already a notable player in the market with indirect flows through its own Lagos – Atlanta flights and also (more recently) with transatlantic joint venture partner Virgin Atlantic Airways over London.
CHART - Indirect demand between Lagos and New York reached decade highs in 2016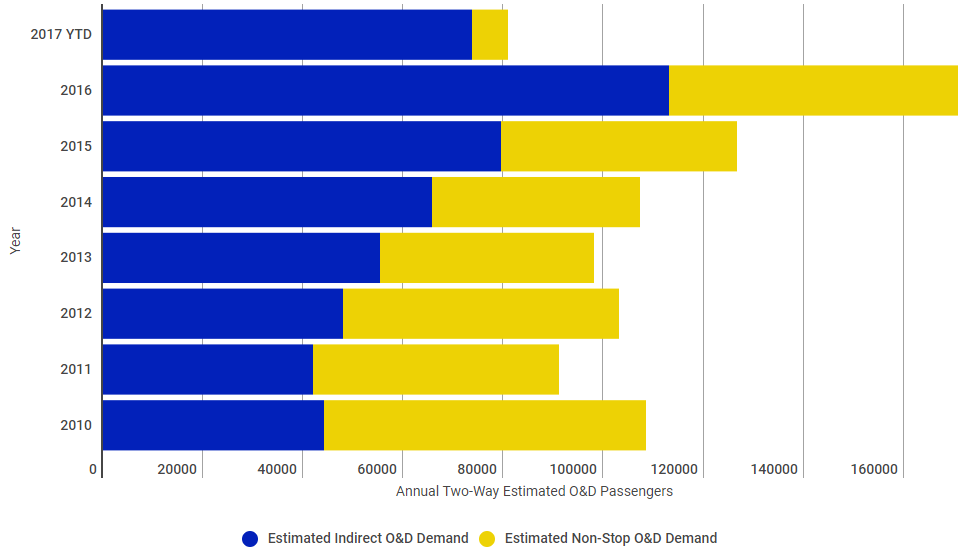 Source: The Blue Swan Daily and OAG
While Arik Air has been the dominant carrier thanks to its non-stop operation, Delta has historically held a sizeable share of the indirect market, but this has been shrinking over the past year from indirect traffic shares of 27.1% in 2010, down slightly to 25.1% in 2011, rising to 27.1% in 2012, and up to 29.0% in 2013, but then reduced to 27.2% in both 2014 and 2015 and then down to just 9.6% last year.
For the first five years of the decade Delta Air Lines was the largest indirect carrier in the Lagos - New York market, while Atlanta was the second most popular transit point on the route. However, in 2016 Delta dropped down behind both Virgin Atlantic and Qatar Airways, with the latter's Hamad International Airport in Doha replacing Atlanta as the second most popular transit point.
Over the first six months of the year Delta's share of the indirect market has slipped further to just 6.8% with Turkish Airlines and its Istanbul Ataturk Airport hub becoming an increasingly popular transit point due to increased flights on the Lagos - Istanbul route.
TABLE - Delta Air Lines has for much of the decade been the largest airline for indirect O&D passenger flows between Lagos and New York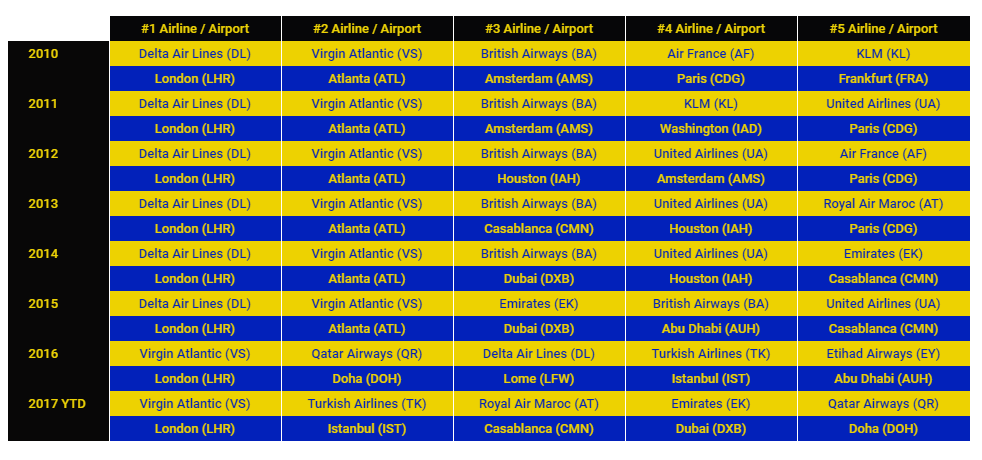 Source: The Blue Swan Daily and OAG