Together the airlines, plus Alitalia, will develop an enhanced transatlantic partnership which will offer nearly 300 daily non-stop flights between Europe and USA. This will simplify the dual arrangement currently in place between Delta, Air France-KLM and Alitalia and another between Delta and Virgin Atlantic.
The transactions, which remain subject to execution of definitive agreements and receipt of final shareholder, board and regulatory approvals, have been driven by financial considerations but the timing is almost certainly related to Alitalia's current precarious position and Virgin Atlantic's own continued transformation and the whole uncertainty of Brexit on the UK economy.
After 33 years of operation Sir Richard Branson's own shareholding in Virgin Atlantic will reduce to 20%. The terms of the deal mean Virgin Atlantic will retain its independence as a UK airline with a UK operating certificate, and will continue to fly under the Virgin brand, but there will still likely be some form of standardisation in the offering across the joint venture partners.
Sir Richard Branson acknowledges that the airline industry has consolidated over Virgin Atlantic's lifetime and it now has to position itself at the heart of an alliance to maintain its status as a credible international business. Delta became its 'white knight' when it rode in to acquire Singapore Airlines' 49% stake in late 2012 and its influence has helped it reposition the carrier in the market.
While ownership rules have meant Delta has been unable to take majority control of Virgin Atlantic due to the European Union's limit on foreign ownership, it has held effective control of the carrier through their existing transatlantic partnership. This can be seen clearly in how the airline's network has become more focussed on the US market.
CHART – Virgin Atlantic Network by Destination Region(summer 2012 vs summer 2017)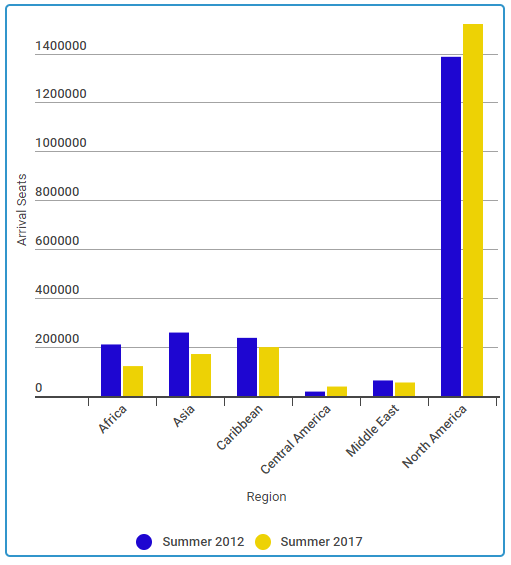 Source: The Blue Swan Daily and OAG
When Delta acquired its shareholding part of the rationale was clearly to provide a competitive alternative to the British Airways (BA) and American Airlines alliance in a highly competitive market. This has strengthened Virgin Atlantic's fragile financial position, though Brexit is already having a negative effect on the economic performance of both the airline and Virgin's tour operator business, principally due to the collapse in the value of the pound.
"The foundation of this transaction is pure business," says Shai Weiss, chief commercial officer, Virgin Atlantic, adding the reason for this venture and timing was "because it's a very good idea." The airline warned earlier this year that it expects to fall back into loss this year after three years of profits, as competition intensifies, fuel costs rise and a cheap pound takes its toll on the business.
Delta will still retain a 49% stake in Virgin Atlantic under the revised ownership structure and will become the airline's largest shareholder. Its control will also become clearer given its own shareholding in Air France-KLM, while still complying with foreign ownership restrictions. However, there may be question marks over the sovereignty of the operation post Brexit as Virgin Atlantic will no longer majority controlled by UK nationals.
When the deal was agreed in 2012, Willie Walsh, chief executive officer of BA parent IAG, predicted that the Virgin Atlantic brand would disappear within five years as a result. While the Virgin Atlantic brand does remain, you could question who actually has control of it. According to Sir Richard Branson he also said he'd "accept a knee in the groin" from him if it didn't. "Whether childishly or bravely... that five year point is up this December," says Sir Richard.
The partnership is a clever way to drive consolidation within the highly fragmented airline industry, where cross-border mergers are quite often prevented by restrictive foreign ownership rules. The investment aligns with others Delta has made in recent years as it grows its international footprint through partnerships with key airlines in regions around the world. Delta says its existing arrangements has already delivered new transatlantic routes and expanded choice in destinations and flight frequencies.
The Atlanta-based airline's existing joint venture with Air France-KLM dates to 2009, with the addition of Alitalia in 2010. In 2012 Delta launched a joint venture with Virgin Australia followed by both a 49% investment in, and joint venture with, Virgin Atlantic.
In 2015, Delta entered into an enhanced marketing arrangement with, and acquired a 3.5% stake in, its SkyTeam partner China Eastern Airlines and as part of these latest transactions the Chinese carrier is also acquiring a 10% equity of Air France through the capital increase further reducing the European flag carrier's debt.
In 2017, Delta launched its joint cooperation agreement with Aeromexico and increased its equity stake in the carrier to 49% and there is every likelihood that the airline could be added to this joint venture in the future. This year the US major also announced a joint venture with Korean Air Lines, while it also holds a 9.5% equity interest in Brazilian airline GOL.
It is clear that Delta has considerably helped to deliver feed to the Virgin Atlantic transatlantic network, but with limited room to currently grow out of London's Heathrow and Gatwick airports and the failure of its own Little Red domestic operation, the options to feed the routes in Europe have been limited. Now Air France and KLM will effectively become feeders on the European side.
These investments will cement the relationships between Delta Air Lines, Air France-KLM, Virgin Atlantic and Alitalia (reliant upon its own change of ownership) and will certainly position them in a stronger partnership against new low-cost entrants. Norwegian is already building a network between Europe and USA, while in the last week Primera Air has revealed plans to fly from Birmingham, London and Paris to Boston and New York.
Analysis by The Blue Swan Daily of OAG schedule data for this summer shows Delta, Air France-KLM, Virgin Atlantic and Alitalia have a combined 27.8% share of the capacity between Europe and USA, the largest combined network across the Atlantic with over 70,000 seats per day.
CHART – Largest Airline Networks Between Europe and USA (Summer 2017)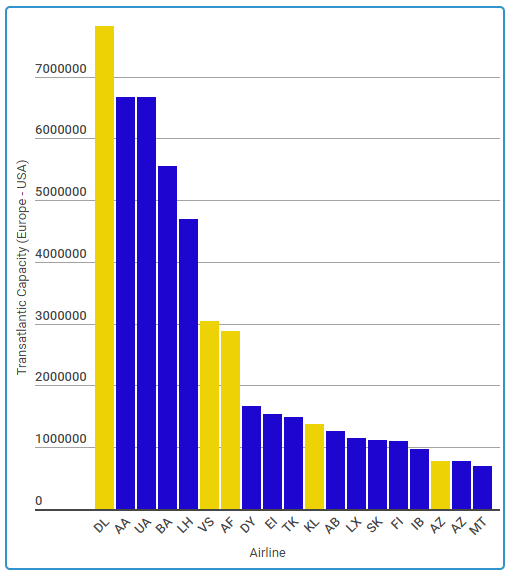 Source: The Blue Swan Daily and OAG