The US major's president Glen Hauenstein reported this week that the carrier is "in a virtual dead heat with JetBlue as the largest revenue carrier in Boston". But, he said passengers are expected to "stick" with Delta, adding that "as long as we think we can provide the best products and services, we're ultimately going to win".
Boston's Logan International airport is JetBlue's largest base measured by departing frequencies (as of mid Jan-2020) and it and Delta are its largest airlines measured by departing frequencies. JetBlue has a 30.5% share, and Delta's share is 22.0%, according to CAPA – Centre for Aviation analysis of OAG schedule data.
CHART – JetBlue Airways and Delta Air Lines dominate at Boston's Logan International and share more than half of the airport's system capacity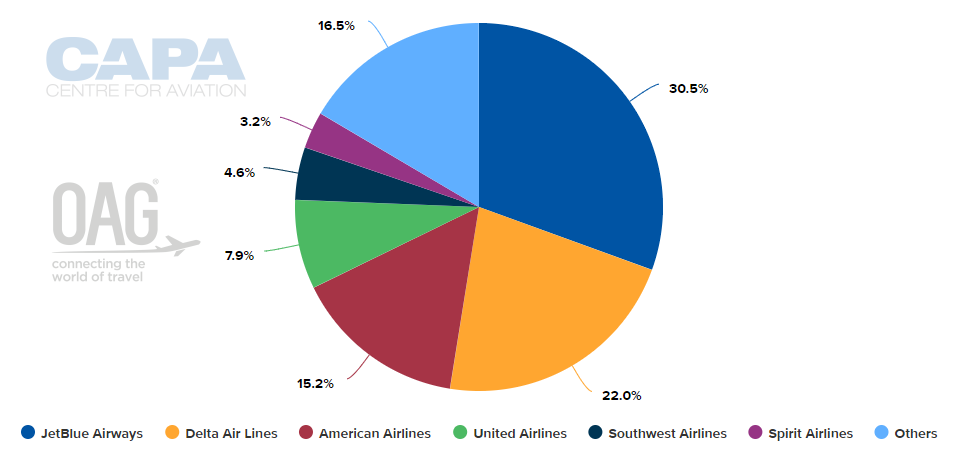 Source: CAPA – Centre for Aviation and OAG (data: w/c 20-Jan-2020)
Starting in May-2020 Delta is making a huge push between Boston and Seattle, pushing its weekly frequencies in the market from seven to 28, and the number of daily flights from it and rivals Alaska Air Group and JetBlue will rise to seven in the US summer time period.
Data from CAPA – Centre for Aviation and OAG shows a marked rise in seats between the two US cities in the summer time period, and it remains to be seen if a largely domestic O&D market can support a significant capacity increase.
CHART - The Boston-Seattle market has clear historic seasonal capacity variations, but the 2020 summer schedule plans takes the variation to another level

Source: CAPA - Centre for Aviation and OAG (data: as at 20-Jan-2020)
The tech sector is an important contributor to both Boston and Seattle's economy, and there are no doubt a solid number of corporate travellers on the pairing. But Alaska is Seattle's hometown airline, holding a 57% share of departing frequencies at the airport as of mid-Jan-2020.
The carrier will not quietly let Delta attempt to steal corporate share on flights between Boston and Seattle, and JetBlue, which offers it premium product Mint on its own service from Boston to Seattle will also be a significant competitor.
Delta could be using this frequency growth to attempt to win some of JetBlue's corporate travellers over by touting a superior schedule on its service to Seattle, but that could turn out to be a risky proposition. With its wider global network to support short term market changes, perhaps Delta believes it can simply pressure its rivals by pushing capacity to the limits in the market.
The US major obviously has valid reasons behind its significant growth, but ultimately, it will be travellers that benefit the most as fares likely drop as capacity reaches what in our opinion are arguably unsustainable levels.