Reservations for the new link will be opened from 23-Sep-2017 when full details of its frequency will be confirmed. It is thought the flight will operate initially with an at least three times weekly schedule on a year-round basis, but could grow to an up to daily rotation in the peak season. Delta has confirmed the outbound service from Indianapolis will operate as flight 'DL500' in recognition of the famous Indianapolis 500 automobile race held annually in Speedway, an enclave suburb of Indianapolis.
The new route will be supported by a significant incentives package that will be awarded based on the number of passengers served by the route, according to the Indiana Economic Development Corporation. This is estimated to be valued at up to $5.5 million in conditional incentives over a two year period.
The new Paris route will be only the third international destination to be linked non-stop from Indianapolis adding to the flights of Air Canada Express to Toronto, Canada and seasonal services from Delta and Vacation Express (flown by Volaris) to Cancun, Mexico. Southwest Airlines will also add seasonal flights between Indianapolis and Cancun from Mar-2018.
CHART – Passenger traffic at Indianapolis International Airport has been on the rise for the past three years, albeit the rate of growth has slowed in both 2016 and year-to-date in 2017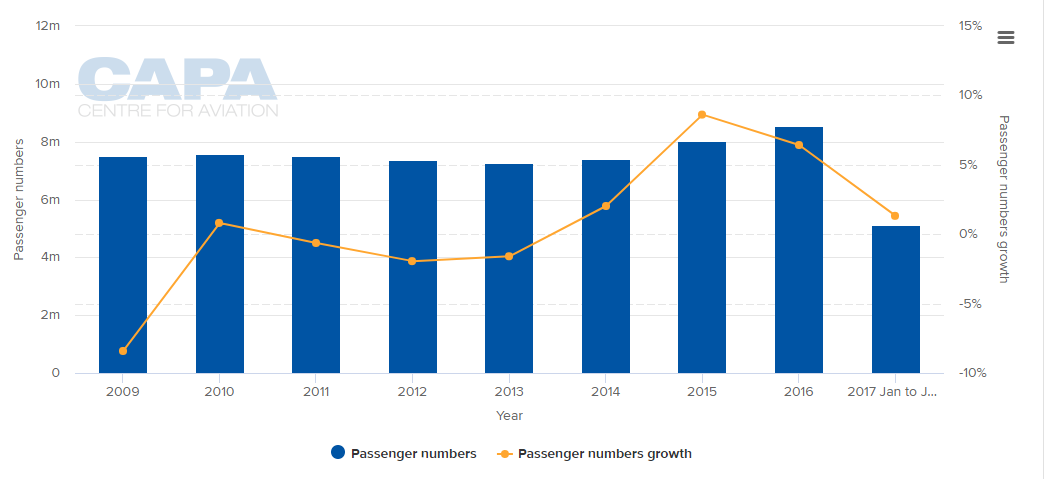 Source: CAPA – Centre for Aviation and and Indianapolis International Airport reports
"Indiana and the Indianapolis metropolitan area has long been an important part of our route network and we are honoured that Delta will be the first U.S. carrier to take Indiana nonstop to Europe," says Bob Cortelyou, senior vice president – network planning, Delta Air Lines.
Delta's history in Indianapolis goes back more than five decades and the US major is the largest network operator from Indianapolis International Airport in terms of destinations with its mainline and Delta Connection arms offering service to 13 destinations and 37 peak-day departures. However, in terms of capacity its 22.6% share in summer 2017 is second to that offered by Southwest Airlines (34.4%).
CHART - After incorporating the activities of Northwest Airlines in 2010, Delta Air Lines has provided a relatively stable network offering in and out of Indianapolis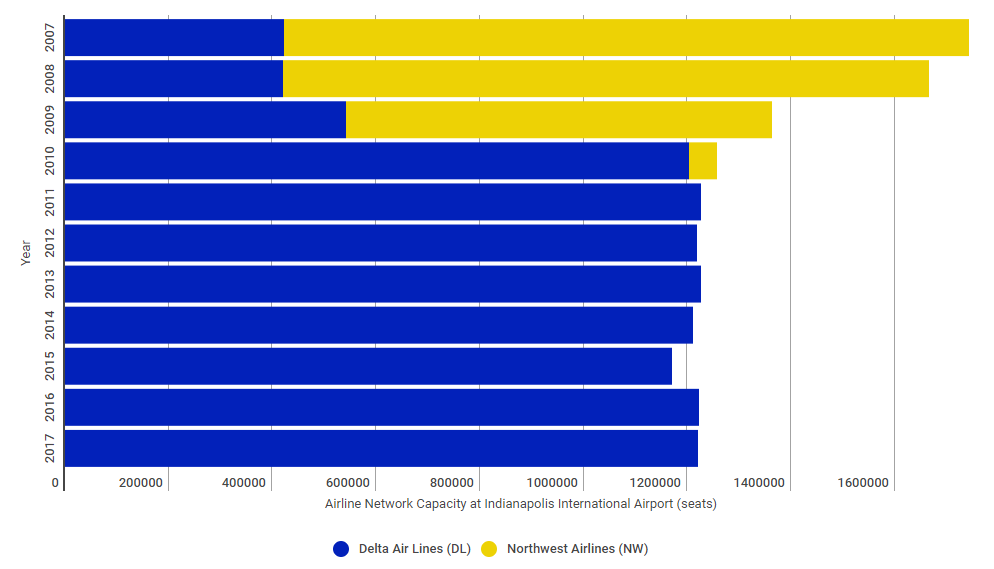 Source: The Blue Swan Daily and OAG
Delta's new service to Paris will not only support inbound and outbound flows across the Hoosier State, but also support demand beyond Paris with one-stop connections via the Air France network to more than 100 destinations across Europe, Africa, Middle East and India. "Indiana's pro-business reputation continues to grow and spread around the globe, and that's why securing a direct Transatlantic flight is so important," says Indiana Governor Eric Holcomb.
The Blue Swan Daily analysis of OAG bookings and demand data for the first six months of 2017 highlights the United Kingdom, Germany, Japan, China and Italy as the largest unserved country markets outside of the Americas from/to Indianapolis. France is in fact ranked sixth with a third of the flows into the UK and around half those into Germany.
Similarly, the traffic between Indianapolis – Paris is beaten by both London and Frankfurt, but this route is about more than just local traffic and through Delta's joint venture partnership with Air France it will be able to better support wider demand in and out of Indianapolis while maximising synergies within its transatlantic tie-up.
Enhanced transatlantic connectivity into mid-sized USA cities
Airlines are continuing to open the door to enhanced connectivity for smaller US markets. Since the start of 2016 the five largest unserved markets without transatlantic service have all now secured new flights to Europe: British Airways to New Orleans; WOW air to St Louis; Icelandair and WOW air to Cleveland; British Airways to Nashville; and now Delta Air Lines to Indianapolis. This now leaves Kansas City, Columbus, San Antonio, Honolulu and Jacksonsville as the largest US markets without non-stop transatlantic flights.
CHART – Enhanced transatlantic connectivity over the past couple of years and confirmed future growth announcements means the growing Kansas City market is now the largest unserved US destination from/to Europe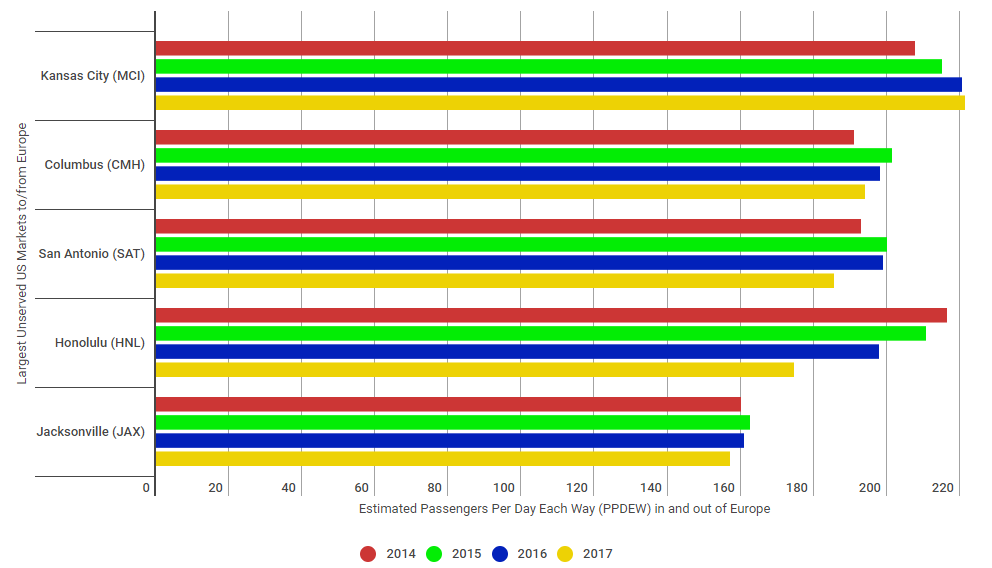 Source: The Blue Swan Daily and OAG
It must be a story of mixed emotions at those mid-sized US airports still lacking European flights - frustrations at missing out on the flights, but upbeat that growth is delivering connectivity into new markets.
While recent domestic growth has been a major success for the air service development team at Kansas City International Airport, they really want to repeat this expansion in the international market and in particular deliver a direct transatlantic connection to Europe.
"We are now one of the largest population areas in the US not to have a non-stop flight to Europe and that remains a key focus for us right now," Justin Meyer, deputy director of aviation marketing and air service development told The Blue Swan Daily last year. The airport is talking to "the right carriers" to bring such a link, he says, but faces tough competition from existing and new markets to attract its preferred partner.
"Kansas City has a great selling point as there is a huge gap in the transatlantic network into the heartland of the US. We have a strong home market, but when we include some regional leakage from markets like Omaha, Des Moines and Wichita, our transatlantic traffic is at a similar level to Austin when British Airways arrived. There is absolutely a profitable opportunity for the right transatlantic carrier using a 200- to 300-seater airliner. There's clearly demand here," added Mr Meyer.
At John Glenn Columbus International Airport in Ohio officials say low-level discussions have taken place with Icelandair, WOW air and British Airways and confirm meetings will continue to take place with key international airlines with a goal to deliver its own non-stop transatlantic connectivity. It is likely to be a similar story at San Antonio International Airport in Texas.
While a regular link between Europe and the Hawaii may seem unlikely The Hawaii Tourism Authority has been actively meeting with European airline representatives and travel companies to establish flights. They argue that not only does new aircraft technology allow for Honolulu to now be linked directly with Europe, four years of record visitor numbers up until 2015 mean there is a big enough market across the whole of Europe to support and sustain a service, although numbers showed a small decline last year.
Hawaii's tourism industry established new records in total visitor spending and visitor arrivals in 2016, the fifth straight year of record growth in both categories. Total spending by visitors to the Hawaiian Islands increased 4.2% in 2016 to a new high of USD15.6 billion, while visitors grew 3% to just under nine million people.
The Airbus A350 and Boeing 787 Dreamliner have the range for the estimated 14-15 flight from Europe, but more importantly they have the operational efficiencies to serve the route profitably versus older generation equipment, but increasing fuel prices will make it a harder sell.
Latest figures show that around 143,000 people travelled between the Pacific islands and Europe last year, down -1.6% on 2015, with the UK the largest source market, accounting for more than a third of that traffic. Through the first seven months of 2017, arrivals have declined further (-2.4% to 73,469) compared to last year, albeit a 3.1% growth was recorded in July, the first month of year-on-year growth in 2017.