Most of Delta's domestic network opimisation efforts centre on its seven hubs, but the airline has concluded certain markets outside its hub structure are worthy of investment, and Raleigh-Durham's returns are growing.
MAP - Delta Air Lines still sees pockets of opportunities, identifying Raleigh-Durham and Boston as important focus cities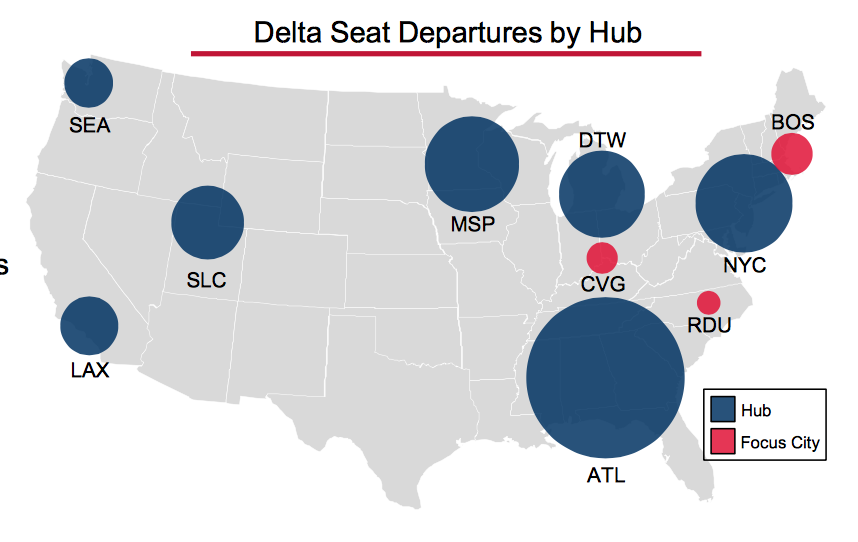 Source: Delta Air Lines
Using Raleigh as an example of some cities where Delta has invested assets, company president Glen Hauenstein recently concluded: "Raleigh is a fast growing city, very economic, lots of high tech, [and] biotechnology."
However, even with its economic prosperity, Raleigh was a very fragmented market, said Mr Hauenstein. "There was no carrier that had more than a 15% share of Raleigh," stated.
Delta opted to invest and build up is presence at Raleigh-Durham, "and as we are investing the returns are going up, and I think Raleigh is a great success story", Mr Hauenstein concluded.
The airline is Raleigh-Durham's largest measured by system ASKs, holding a 28.3% share as of mid-Dec-2017. The airport logged significant passenger growth in 2016, with throughout jumping 10.3% year-on-year. That was the same year Delta officially referred to Raleigh as a focus city.
Delta believes Boston has similar characteristics as Raleigh, and has made its ambitions clear for Boston. "You see the combination of these mega factories (large hubs) if you will, that are producing these much more efficient and industry-leading cost structures combined with leading positions in cities that we choose to be the leading carrier in," said Mr Hauenstein, "Now we're working on Boston."
But the competitive dynamics are much different in Boston. The market is a major base for jetBlue, its second largest measured by ASK deployment, and the airline has worked to build up its corporate share in Boston during the last few years. During 2Q2017, Boston produced the highest margins among jetBlue's focus cities.
jetBlue represents 23.2% of Boston Logan's system ASKs, and its answer to Delta's encroachment is continuing to grow in the market. Previously, jetBlue has stated the bulk of its 2H2017 growth is geared toward Boston and its other rapidly growing focus city of Fort Lauderdale.
Perhaps jetBlue's clearest message that it is not afraid of competing fiercely with Delta in Boston is jetBlue's planned launch of service from Boston to Delta's hub at Minneapolis in May-2018. jetBlue concluded it was the largest of its un-served domestic destinations from Boston, and the airline has a stated goal of building daily departures from Boston to 200. jetBlue's strategy for Boston clearly challenges Delta's assumptions that a dominant airline is absent in the market, and the airport's largest airline shows no signs of anxiety over Delta's efforts to grow in Boston.