---
Summary:
Delta Air Lines' domestic Net Promoter Score (NPS) target is around 50;
Its NPS growth during the last few years has corresponded with an increase in its domestic revenue premium;
The airline has to work towards its NPS goals while working to meet its unit cost targets.
---
Delta's net promoter score jumped from 20% in 2011 to 41.5% in late 2017, reflected in the company's work to improve the relevancy of its brand. In 2017 Delta was the only airline listed in Forbes' top 15 most relevant brands, joining industry leaders such as Amazon, Starbucks, Google and Tesla.
The airline has stated that its ultimate net promoter score target is around 50, and that once its domestic score reached that target, the company would evaluate the cost benefits of continuing grow its net promoter metrics.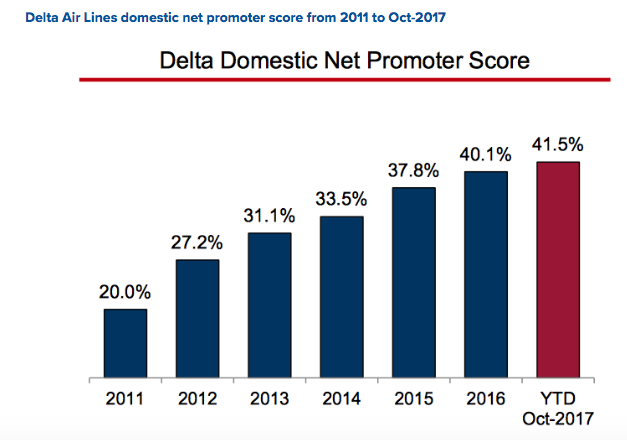 Delta Chief Marketing Officer Tim Mapes has highlighted other tangible benefits of Delta's NPS growth including its domestic revenue premium growth versus the US industry of 109% in 2011 to 117% in late 2017. Some of the contributors to NPS growth in 2017 include operational reliability, free entertainment and upgraded snacks.
"Customers are quite willing to tell us what else they want value and are willing to pay for, and the obligation for us is within the CASM guidelines...is how do we use prudent investment to find these things that customers are willing to pay for or embed in the experience at the expense of things they don't value," Mr Mapes concluded in late 2017. Delta is working to keep its unit costs excluding fuel between flat and a 2% increase year-on-year in 2018 after posting growth of 4.3% in that metric for 2017.
For 2018, Delta believes free text messaging and gate and boarding improvements will continue to push the airline toward its NPS target.