Delta's USD1billion profit during 3Q2012 was a USD498 million improvement from the year-prior, and when factoring in special items its USD768 million net income was still robust during one of the strongest quarters for the airline industry from a demand perspective. The three months ending Sep-2012 features the high summer travel season in the northern hemisphere. Delta also recorded healthy growth in its operating income year-over-year to USD1.3 billion, a 52% rise from the USD860 million posted in 3Q2011.
Unit costs challenges remain as wage increases and other investments create pressure
Delta during 3Q2012 posted a 6% rise in its unit costs to USD8.55 cents year-over-year, and almost doubled the 3.6% unit cost increase recorded during 2Q2012. The main triggers for the 3Q2012 unit cost hike were increases in wages and benefits, which Delta CFO Paul Jacobson stated accounted for half of the rise. The carrier also recorded a USD65 million increase in maintenance costs year-over-year that Mr Jacobson charaterised as a one-time occurrence driven by Delta's desire to accelerate aircraft engine inductions to take advantage of favourable vendor pricing initiatives.
Delta select operating statistics: 3Q2012 vs 3Q2011 and Jan-Sep-2012 vs Jan-Sep-2011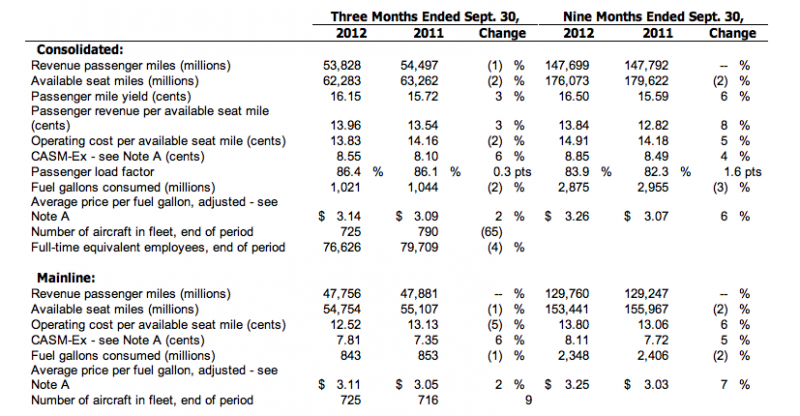 See related article: Delta's cost pressures mount as revenue growth remains solid
While maintenance costs should remain flat year-over-year during 4Q2012, Delta CEO Richard Anderson warned the unit cost challenges would carry over into 2013. Wage acceleration pressure will continue as the carrier faces a second tranche of salary increases in Jan-2012 after recording an initial round of pay rises in Jul-2012. Previously, Delta management has explained that while a new pilot contract negotiated earlier in 2012 would produce significant returns over time, the costs associated with the deal "came in right away".
But some of the elements of the USD1 billion cost cutting programme will materialise during 2H2013 including a domestic fleet restructuring that includes upgauging 50-seat aircraft to Boeing 717s and 737-900s. The 717s are part of a deal Delta reached with Boeing Capital and Southwest Airlines in Jun-2012 to lease 88 of the aircraft that Southwest acquired through its 2011 purchase of AirTran Airways. The new ageement Delta reached with its pilots allows for the incorporation of the 110-seat 717 narrowbody into its fleet.
See related article: Delta seizes opportunity to keep capex in check through 717 deal with Southwest
Mr Anderson explained that the 717s along with some McDonnell Douglas MD90s being incorporated into Delta's mainline fleet would essentially produce the same number of seats as the 50-seat jets exiting Delta's operations, but with fewer take-offs and landings, which is "where the leverage in scale comes from in the fleet changes". The pilot contract allows Delta management to replace 75% of its 50-seat jets with higher-gauge and more cost-effective aircraft.
Revenue growth remains consistent despite some geographical challenges
Delta's nearly USD10 billion in revenue recorded during 3Q2012 was only a 1% gain year-over-year, but both consolidated yields and unit revenues grew 3% year-over-year as the airline posted growth in those metrics in all geographic regions with the exception of Latin America, where Delta has a smaller footprint relative to its major legacy competitors American and United.
Delta unit revenue and yield performance by region: 3Q2012 vs 3Q2011

During 3Q2012 Delta's unit revenues in Latin America were flat as yields fell 3% on 3% capacity growth. Commenting on the outlook for the region going forward Delta EVP network planning, revenue management and marketing Glen Hauenstein remarked that the region's flag carriers LAN and TAM, which are now merged under LATAM Airlines Group, are increasing their capacity into South America, resulting in yields and traffic in the region coming under pressure.
Management of LAN and TAM parent LATAM Airlines Group recently stated that a large portion of the 3%-4% rise in combined capacity for LAN and TAM during 2012 and growth in 2013 would be focussed on north-south long-haul routes to North America, with a focus on LAN's Lima hub to seize on favourable demand from North America. LAN Peru recently tabled plans to increase flights between New York and Lima to 11 weekly on 3-Nov-2012. The carrier has also added two weekly flights from Los Angeles to Lima for a total of 13, and increased its Lima-San Francisco offering to four flights per week.
See related article: LAN-TAM parent LATAM's first combined financials offer a mixed bag behind consolidate net profit
The Pacific was Delta's best performing international entity during 3Q2012 as unit revenues grew 6% and yields increased 3% year-over-year. Analysts pointed out the 6% unit revenue growth was lower than the 9% growth in the Pacific that the overall US industry was recording, Mr Hauenstein remarked that capacity had increased between the US and Japan, particularly in New York and with new service by Japan Air Lines from Tokyo to San Diego and ANA's new flights between Tokyo and Seattle and its upcoming service from Tokyo to San Jose, California.
All of those new services introduced by the Japanese carriers are flown with Boeing 787 widebody aircraft. Delta president Ed Bastian also stated that the restart of the airline's service from its Detroit hub to Tokyo Haneda in Jun-2011 also dragged down Delta's Pacific operations year-over-year in 3Q2012, but the carrier suspended that route in Sep-2012. The carrier hopes to transfer its Haneda rights to support proposed new service from Seattle.
See related article: Delta leverages its strength in Seattle and Alaska Airlines partnership to bolster service to Asia
A 5% capacity cut year-over-year during 3Q2012 helped Delta increase revenues in the trans-Atlantic by 3% while yields also increased 3%. Reiterating previous comments, Mr Hauenstein explained that headlines regarding Europe's economic condition "don't match the results". He remarked that Delta expects positive gains in the trans-Atlantic during upcoming weaker winter months as "demand is moving both ways". Mr Hauenstein cited a trend of European multi-national businesses looking toward the US as those entities face challenges in conducting business in Europe.
The carrier plans to practice further trans-Atlantic capacity discipline during 4Q2012. Delta's international capacity is scheduled to drop by 2% to 4% as consolidated supply should fall by 1% to 3%.
Taking time to outline the competitive situation in main hub Atlanta as Southwest continues its integration of AirTran, Mr Hauenstein remarked that AirTran's peak capacity in Atlanta is down by roughly 50% since Southwest acquired the carrier, and noted Southwest's plans to cut service from Atlanta to Charlotte in North Carolina, Flint in Michigan and Rochester in New York. AirTran, and now Southwest, are Delta's major competitors in Atlanta, accounting for 13% of the seat share, second behind Delta's dominant share of 77%.
Mr Hauenstein stated that based on data from the US Department of Transportation during the spring of 2012 "AirTran and Southwest have had a lot of trouble filling their seats so they've put some aggressive sale fares out there". He believes Southwest will remedy that situation over time as the carrier continues to rationalise capacity in Atlanta. Mr Hauenstein did remark, however, that Delta was seeing some share gain in Atlanta from Southwest.
Solid demand trends for 4Q2012
Delta continues to record strong corporate demand, said Mr Bastian, as bookings among those clients are up 8% during the last four weeks. In the financial and banking sectors, bookings are growing in the double digits, while the manufacturing and technology sectors are recording 9% growth year-over-year.
Delta estimates unit revenue growth of 4% of 5% in Oct-2012, but Mr Bastian cautioned that Nov-2012 is the second most difficult month for comparisons in 2012 behind September, noting the unit revenue gains for Nov-2012 will be smaller year-over-year.
He envisions strong leisure traffic for the upcoming Thanksgiving and Christmas holidays, and stressed in a survey of corporate travel managers 82% anticipated corporate travel spend will remain steady or increase in 4Q2012, and participants remained optimistic growth in travel spend would continue into 2013.
Delta's robust financial performance during 3Q2012 was underpinned by questions regarding whether the carrier can indeed begin to dull the cost creep it has seen throughout most of 2012 during 1H2013. If economic uncertainty drives a sudden change in demand patterns, the carrier could find itself forced to revise its targeted timeline for unit cost improvements, which could trigger delays in the carrier's goals of creating sustained profitability over a longer-term business cycle.
Background information
Delta financial performance: 3Q2012 vs 3Q2011 and Jan-Sep-2012 vs Jan-Sep-2011