---
Summary:
Vienna International airport is benefitting greatly from the price war between LCCs with passenger traffic up nearly 25% in 1Q2019;
Lauda in particular is driving growth, and plans to expand its presence even further in 2019 and 2020 while challenging Austrian on some major routes;
Austrian predicts an eventual market consolidation at Vienna among the LCC and will 'hold out as long as necessary' until this happens.
---
At the start of 2019 the airport forecast full year growth of 10% to around 30 million passengers but could go as high as 32 million if the trend continues. Growth has been spurred on by rapid LCC expansion with which Lufthansa Group subsidiary Austrian Airlines is struggling to keep a lid on.
Vienna Airport VP aviation marketing and business development Belina Neumann recently said the last 18 months have been "the craziest period I have ever seen" in terms of competition and growth of LCC traffic.
CHART: Vienna International airport is on track for a bumper 2019, with traffic up nearly 25% in three months ended Mar-2019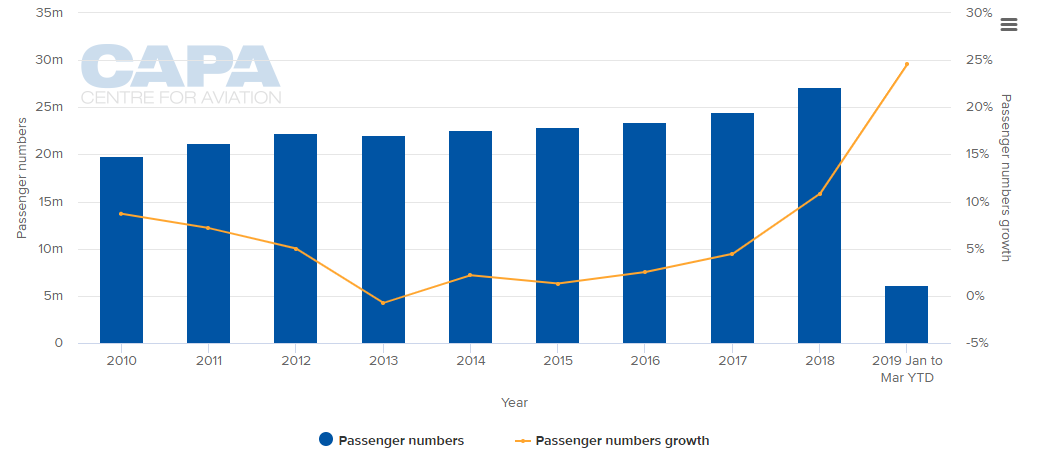 Source: CAPA - Centre for Aviation and Vienna Airport reports
After Austrian Airlines, LCCs Eurowings, Wizz Air, Laudamotion, easyJet and LEVEL Austria hold the next four positions in terms of seats from largest to smallest. LCCs holds roughly a third of total seats at the airport according to OAG data.
Specifically, Laudamotion is the LCC to watch in 2019 and will continue to be a catalyst for rampant growth at the airport. The carrier has forecast it will handle six million passengers in 2019, with roughly 2.4 million at Vienna as it more than doubles its primary Austrian base from four to 11 aircraft as of winter 2019/2020.
In addition to destinations such as Barcelona, Madrid, Dublin, London Stansted, Rome and Copenhagen to name but a few launched in winter 2018/2019, Lauda plans to launch a further 21 new holiday destinations across Europe and North Africa with a focus mainly on holiday destinations. However, according to OAG, seven destinations planned including Athens, Tel Aviv, Oslo, Stockholm, Brussels, Sofia and Vilnius are also served year round by Austrian.
MAP - Lauda's Vienna route map currently shows a Spanish and Greek holiday destination focus, however this is set to expand very quickly in 2019 and 2020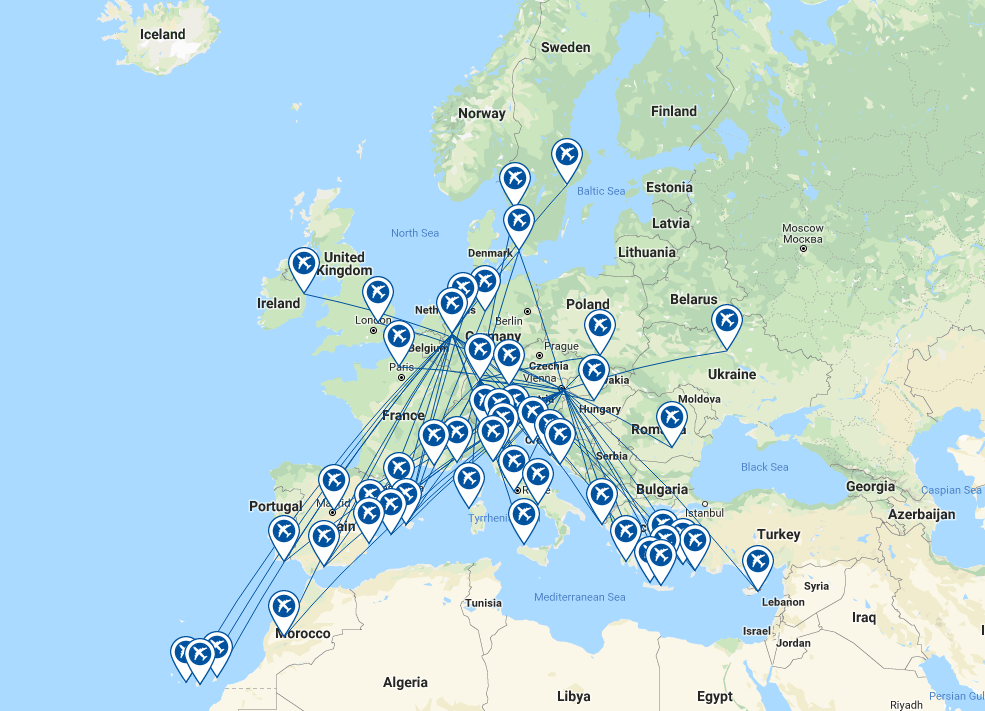 Source: CAPA – Centre for Aviation and OAG (data: w/c 29-Apr-2019)
In Austrian Airlines' 1Q2019 results summary, CFO Wolfgang Lani stated the "price war in Vienna" is raging. He added "if customers can currently enjoy low ticket prices, we will end up claiming some victims among the low-cost airlines". As cited in the Tiroler Tageszeitung, he foresees that only two to three LCCs will endure long term and that Austrian will "hold out against them as long as necessary, until a market shakeout occurs". The flag carrier's operating loss widened in 1Q2019, for which fuel and maintenance costs as well as challenging conditions in the context of growing LCC competition were blamed.
A price war is not a fight in which Austrian wants to get involved. In the past Vienna was the base of NIKI, which was bought by Laudamotion just prior to Ryanair announcing its intention to acquire Laudamotion. This means Austrian never really faced the same sort of competition from NIKI as it does today from Lauda, which is now 100% owned by the king of low cost.
NIKI was a charter and holiday airline which was often thought of as low cost but offered full service. With the backing of Ryanair, Lauda has the potential to surpass the size NIKI once was in terms of fleet size, all the while undermining Austrian's previously unchallenged and undisputed home market position.