Phocuswright describes OTAs operating in the European travel market as being "in an interesting position" with the intermediaries having been "instrumental in the maturation of the region's online travel marketplace," and the key players in the category household names among European travellers. But it acknowledges that increasingly, the landscape has "shrunk to the point where, in the battle for OTA bookings, just one or two players compete, making it extremely challenging for smaller OTAs to stay in the game".
As importantly, it describes that OTAs are now "overshadowed in certain segments" by the online supplier-direct channel, as a result of suppliers' success in developing and promoting their own online booking platforms.
Despite the challenges, OTA bookings continue to climb in Europe. In 2018, the supplier-OTA channel reached EUR47.9 billion, says Phocuswright and "modest growth is projected for the next several years," as OTA bookings grow at roughly half the pace of the supplier-direct channel. More specifically, in terms of OTA channel distribution, Phocuswright describes growth "has become uneven." It explains that while desktop bookings are projected to be flat for the next few years, OTA mobile bookings are projected to skyrocket. "By 2022, more than a third of European supplier-OTA bookings will be transacted via mobile websites and apps," it predicts.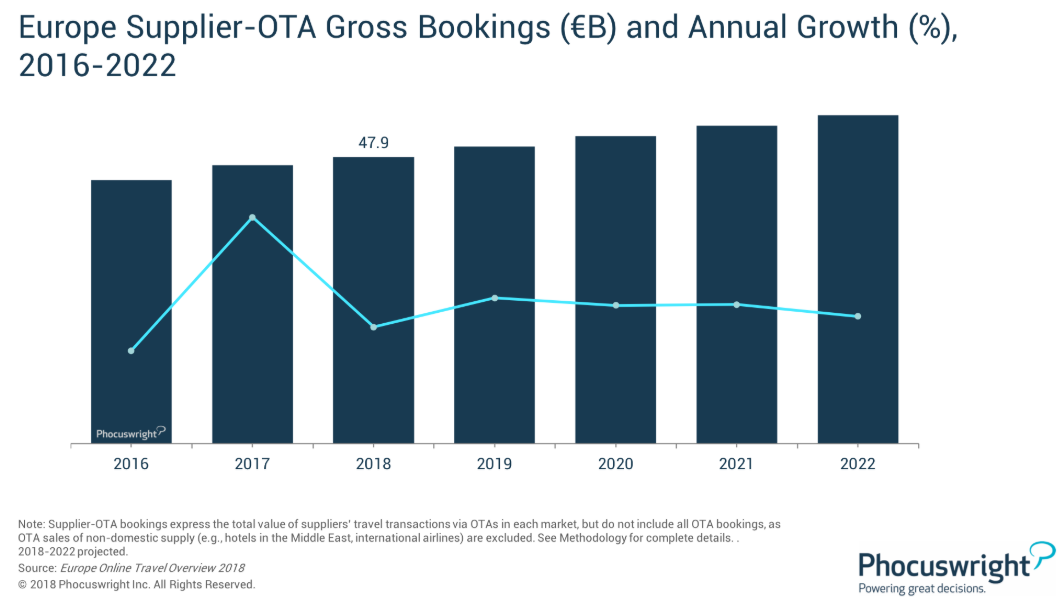 Historically, OTAs have focused more on technology than have travel suppliers, and Phocuswright says "it is critical for them to maintain this focus to remain competitive with online direct bookings in some segments". This is particularly true with respect to the high-growth mobile channel.
Of course, not all travel segments are the same, and a range of factors contribute to the relative importance of OTAs in a particular category. The research highlights that for traditional airline carriers, the supplier-OTA channel captures a significant amount of online bookings. However, OTAs barely register a blip in terms of online low-cost carrier bookings. In the fragmented hotel segment, on the other hand, OTAs (led by market leader Booking.com) have been dominant.
Phocuswright research also highlights that the European tour operator segment continued its comeback in 2018 with gross bookings climbing around 4% to EUR55.5 billion, with similar growth expected over the next several years.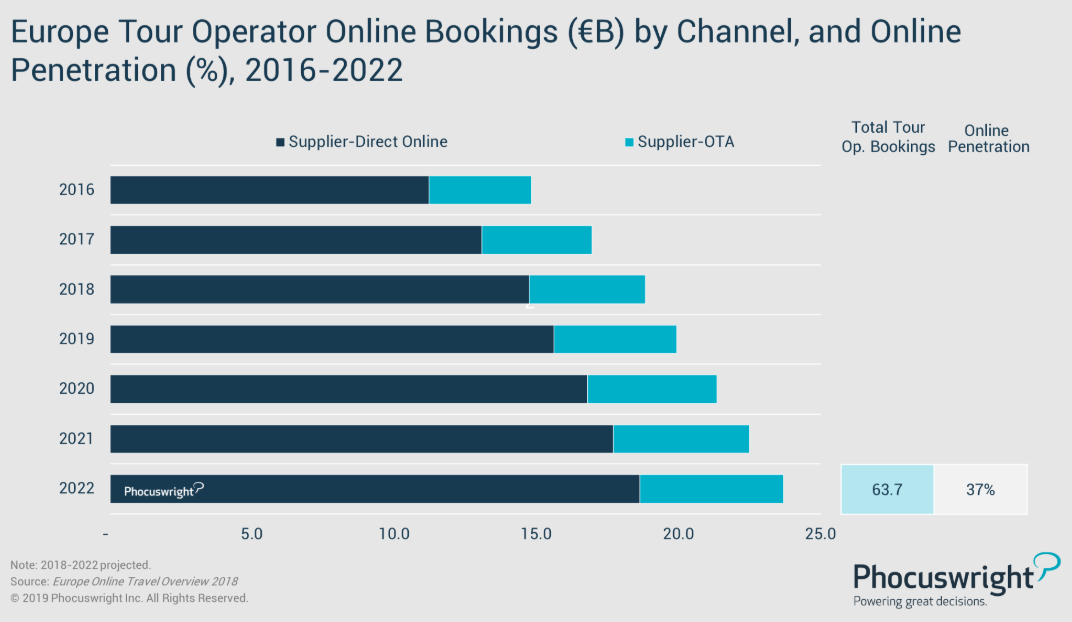 Due to the relatively high cost and relative complexity of vacation packages, the tour operator segment is heavily skewed toward offline booking channels with the lowest online penetration of any European travel segment. However, it noted that online channels are "gaining traction as tour operators increasingly focus on improving and promoting their digital platforms."
It predicts online penetration in the segment will rise to 37% by 2022, but warns that traditional tour operators in Europe will face rising competition on several fronts. This will particularly come from OTAs as they continue "to ramp up their dynamic packaging capabilities," enabling travellers to mix-and-match travel products to build their own custom vacation packages, but also from suppliers – especially hotels and airlines – which are "widening their own tour operator strategies". For example, easyJet has announced an ambitious plan to expand its easyJet Holidays division into a major, pan-European holiday package firm.
Due in part to these challenges, "consolidation is transforming the European tour operator landscape," says Phocuswright. In 2017, Monarch Holidays collapsed in the U.K., while in France, Vacances Transat was absorbed by TUI, Voyages FRAM was acquired by Karavel-Promovacances and Kuoni France exited the market. Meanwhile in Italy, market leader Alpitour acquired Eden Viaggi in April 2018, and will now control more than one fourth of the market there.
The research specialist acknowledges the effect of this merger and acquisition activity was evident throughout 2018, "with a variety of leadership and team integration issues affecting operational performance," but it predicts overall growth is expected to continue over the next several years, as the sector stabilises.
Phocuswright identifies seven key trends and developments in the European online travel market:
Total market enjoys modest gains
Online advances, but it's all about mobile
Suppliers winning battle for online bookings
Among OTAs, gulf widens between leaders and rest of the pack
Brexit and travel: Much ado about something?
Overtourism creates opportunities and outrage in major hotspots
Amid strikes and financial woes, Europe's skies still unsettled
It has produced the following infographic to highlight these trends…