What impact open skies and immunised JVs has had on this route?
What impact will Brexit have on the market?
How have LCCs performed on the trans Atlantic route?
Why haven't US carriers launched long haul services across the Atlantic?
What expectations does the US traveller have for this route?
For more details and to register your attendance visit, GLCC19.capaevents.com.
Top 10 US-UK Airlines by seat capacity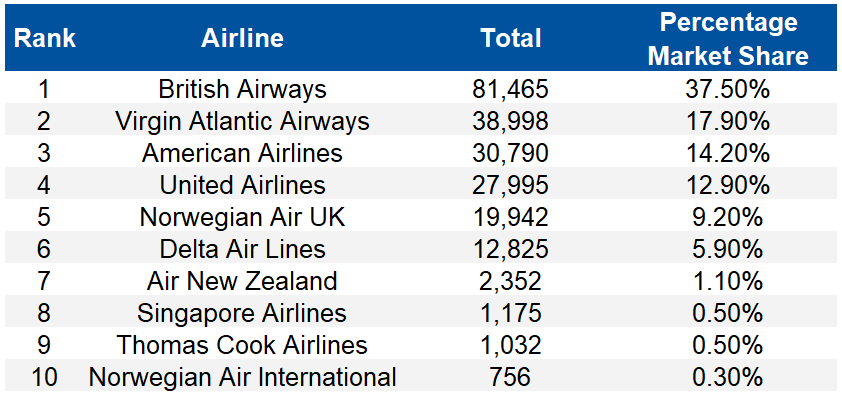 Source: CAPA – Centre for Aviation & OAG
A variety of analytical data tools for managing and interpreting industry trends is available to CAPA Members. Tools include:
Route Capacity Analyser – look up future and historic seat capacity per airline on any non-stop route worldwide;
Rankings – create listings of the largest to smallest airlines/airport/routes by capacity;
Traffic Benchmarking – compare airline/airports in terms of their monthly and annual traffic results;
Fleet Analytics – look into future deliveries by airline/country/region, look up in-service and on-order aircraft by manufacturer/ aircraft type;
LCCs – displays LCC capacity share growth over the past 10 years by country/ region;
Codesharing - find the codeshare agreements for all airlines operating to a specific country/airport.
To find out more, visit centreforaviation.com