The conventional wisdom is that domestic service will re-emerge first in most markets, followed by short haul international, then finally long haul routes, and that is proving the case, new evidence from International Air Transport Association (IATA) confirms. Latest monthly analysis from the airline body shows that traffic volumes have likely bottomed in Apr-2020 and will gradually recover, with the initial support of domestic travel.
A closer look at the domestic markets of China, South Korea, Vietnam and New Zealand shows a positive pattern of market recovery in the countries, all of which appear to have contained Covid-19 successfully. IATA says all these domestic markets are now "showing clear signs of rebound".
CHART – The recovery of domestic Asia Pacific air traffic shows improving demand performance in China, South Korea, Vietnam and New Zealand in May-2020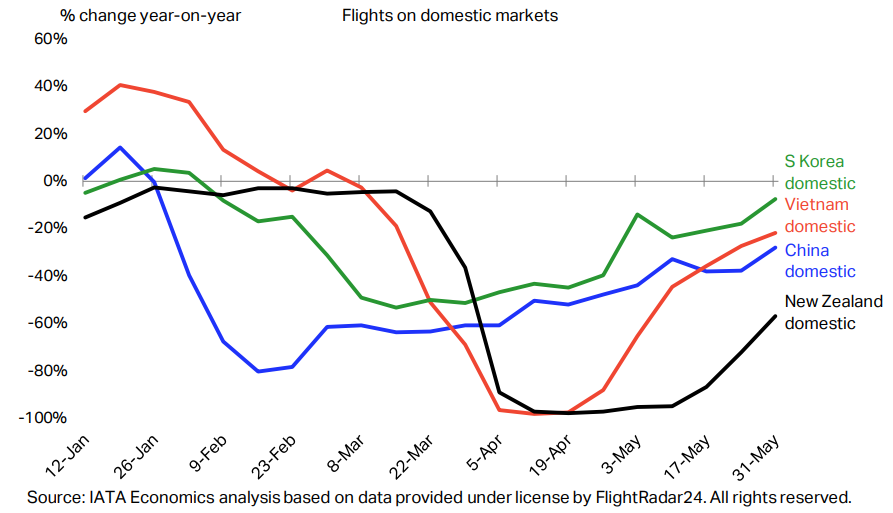 Source: IATA Economics Chart of the Week
The chart highlights how South Korea was perhaps not as significantly impacted as many other nations as a relatively light-touch lockdown in place, helped it to maintain a moderate level of air transport operations with traffic down ~55% year-on-year during its worst week in mid-Mar-2020. Domestic flight status is now close to the levels seen before the crisis hit.
Vietnam and New Zealand both follow a comparable path, both having seen strict containment measures resulting in low growth in the number of cases but also effectively closing air transport. Vietnam emerged again with eased rules in Apr-2020 and New Zealand followed in May-2020. The two are now following a similar path of a quick recovery in domestic flight activity with Vietnam around three weeks ahead of New Zealand on the journey.
The story is a little different in China where airlines maintained a skeletal network throughout the crisis, but despite the pandemic being mostly under control ahead of all the other countries, the domestic market has recovered much slower.
IATA notes that airlines in many domestic markets adjusted their fares down around -25% year-on-year in May-2020 to stimulate demand on internal routes. This appears to be working as the number of daily passengers carried by airlines in China topped the one million mark in early Jun-2020, according to official data from the Civil Aviation Administration of China (CAAC).
The 1.04 million total was the highest level since late Jan-2020 when it first introduced travel restrictions to combat the coronavirus spread and was achieved across over 11,300 flights, encouragingly just over a third down on last year.
All the above markets are located in Asia Pacific, the first region to have been impacted by the virus. "The propagation of the outbreak suggests that we might see domestic markets recovering in Europe in the coming weeks, followed by domestic markets in the rest of the world," says IATA.
The domestic recovery points to global passenger volumes lifting off the record lows seen in Apr-2020, but there is no one path to recovery and airlines and governments will need to be mindful that their journeys may differ and some will take longer to return to sustainable levels.
With the resumption of domestic travel well under way in many Asia-Pacific markets, attention is now shifting to reopening international links within the region. This is a much more complex proposition, and some governments are taking tentative steps towards establishing a framework for international travel in a post-Covid-19 world.
What few international flights offered have mostly been focused on cargo and repatriation, with most foreign travellers blocked by border closures or dissuaded by 14-day quarantine requirements. Most airlines have cut their overseas networks right back and are only operating limited frequencies on a handful of routes.
Discussions have begun between some Asia-Pacific governments about easing border and quarantine restrictions to allow essential travel. These will initially be bilateral arrangements between countries so that procedures and safeguards can be rigorously monitored.
But the early deals will likely expand to multilateral agreements among countries that have made similar progress in controlling Covid-19. In the longer term, these can also be expected to pave the way for broader agreements that would include non-essential travel.
[perfectpullquote align="left" bordertop="false" cite="" link="" color="" class="" size=""] READ LATEST ANALYSIS...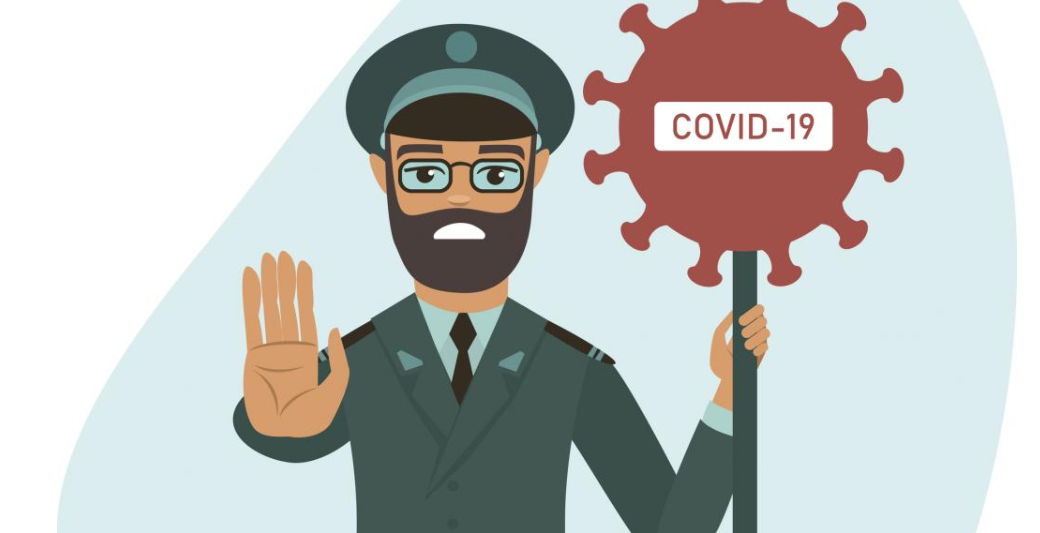 Asia-Pacific countries lay groundwork for cross-border travel
With the resumption of domestic travel well under way in many Asia-Pacific markets, attention is now shifting to reopening international links within the region. [/perfectpullquote]
A new report from respected market intelligence provider CAPA – Centre for Aviation looks more closely at plans to build international connectivity in the Asia-Pacific region, but warns that airlines will need to "be confident of demand" before they reactivate aircraft and ramp up international flights".
The report 'Asia-Pacific countries lay groundwork for cross-border travel' highlights that resuming international services will be a shifting target for many Asian airlines and markets. "Plans will often have to be changed at short notice if governments do not open borders as expected, or if new spikes in coronavirus cases arise," it says.
"Asia-Pacific countries will move at very different speeds when it comes to re-establishing international services," acknowledges CAPA. This will be driven, it says by how successful countries are in combatting the coronavirus, and how eager (or cautious) governments are when it comes to reviving overseas link. "Once some countries start to form travel arrangements, it will no doubt increase pressure on other governments to follow," it explains.
Easing travel restrictions is all very well, but it won't mean much without increasing air links between countries. Many other factors will also affect demand, such as public confidence in health measures, as well as the effect of job losses and an economic slump.
"Business travel may be reduced as more companies experiment with virtual meetings. Addressing these aspects will be at least as important as reopening borders," says CAPA, but taking this all into consideration, it suggests it is still reasonable to expect that "some important cross-border traffic flows" within the Asia-Pacific region will be operating again "by the end of this year".