Industry logic holds that a broad spread of international routes lessens an airline's reliance on any single market – including its home patch. So if a downturn occurs in one country or region, airlines can divert resources to areas that are not affected. Many successful airlines have built their models around this concept.
And that approach makes sense – until something like a pandemic appears out of nowhere to trigger global border closures. Then domestic networks become a godsend, and the giant airline companies that depend on international connecting traffic look more exposed.
The crisis will likely highlight that while it is good to have a globally diverse network, a strong domestic operation is a major advantage for airlines when a shock disrupts international traffic flows. In fact, many airlines are already looking to boost their domestic offerings in the short-term and until such time that international demand returns to sustainable levels, whether that is 2021, 2022, 2023, or as some have suggested, perhaps not until 2024.
The Asia-Pacific region illustrates the benefits and limitations of different approaches. Although having domestic routes will not guarantee success, they should provide a valuable foundation for many airlines' eventual recoveries. We are already seeing the value of a strong domestic market in the recoveries of China and South Korea. It will be similar in Australia and New Zealand, while Vietnam Airlines has high ambitions to restore much of its domestic flying within a couple of months.
Domestic flying will act as the industry's life support system and countries with the strongest domestic markets – and the airlines that operate there – will likely be on the strongest ground. But, what are the biggest markets. The Blue Swan Daily has highlighted the 25 largest domestic markets in 2019 and the largest airlines in each of them.
CHART – The world's largest domestic markets in 2019 and the airlines with the greatest share of internal capacity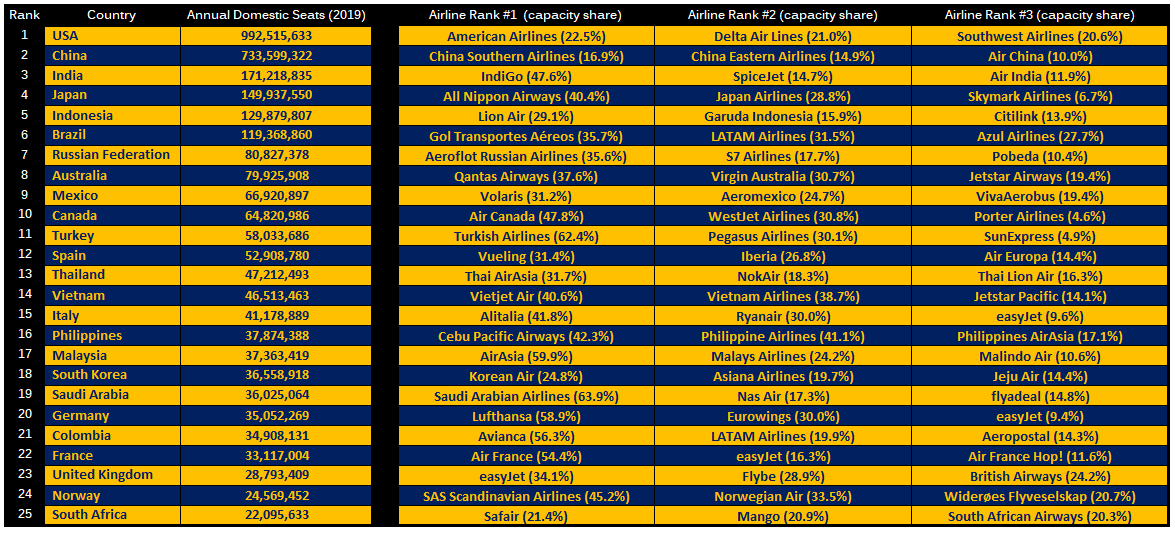 Source: The Blue Swan Daily and OAG
A new insight from CAPA – Centre for Aviation claims that changes in the global rankings of domestic air routes illustrate that at least for now, Asia-Pacific markets are generally weathering the Covid-19 crisis better than those in other regions. City pairs in the region have featured heavily in lists of the busiest domestic routes in recent years, but the pandemic has "amplified their dominance," says the respected market intelligence provider
Remarkably, only four of the current top 100 domestic routes – as measured by two-way seat capacity – are from outside the Asia-Pacific region, according to schedule data from OAG and seat layouts from the CAPA Fleet Database.
Having been severely affected early in the pandemic, domestic markets in Asia appear to have "bottomed out sooner," and can reasonably be expected to be "leaders in the airline industry's recovery," says CAPA in the 'Airline domestic route rankings highlight Asia-Pacific recovery' report. This dynamic is partly due to the fact that some of the key domestic markets in Asia have not declined as much as they have elsewhere. And others in this region that were hit harder – such as China and South Korea – are now recovering.
This picture will naturally remain volatile in the medium term as countries resume domestic flights at different times, which will affect the rankings. It is also important to note that just because seats are being added back does not mean they are full, and reports suggest that load factors and demand remain weak. In many cases airlines have been initially flying routes with little or no passenger demand and we can expect airlines to adjust capacity to meet with demand, so it won't be a one way journey, but a bumpy path of recovery.
CHART – The world's largest domestic airlines – based on flight schedules for 2019 and last week – highlight how Asian airlines, and in particular Chinese carriers, are ahead in the recovery from the Covid-19 pandemic

Source: The Blue Swan Daily and OAG