Widerøe is the largest regional airline in Scandinavia, operating more than 450 flights every day to almost 50 domestic and international destinations. The airline operates to more than twice as many airports in Norway than any other airline with a network that consists of a mix of commercial (60%) and PSO routes (40%).
However, until now its operation has been based around flying turboprop equipment, with the CAPA Fleet Database displaying a fleet of over 40 Bombardier Dash 8 aircraft including versions of the -100, -200, -300 and the Q200, Q300 and Q400 series. Earlier this year Widerøe was confirmed as a customer for the E190E2 having agreed to acquire three aircraft back in the final quarter of 2016 for delivery from Apr-2018.

The deal also includes purchase rights for 12 further aircraft with flexibility to switch between E175-E2, E190-E2, and E195-E2 variants. This will provide the airline with the ability to grow its fleet with a family of aircraft from 80 to 130+ seats, to right size capacity to meet market requirements.
Widerøe will configure the E190-E2s in a comfortable single-class layout with 114 seats. The airline's CEO Stein Nilsen says the move into jet operation after a long history with only turboprop equipment is based on the need "for a high quality passenger experience, ease and flexibility of operations, and lowest through life costs". He says the E2 family offers the regional carrier the ability "to build a right sized fleet, as a supplement" to its existing turboprop fleet.
The Introduction of the E190-E2 will boost capacity in the markets Widerøe deploys the aircraft. The Bergen – Tromsø route is presently served twice daily using a Q400, while Bergen – Bodø is flown daily with the same aircraft. This will mean an additional 40 seats per departure, a 54% boost in capacity.
CHART – Bergen, Bodø and Tromsø are Widerøe's largest markets based on capacity for the week commencing 16-Oct-2017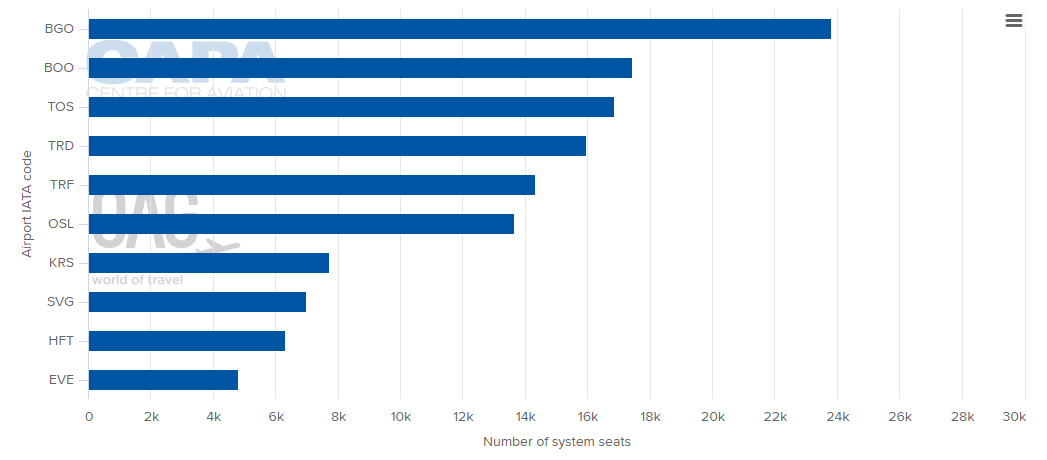 Source: CAPA – Centre for Aviation and OAG
"These services are important for tourists as they often start their vacations in Bergen or on the west coast to experience the Norwegian Fjords before travelling to Northern Norway as an alternative to cruise tourism," explains Jasper Spruit, vice president traffic development, at Norwegian airport operator, Avinor.
Alongside its domestic operations Widerøe also serves Copenhagen in Denmark, Gothenburg in Sweden and Aberdeen in the UK and the jet aircraft may deliver opportunities to link regional Norway with other direct international markets. While its domestic flying has remained stable in 2017 its international capacity will fall by around 15% this year due to the suspension of flights between Stavanger and Newcastle and Haugesund and Copenhagen, plus the reduction of flights into other markets.