Emirates Airline president Sir Tim Clark recently stated the airline industry as a whole is "not in a good place at the moment" and most "international long haul carriers are facing problems with regard to what is happening on the global economy today".
He highlighted issues such as "trade wars between major parties", the "geopolitics of the regions" and "socio economic political reasons". He suggested the "global demand for air travel is likely to fall" by 1% to 2% over the next two to three years and the slowdown will continue "further southwards" for the next three to five years before the industry "sees some kind of bottoming out".
Now, Dubai Airports says it is reviewing its long term master plan to "ensure infrastructure development takes full advantage of emerging technologies, responds to consumer trends and preferences and optimises investment to grow its already significant contributions to Dubai's economy". The company said that the "exact timelines and details of next steps are not as yet finalised."
That's quite a mouthful, and, on the face of it a statement of positive intent. But does it mask concern that the Middle East air transport bubble is about to burst? Dubai Airports operates Dubai International Airport (DIA) and Dubai World Central (DWC). Construction work on DWC has been halted, with financing for the development of the airport frozen. Moreover, passenger traffic at Dubai International airport declined 5.6% year-on-year in 1H2019, albeit one of its runways was closed for some of that time.
Looking firstly at Emirates, which is responsible for just over half of seat capacity at DIA, with the associated sister venture fydubai contributing another 21%. Could you say the has its own turmoil at the moment? After all, the airline is going through a management shakeout with the Chairman and CEO of the airline and group, Sheikh Ahmed bin Saeed Al Maktoum, reported to have said: "We're not in a good place at the moment."
Emirates does seem to be slowing down. While tourist numbers are up (15.82 million in 2018, +1%) and airline revenues are increasing, profits fell by 69% in the last financial year. While operating costs increased by +8%, ironically a bigger hit came from a 25% increase in its fuel bill, hence a cancellation of orders for the A380 in favour of the more fuel-efficient twins, which was the death knell for the big beast that had been the mainstay of its fleet (though they will continue to operate for a while yet).
It is against the background of this uncertainty that Dubai Airports has to prepare for the future. Passenger traffic has gone from +5.5% growth two years ago to -5.6% in 1H2019 although allowance must be made for a six-week runway closure over Apr- and May-2019.
CHART - The annual rate of passenger growth at Dubai International airport has been on a downward trajectory since the middle of the decade and has now fallen into negative territory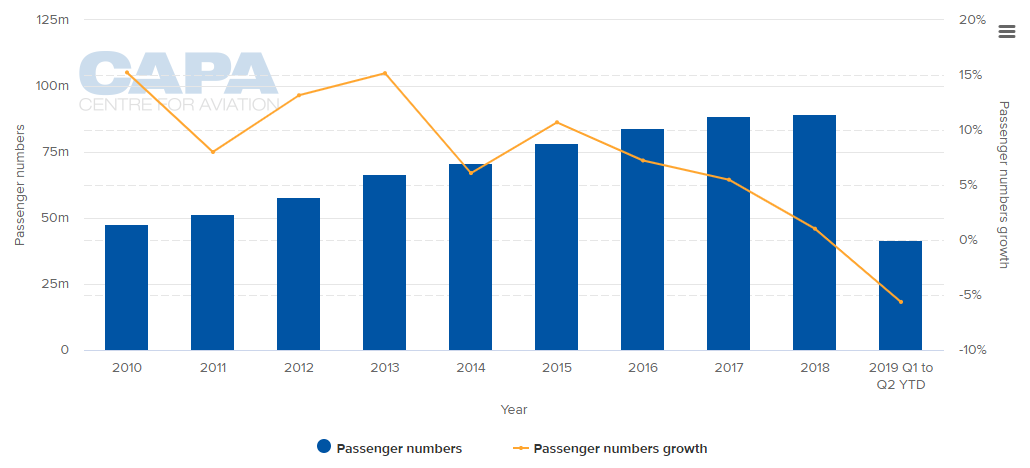 Source: CAPA - Centre for Aviation and Dubai International Airport reports
The point is that annual 'growth' has been falling in each year from 2015, from a high of +10.7% in 2015 to just 1% last year. According to statistics compiled by Airports Council International DIA was one of only three airports in the world's top 30 to witness a drop-off in passenger growth into negative territory in 1H2019, and it had the second largest negative change after Delhi's Indira Gandhi airport.
This means that DIA has already been overtaken by Los Angeles International (LAX) as the world's third busiest airport and that it will probably fall to fifth behind Tokyo Haneda before the end of this year. Of the other airports chasing it Shanghai's Pudong International (ninth) also looks well placed to overall DIA before long.
According to the CAPA – Centre for Aviation Airport Construction Database (ACD) there is still work continuing at DIA through to the end of 2022 as the airport authority completes terminal expansion, the aforementioned runway upgrade and other projects. As for the longer term, the phrase "optimises investment" is the key one. Perhaps it is saying that future airline growth, whatever it amounts to, should be contained within what has been built already, at least for the foreseeable future.
Another key phrase is "consumer trends and preferences". That could be taken to refer to a preference for ultra-long flights over transit as they become technically achievable. Or to a customer preference for 'green' airports. The Middle East isn't particularly noted for being 'green'.
There is also the future for DWC to consider, an airport that was supposed to be able to accommodate 130 million passengers per annum within the first year of opening and ultimately 260 million passengers per annum - it has been open for nine years now and Wizz Air is the only regular scheduled operator with just 1,440 seats a week.
One way or another, interesting times lie ahead for Dubai Airports.