---
Summary:
Dublin-North America traffic increased by far more than the average at the Irish airport in Apr-2019;
Aer Lingus offers a comprehensive sixth freedom flight system to and from Europe – North America via Dublin with a broad span of business, leisure and VFR destinations;
The offer is enhanced by a customs and immigration pre-inspection facility at Dublin.
---
But, regardless of the Easter date, it is the numbers for North America (344,000, +16%) which catch the eye. For some time now Dublin has been attempting to grow trans-Atlantic passenger figures not only from origin and destination travellers but also by encouraging sixth freedom and some fifth freedom travel, utilising its fairly modern (2010) Terminal 2, which has a US immigration pre-clearance border post staffed by US authorities.
This facility, in theory at least, cuts down on lengthy queuing time at U.S. airport entry points and particularly New York (JFK). It was recently (Mar-2019) agreed it would be expanded, with longer opening hours and increased staffing.
That is an attraction to travellers not only from Ireland but also from the UK and continental Europe, who have the option of flying from any airport which is served by national flag carrier Aer Lingus into Dublin and onto North America. This acts as a strong alternative to a possibly lengthy surface journey to any airport where there are direct North American services but which would entail queuing possibly for hours on arrival in the US.
SEE RELATED REPORT: US immigration pre-clearance: controversial in more ways than one
SEE RELATED REPORT: US immigration pre-clearance: Dublin Airport's rapid growth has been supported by enhanced US access
Aer Lingus operates to and from 17 UK airports – supplemented by Aer Lingus Regional services flown on its behalf by Stobart Air - in what is its main market for this activity (and the UK is its biggest market, followed by the US, as measured by seat capacity). That is considerably more than British Airways operates to and from London Heathrow.
While the ownership of the national airline and the airport is not common as it is in some countries which exploit sixth freedom opportunities such as Qatar, you could be forgiven for thinking that they work together as a 'team'.
CHART - Aer Lingus is the second largest carrier at Dublin by seat capacity after Ryanair at 36.4% and no other carrier has more than 3%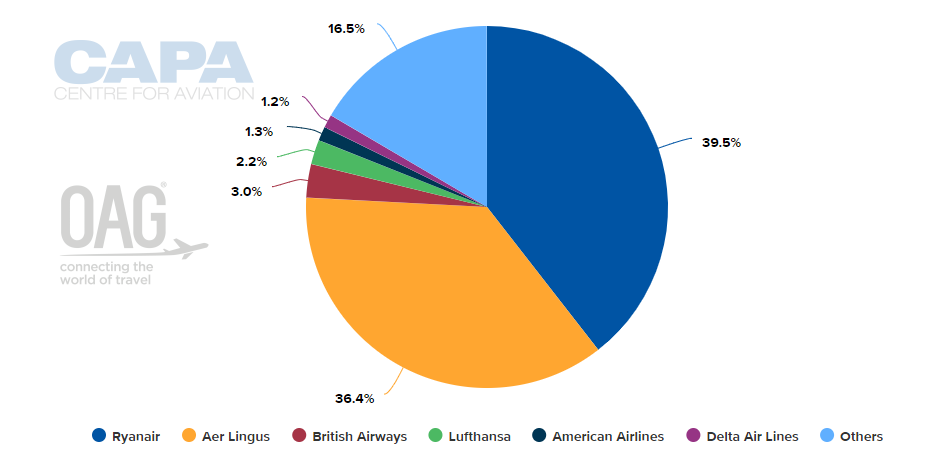 Source: CAPA - Centre for Aviation and OAG (data: w/c 13-May-2019)
One potential disadvantage that Aer Lingus has is that it is unaligned, i.e. not a member of an alliance. That can be interpreted another way though. It used to be a member of oneworld, and if it still was, on top of being a member of the International Airlines Group, there would inevitably be competing pressure for it to feed British Airways trans-Atlantic flights at London Heathrow and Gatwick airports as much as tempting British passengers to transit Ireland. It could be a case of taking its eye off the ball.
Aer Lingus has a good spread of major gateway entry points on the east and west coasts of the US and where its codeshare partners, who are split across the three main alliances, and its two main interline partners, JetBlue and United Airlines, are well represented. If there is a weakness at all it is the centre of the country. There is also a balance between business and leisure destinations and those that are both, apart from where there is strong Irish representation (most major cities but particularly Boston, Philadelphia and New York).
The one exception is Hartford Airport in Connecticut, part way between New York and Boston, which was something of a (highly subsidised by the airport) experiment from 2016 in which Aer Lingus set out to attract passengers from that part of New England to access Europe via Dublin. In the latter part of 2018 the service was extended for four years with a diminishing subsidy down to zero.
It is not only Aer Lingus offering such trans-Atlantic services, but it is the case that it is the only airline offering sixth freedom transit at Dublin. Other (North American) carriers currently active are Air Canada; Air Canada Rouge; Air Transat; American Airlines; Delta Air Lines; United Airlines; WestJet, some with onward online or interline services at their North American gateway/hubs.
There are also potential fifth freedom services. Ethiopian Airlines has a fuel stop on its flights from Addis Ababa to Chicago O'Hare, Los Angeles, Toronto Pearson and Washington Dulles via Dublin on outbound flights only, due to weight restrictions on departure from the Ethiopian capital. But the airline currently has no rights to transport passengers solely between Dublin and its North American destinations.