---
Summary:
Durban's King Shaka International Airport was the fastest growing of South Africa's international air gateways in 2018;
A new non-stop British Airways service from London was part of the reason and management is now targeting direct connectivity into Asia;
The passenger market is complemented by a booming freight operation at Dube TradePort.
---
Passenger numbers in 2018 increased by 6.4% year-on-year, to 5.9 million, with the international segment showing a 13% increase and Dec-2018 was the airport's busiest ever month.
It had been a tough start to the decade with annual passenger declines across most of the first half, but demand levels stabilised in 2014 and have been growing year-on-year since then, consistently around the 7% per annum on average. Dube TradePort's CEO says growth was "propelled" by the launch of British Airways' London-Durban service in late Oct-2018 and that the service proves "there is an untapped demand for direct air services into Durban".
British Airways had operated into Durban previously but had withdrawn direct service in favour of connecting flights via Johannesburg or Cape Town. The new service operates directly, three times weekly and is the only non-stop service between Durban and Europe which undoubtedly had a bearing on BA's decision to resurrect it. Another factor was extra capacity added by Emirates on its Dubai services from Dec-2018.
CHART – Durban's King Shaka International Airport has reported consistent annual passenger growth since the middle of this decade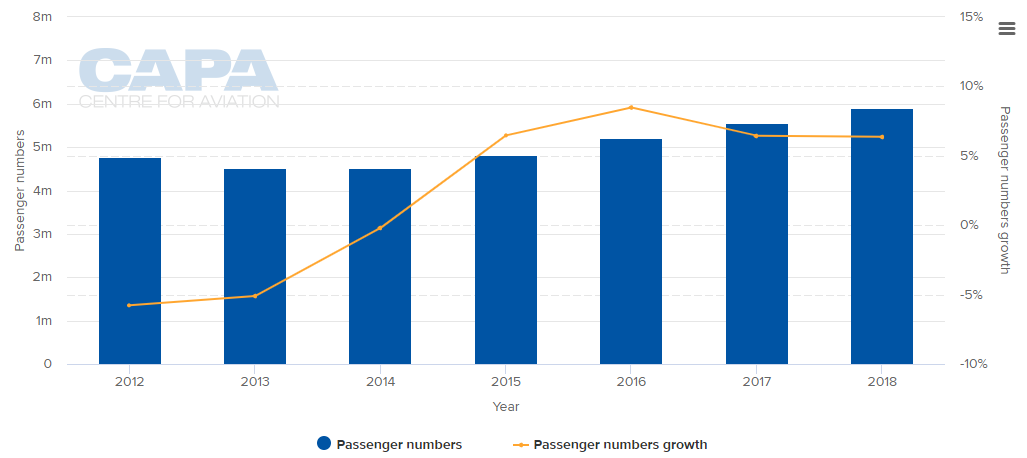 Source: CAPA - Centre for Aviation and Airports Company South Africa
A lack of such long-haul services has been Durban's problem for many years. It is South Africa's second largest city-region by some population measures (the eThekwini Metropolitan Municipality, a municipality created in 2000, includes Durban and surrounding towns has a population of 3.4 million), the second most important manufacturing centre, a leading vacation resort and the major port.
But unlike Johannesburg, its neighbour Pretoria and Cape Town, it is not involved in national government activities and therefore overlooked from that perspective and has historically always been easily connected from international flights arriving at Johannesburg, the continent's busiest airport, 560 km (350 miles) away. Indeed, Johannesburg continues to be an important transit point for international travellers connecting into Durban on domestic flights.
TABLE – Durban's passenger demand is growing at a much faster pace than at Cape Town and Johannesburg, albeit for a much lower base

Source: CAPA – Centre for Aviation and Airports Company South Africa
In the medium term, Durban Direct, the entity charged with route development enhancement, aims to increase the capacity and frequency of existing services. The long term objective is to attract a direct air link to Asia, possibly to either Hong Kong or Singapore as a gateway to mainland China, Japan, Korea and Southeast Asia.
CHART - For the moment there is no capacity to and from Asia, with the Gulf region accounting for around two thirds of international capacity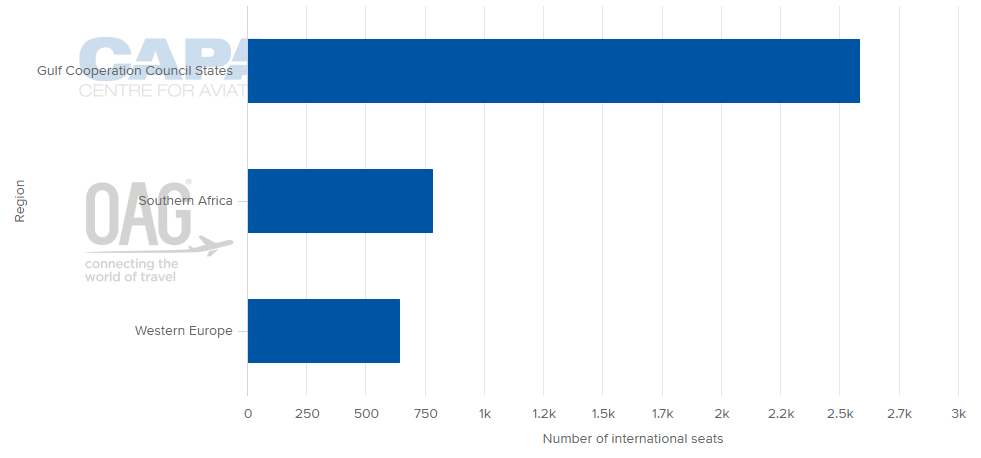 Source: CAPA - Centre for Aviation and OAG (data: w/c 11-Feb-2019)
The city is not entirely cut off from Asia though owing to the presence of the Emirates Airline service, which provides multiple connection options, including many destinations across India. The city has more Indian inhabitants than any other city outside of India itself. This does prompt the question of why a direct flight to either Delhi or Mumbai (also a major port of course) is not sustainable?
Even with the addition of these international services Durban remains a low-cost domestic airport with two thirds of capacity on LCCs and almost 95% of it on domestic flights. The largest airline by capacity is the South African Airways-owned LCC Mango, followed by kulula.com, the budget subsidiary of the British Airways franchise operator Comair (capacity in the chart below is registered as 'Comair').
CHART – Low Cost Carriers dominate in the Durban market and account for around two thirds of system capacity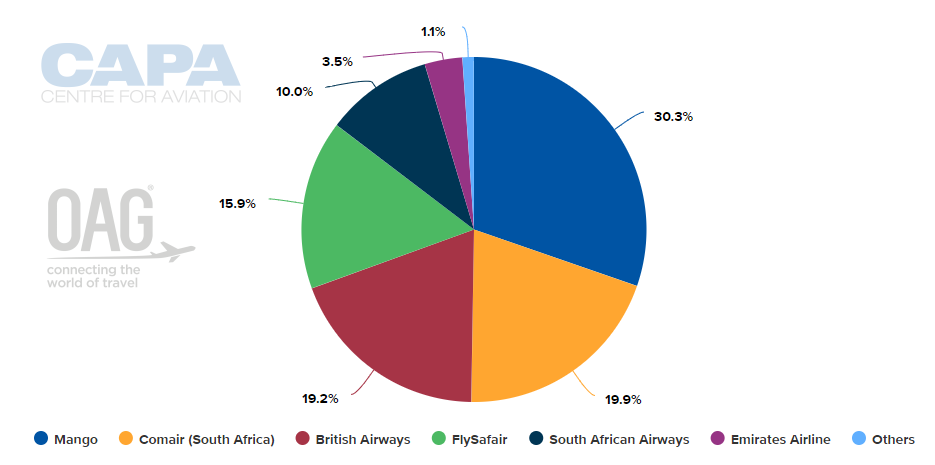 Source: CAPA - Centre for Aviation and OAG (data: w/c 11-Feb-2019)
The biggest beneficiary arising from the new British Airways flights will be tourism. Tourists spent SAR2.7 billion in Durban during the 2018 festive season alone, an increase of SAR500 million and the tourist authority foresees this number growing with the introduction of new domestic, regional and international flights.
DKSIA is unusual in that it is owned and operated by two separate entities. Airports Company of South Africa (ACSA) has the passenger terminal and Dube TradePort the freight terminal. Tonnage throughput from the Cargo Terminal continues to follow closely on the heels of passenger numbers, with international airfreight growing by 40% from Apr- to Dec-2018. From October till the end of Dec-2018, international cargo figures grew by 7.64%, following the introduction of the British Airways London service.