This introductory paragraph remains as valid today as the first time the author wrote it two decades ago and highlights that underlying political issues remain a major barrier to opening skies across the Continent. Africa is rich with breath-taking tourist sites and natural resources, ranging from minerals to oil and water. Industry body International Air Transport Association (IATA) has forecast that seven of the ten fastest growing passenger markets over the next 20 years will be in Africa - Malawi, Rwanda, Sierra Leone, Central African Republic, Tanzania, Uganda and Ethiopia.
It is undoubtedly easier to travel and explore the African continent today than 20 years ago and infrastructure is improving in many regions enabling more visitors and a better business environment for corporations. But, significant efforts still have to be achieved in specific regions where infrastructure, protectionism, high taxes, safety or regulatory issues continues to undermine commercial aviation and possibilities for efficient intra-African travel.
Growing direct air service possibilities is an absolute priority in Africa. It is a major function for economic development because it represents existing and future revenues, customers, and market viability. The fortune of a city, region or country can be enhanced, by relying upon a successful airline or airport strategy and enhanced relationships between the two sectors.
It is firm belief that African airlines can help unlock the continent's tourism potential by introducing intra-African flights that enhance connectivity between various destinations and encourage domestic travel. The challenge for tourism for a long time has been the issue of connectivity and in Africa, more than anywhere else in the world, it is difficult to move easily from one country to another.
Keep up to date with all the latest developments across Africa by signing-up to receive CAPA – Centre for Aviation daily News Briefs daily, visit centreforaviation.com to find out more.
In fact, a trip between neighbouring countries can still involve a trip in the completely opposite direction for a one-, perhaps two- or even a three-stop itinerary. It some extremes it could even involve a flight outside the continent via Europe or the Middle East.
A taste of the African market is clear when you scan weekly aviation stories with positive growth stories being balanced by airline closures or route cancellations. In the last week we have seen Air France announce its return to Nairobi, Kenya but on the flip side both Air Seychelles and Ethiopian Airlines are ending flights into Durban, South Africa after only a short period of flying.
A The Blue Swan Daily analysis of OAG schedule data shows that international capacity in Africa rose 5.5% in the first half of 2017 versus the same period last year, but there are massive regional variations influencing this result. Eastern Africa lead the way with a 10.8% growth, while North Africa, the largest air transport region in Africa, recovered from instability to rise 7.8%. Southern Africa, dominated by South Africa, witnessed a 3.0% international capacity rise, while Central and Western Africa actually saw its international connectivity fall by 2.9%.
CHART – Fastest Growing African International Country Markets (H1 2017 versus H1 2016)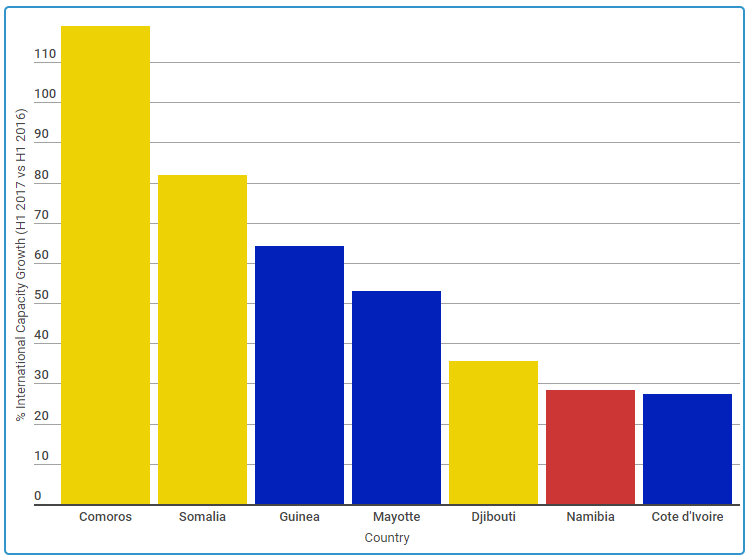 Source: The Blue Swan Daily and OAG
The Comoros, a volcanic archipelago off Africa's east coast, was the Continent's fastest growing country market during the first half of the year with international capacity rising 119.0%. This was driven by growth among all of its scheduled carriers, but notably from the arrival of Ethiopian Airlines, Inter Iles Air and Precisionair. Other fast growing markets during the period were Somalia (+81.9%), Guinea, the fastest growing Central and West African nation (+64.2%), Mayotte (+53.1%) and Djibouti (+35.7%). Nambia was the fastest growing Southern African international market (+28.5%) and Sudan the fastest growing North African international (+13.4%) during the analysis period.
CHART – New International Seats in Africa (H1 2107 versus H1 2016)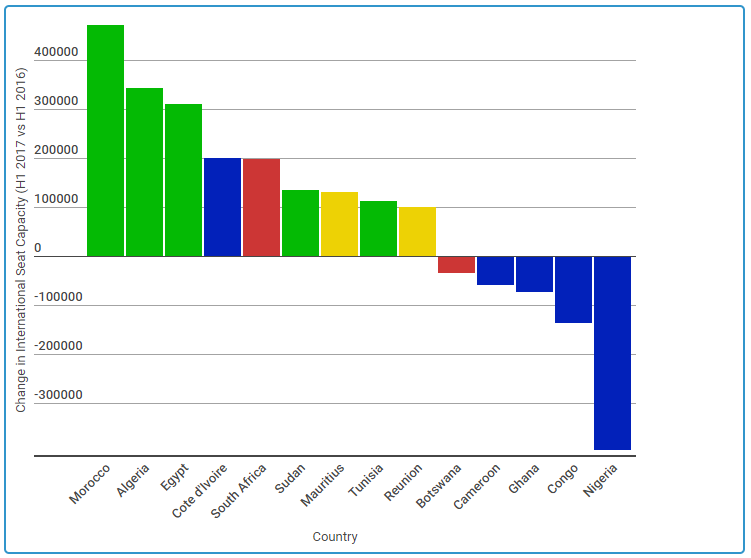 Source: The Blue Swan Daily and OAG
The more mature North African markets were most responsible for the additional 2.4 million international seats in Africa during the six month period. Morocco had almost 500,000 additional international seats in the market in the first half of this year versus 2016, a growth of 9.9%. More than 300,000 seats were also available in Algeria (+12.0%) and Egypt (+4.3%). Cote D'Ivoire (+27.3%) and South Africa (+4.7%) were the largest risers outside of the Saharan Africa with almost 200,000 additional seats, while Sudan (+13.4%), Mauritius (+12.6%), Tunisia (+5.8%) and Reunion (+15.2%) all boosted their international offering by more than 100,000 seats.
The growth in Morocco was almost balanced by the scale of lost international connectivity from Nigeria, where almost 400,000 seats were removed during the first half of 2017, a 24.0% decline. Other nations in Central and Western Africa have also seen notable reductions in international seat inventories, including Congo (-37.1%), Ghana (-7.3%) and Cameroon (-9.1%).
We regularly hear talk about the need to develop a 'United Africa' to enable air transport to grow to its full potential and the need for enhanced connectivity and cooperation within the Continent. Part of the reason for Africa's under-served status is that many African countries continue to restrict their air services markets to protect the share held by state-owned air carriers. This practice originated in the early 1960s when many newly-independent African states created national airlines, in part, to assert their status as nations.
Aviation already supports 6.9 million jobs and more than $80 billion in GDP across Africa, but research from InterVISTAS demonstrates that liberalisation will create opportunities for further significant employment growth and economic development. The additional services generated by intra- African liberalisation between just 12 key markets will provide an extra 155,000 jobs and $1.3 billion in annual GDP. The research suggests that a potential five million passengers a year are being denied the chance to travel between these markets because of unnecessary restrictions on establishing air routes.
Africa took a big step in this process when ministers responsible for civil aviation adopted the Yamoussoukro Decision in 1999, named for the Ivorian city in which it was agreed. This commits its 44 signatory countries to deregulate air services, and promote regional air markets open to transnational competition and followed up on the Yamoussoukro Declaration of 1988, in which many of the same countries agreed to principles of air services liberalisation. In 2000, the Decision was endorsed by head of states and governments at the Organization of African Unity, and became fully binding in 2002 but progress has been slow.
It is clear that Governments across Africa need to take the lead on development issues, but involve their stakeholders - airports, tourism authorities and airlines - to develop clear aviation strategies which are right for each country market. For some countries this may be to develop a major regional hub, for some it may be to develop a spoke strategy to ensure it is connected to the global hubs, whilst others may have an inbound leisure focus, or an aggressive low-cost strategy.
Africa covers more than 30 million square kilometers and is home to more than a billion people. Due to its challenging terrain, air transport is often the best—sometimes the only—way to connect the continent. Africa needs safe, efficient and affordable air transport links to make the most of its people and resources. A clear air transport strategy is required across the Continent and this should be based upon strong analytical evidence and must be implemented with precision. With a clearer aviation strategy the African aviation market could then finally enter a new dawn.