---
Summary:
easyJet will launch flights from Berlin Tegel on 05-Jan-2018, subject to final approval of its deal to acquire assets from airberlin at the German capital city airport.
easyJet will initially serve 19 markets – four domestic and 15 international – from Berlin Tegel during the winter 2017/2018 schedule, offering over 600 weekly return flights.
A deal has been agreed to wet-lease aircraft to facilitate the launch in Berlin Tegel with Latvian carrier SmartLynx Airlines known to be leasing six A320s to easyJet between 07-Jan-2018 and 31-Mar-2018.
This will mark easyJet's debut in the German domestic market where it will operate up to eight flights per day between Berlin and Munich, up to five a day to and from Frankfurt, as well as serving Düsseldorf and Stuttgart.
---
The significant expansion in the German capital remains subject to final regulatory approval of the airline's deal to acquire part of airberlin's operations at Berlin Tegel. The €40 million acquisition is expected to close this month and will see easyJet place the capacity of up to 25 aircraft into the market operating the largest short haul network at Tegel and bringing additional competition into both the German domestic and international markets.
The big news is the airline's move into the domestic German market, as predicted by The Blue Swan Daily in late Oct-2017 when the initial airberlin deal was revealed. Next year marks the twentieth anniversary of easyJet's debut in the German market after it first started flights into Germany in 1998 on the London Stansted – Munich route, but until now its focus has been on the international market.
Lufthansa has been the dominant carrier in its home market, and that position has been strengthened by the collapse of airberlin. The share of the domestic market of it mainline business (excluding Eurowings, Germanwings and other Group members) over the winter schedules this decade has varied from 51% to 61%, actually hitting a low of 51.1% last winter. This had grown to 64.6% for the current winter schedule, ahead of easyJet's domestic announcement. Alongside the collapse of airberlin it has boosted its own offering by 15.8% versus last year.
CHART - Lufthansa has significantly boosted its share of domestic capacity this winter ahead of easyJet's advance into the local market
Source: The Blue Swan Daily and OAG
There is a clear need for additional capacity with Lufthansa recently deploying Boeing 747s on its domestic routes and now upgauging many routes to the Airbus A321 from the smaller A319 and A320 variants. easyJet will now attempt to fill this gap and unlike a new entrant already has the advantage of a strong brand appeal in Germany and the Berlin market.
When it first set roots in the country it was in the German capital, albeit at Schönefeld Airport. It has subsequently expanded its activities to cover seven German cities with links to 61 foreign destinations across an annual network of more than nine million total seats in and out of the country. But, Berlin remains its main focus in the country, accounting for almost two thirds (63.4%) of its activities in Germany this year.
CHART – easyJet has grown its international capacity out of Germany by an average annual rate of 5.6% over the past ten years and with the airberlin deal will have a stronger presence in its Berlin focus market from 2018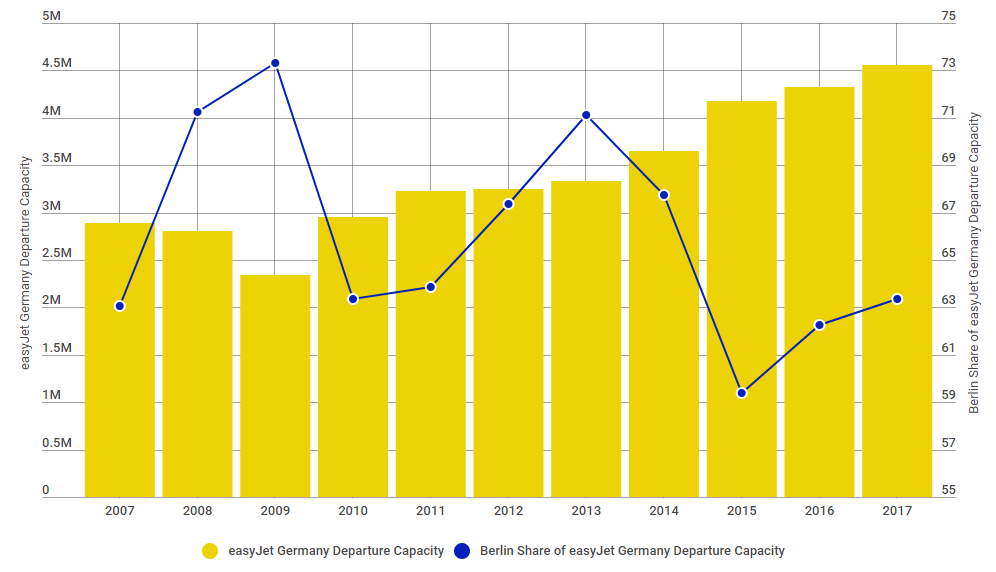 Source: The Blue Swan Daily and OAG
airberlin was Lufthansa's biggest rival in the domestic market holding a 24.7% share of capacity last winter. It operated on all four of easyJet's proposed domestic routes out of Berlin Tegel, part of an eight destination domestic network it offered last winter.
While the domestic flights has grabbed the attention, easyJet will offer 15 initial international destinations from Berlin Tegel, ranging from multiple daily operations to city destinations such as Vienna and Zurich to weekly flights to Fuerteventura and Paphos. Its full international network comprises Budapest, Catania, Copenhagen, Fuerteventura, Helsinki, Madrid, Milan Malpensa, Palma de Mallorca, Paphos, Paris CDG, Rome, Stockholm Arlanda, Tel Aviv, Vienna and Zurich.