The 'Hands Free' offering will allow passengers to check in their hand luggage at the Bag Drop desk, where they will be tagged as priority and looked after through to the arrival airport. For the price of £4 per person, or £10 for a group bundle per flight, easyJet says the 'Hands Free' offering will deliver "a stress-free experience" to passengers as they will no longer "need to take baggage through security or carry it around the airport". It promises that 'Hands Free' hand luggage will then be among the first to be delivered at the baggage belt at arrivals.
The 'Hands Free' concept will still allow passengers to take material onto aircraft and they will be given small plastic bags to carry any essential items, and are also free to take on board any items purchased at the airport. Passengers will also be given priority during the boarding process and will be able to board first after those that have purchased its existing Speedy Boarding ancillary offering.
The roll-out of the concept follows a trial of 'Hands Free' in France this spring. easyJet says over 9,000 passengers chose the option in the four week period that it was offered. It is now being rolled out across its entire network with the exception of London Gatwick, which should be added at a later stage.
"We've seen a fantastic response from customers upgrading to the 'Hands Free' experience and we're confident once you go 'Hands Free' you'll never want to drag cabin baggage through the airport again," says Andrew Middleton, ancillary revenue director, easyJet. "Alongside low fares and friendly customer service, our customers tell us that the airport experience is a hugely important part of their flying experience."
The low £4 price point for the 'Hands Free' offering is considerably less than the charge easyJet levies for hold baggage and may appeal to the many passengers within the cabin luggage allocation but not wishing to carry their own bags. However, most people travelling with hand baggage alone do it for a reason – keeping belongings close to their side while also removing the weight for bags to arrive at the carousel on arrival.
The priority boarding could certainly stimulate demand, but with passengers able to pre-book standard seats at a similar cost it is not quite as attractive an offering. It is also unclear how large the "small plastic bags" offered to passengers will be and if they are capable of carrying laptops and other electronic devices.
Many corporate travellers retain a fear that parting with your bags at the departing airport may result in them never being seen again. All frequent travellers have suffered from mishandled bags during their lives, especially those flying on one or two stop routings where there is an increasing risk of bags going missing. However, the latest SITA Baggage Report for 2017 shows instances of airlines mishandling baggage reached an all-time low last year.
The IT specialist says 5.73 bags per thousand passengers went astray in 2016 – a 12.25% drop compared to the previous year and a 70% reduction over the past 10 years. This comes despite the fact that global passenger volume has grown and reached record levels of 3.77 billion in 2016.
Preparations are under way across the air transport industry for a major step change in the way baggage is handled. Starting in June 2018 the International Air Transport Association (IATA) will require its member airlines, who represent 83% of total scheduled traffic, to keep track of every item of luggage, from start to finish. They will also be required to share that tracking information with all involved in delivering those bags back to passengers at their final destination.
The intention is to improve customer service at a fundamental level and to drive down industry costs. The cost to the industry to recover and reunite them with their bag is significant: the global bill was in the order of USD2.1 billion in 2016, according to SITA.
CHART – SITA says 5.73 bags per thousand passengers went astray in 2016 – a 12.25% drop compared to the previous year and a 70% reduction over the past 10 years.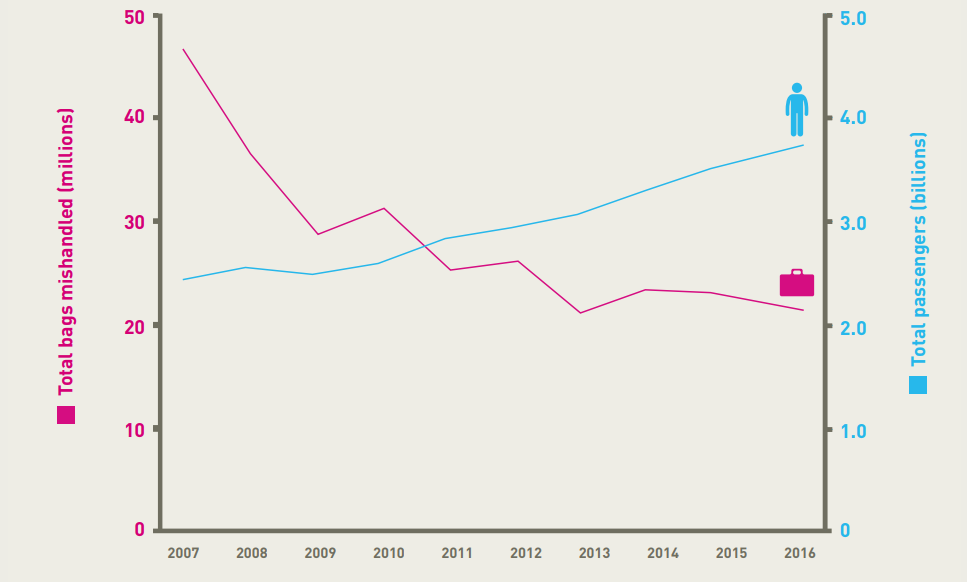 Source: SITA