The revised fleet plan is one of a number of measures to allow the airline to better compete and develop a sustainable growth trajectory. The airline plunged to its largest ever net loss during the first-half of its financial year, around 10% higher than many analysts had predicted. The £212 million pre-tax loss for the six month to the end of March was undoubtedly influenced by the later timing of Easter in 2017 and the post-Brexit slump in the value of the pound. Approximately £82 million of the company's losses were attributable to a weaker pound and £45 million were due to the timing of Easter, according to the company's financial statement.
The six month period saw capacity rise 8.4% versus the same period last year and passengers rise 9.0%, boosting average loads from 89.7% in H1 2106 to 90.2% in H1 2107. But revenues per seats declined 9.7% in constant currency terms and costs per seats including fuel rising 4.1%.
The new flexibility of its fleet arrangements will help easyJet better adapt to changing trading conditions and the ongoing uncertainty over Brexit terms. While it will cut its fleet growth rate by around 4% over the next five financial years, reaching 343 aircraft in 2021 (down from 357), it has tremendous flexibility to eliminate all growth, while also potentially growing by as much as 6.1% to up to 364 aircraft by 2021.
The fleet upgauge plan will deliver additional capacity even without fleet growth and will continue a migration to larger aircraft. easyJet has already started to move up from the 156-seat A319 to the 180-seat A320ceo as markets have matured.
The arrival of the A320neo will bring further incremental growth with two additional rows of seats versus its predecessor, growing capacity to 186 passengers, while the A321neo commitment will offer a 26.3% rise in seats versus the A320neo variant. The airlines also plans to retrofit 44 current A320ceo from 180 to 186 seats to offer a uniform configuration. Moving from 156 seats on an A319 to 186 on an A320 is expected to deliver a cost per seat saving of around 13% - 14%, says the carrier.
The A321neo jets will deliver an 8% - 9% cost per seat saving compared to an A320neo and increase easyJet's ability to grow in slot constrained airports and manage costs. They will start to arrive from summer 2018 although the majority will not be online until FY2020. Its first A320neo aircraft are due to arrive in the current financial year and by FY2021 the new generation family will account for almost a third of its fleet (30%). Over this period easyJet's smaller and older A319 operation will reduce from more than half (51%) of its fleet offering in FY2017 to just over a quarter (27%) in FY2021.
Despite the profits slip easyJet says it has made "good progress" in its strategy of making disciplined investments to defend, maintain and leverage its market-leading positions in Europe's primary, slot-constrained airports. "This includes increasing easyJet's share on selected city routes and existing number one positions in markets with high volume traffic," it says.
easyJet's strategy is focused on key airports, serving valuable catchment areas that represent Europe's top markets by GDP, driving both leisure and business travel. These are predominantly strong, existing markets, built up over a period of time by legacy carriers. It currently holds 18 number one market positions by share and has identified a number of potential targets for the next five years where GDP and passenger volumes are high, where there is a weak incumbent and/or where there is no clear winner today.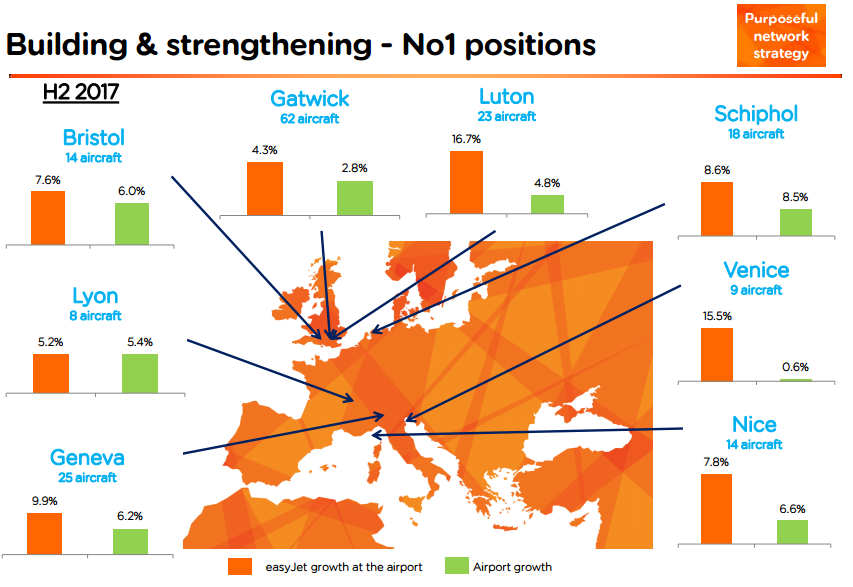 During the first half of this financial year easyJet has focused its growth on maintaining market share in the UK and Switzerland and growing in France. easyJet also invested high capacity growth in its city strategy: in Venice and Naples to improve its number one position; maintaining share in the slot-constrained Berlin market and in Amsterdam where the airport is now at full capacity. Further capacity growth was deployed in easyJet's lean bases to increase their scale and leverage their cost advantage.
The airline's capacity growth in the second half of the 2017 financial year is planned to be at a similar level to the first six months, while it "remains on track" to confirm possession of a European Air Operator Certificate (AOC) by the summer and therefore secure the flying rights of the 30% of the network that remains wholly within and between EU states, excluding the UK.
"Our bookings for the summer are ahead of last year showing that demand to fly remains strong and reflects growing evidence that consumers are prioritising expenditure on flights and holidays above other non-essential items," says Carolyn McCall, chief executive officer, easyJet.