Dusseldorf is the state capital of North Rhine-Westphalia, the largest state in Germany by population with around 18 million inhabitants. It is centrally located among several important cities in and around the Rhine river, including Cologne, Bonn, Essen, Wuppertal, Duisburg and Dortmund and forms part of one of the most heavily concentrated industrial centres worldwide. As such, Dusseldorf offers a strong catchment in its own right and provides a viable alternative to avoid unnecessary travel to Frankfurt for long haul journeys.
TUIfly will impose itself on the long-haul market from Dusseldorf Airport from Nov-2020, challenging incumbent operator Eurowings with the launch of six Latin American destinations, including Cancun, Montego Bay, Punta Cana, Bridgetown, La Romana and Puerto Plata.
And as Lufthansa Group adjusts the commercial responsibility for long haul routes operated by Eurowings and abandon's the low-cost long-haul experiment, TUI may see a new opportunity for disruption. TUIfly will base two 787-8s initially at the airport, sourced from TUI UK, and is also looking at incorporating 787-9s in the following winter season.
Meanwhile, Condor is mixing it up on the long-haul leisure market, relaunching Dusseldorf-Cancun service twice weekly after what will be a two-year hiatus come the winter. Condor's network from Dusseldorf is primarily focused on short haul leisure destinations to the Canary Islands and other Mediterranean destinations.
MAP - Condor's extensive long haul network from Frankfurt to the Caribbean gives it some breathing room against COVID-19… for now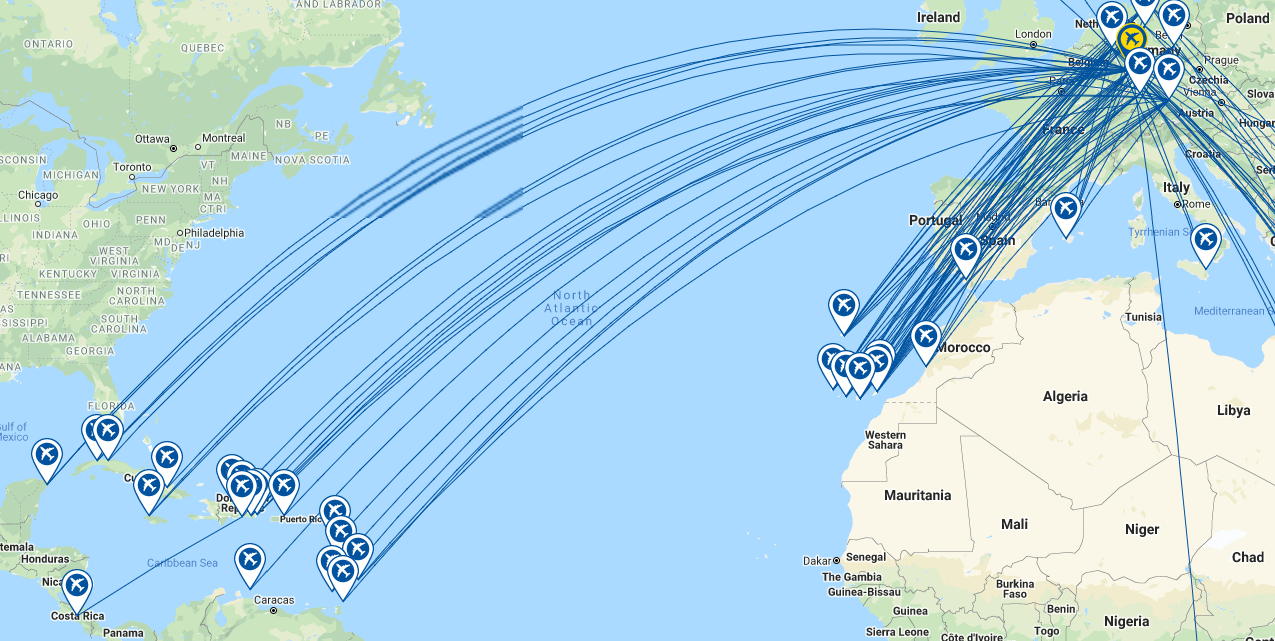 Source: CAPA – Centre for Aviation, OAG and Google Maps
Basing one Boeing 767 at Dusseldorf in winter 20/21, Condor is also set to announce further long-haul leisure routes very soon, potentially extending this competition with TUI and Eurowings even further.
Potential route options for Condor include Curacao, Havana or Santa Clara the latter being suspended by Eurowings in summer 2020. Miami, a route on which Eurowings will be reducing frequency in summer 2020, is also promising.
Punta Cana and Montego Bay, both previously operated seasonally by Condor, may be riskier propositions as TUI is committing to both these routes, however, with Eurowings planning not to resume Puerto Plata, which it operated from Oct-2018 to Oct-2019, Condor may feel it can also look to challenge TUIfly here as well. Condor could also be looking south- and eastwards where Eurowings has no presence from Dusseldorf, including Sub-Saharan African or Indian Ocean holiday destinations.
But as promising as these plans are, Condor and TUIfly will certainly start to feel the effects of COVID-19. Their operations are admittedly less exposed than most, and according to OAG, both the carriers have not (yet) inputted major capacity reductions. It will catch up to them however, especially if markets like Spain and Egypt follow Italy's lead in lockdowns to contain the virus, which at this stage is highly likely.
Major travel restrictions are not yet in place between Germany and the Caribbean and Condor only operates two routes to Italy, from Dusseldorf and Frankfurt to Catania in Sicily. The airline has recently been quick to point out that it is still registering stable load factors and has not yet had to resort to grounding its fleet. TUIfly meanwhile does not operate between Germany and Italy.
Like all airlines, they will have to weather the storm that is COVID-19 during the early summer 2020 schedule, hope that the virus will clear during the peak summer holiday periods, and then look to ramping up capacity to long haul leisure routes in the southern hemisphere, presumably to where most Europeans will be looking to travel having missed out on their European summer adventures!