Speaking during the first CAPA Live – a new monthly virtual summit offering insights, information, data and live interviews across a next-gen virtual event platform – Sir Tim said he "is not one of these people who believes in what they call the new norm", and he believes demand will return in "a very robust manner".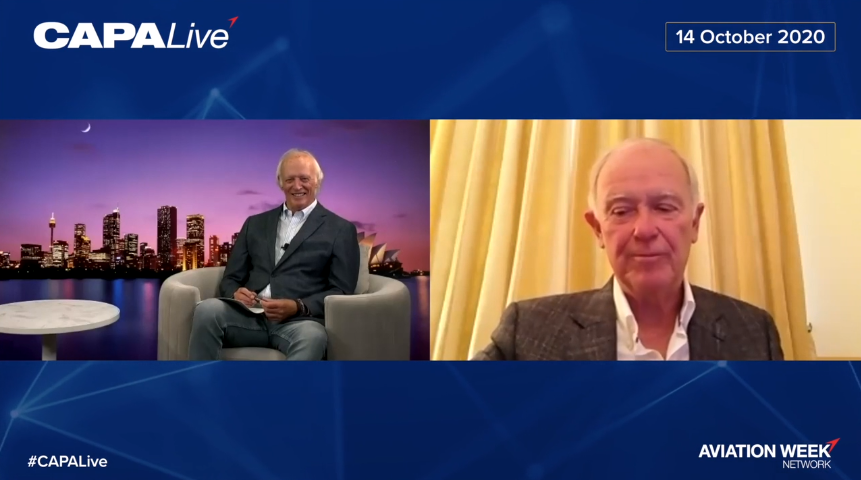 Sir Tim said this is particularly because demand has been "so suppressed in the past 10 months" and he expects that it will remain suppressed for at least the next six to nine months. But, when demand does return, airlines "need to ensure that we are a known entity" by maintaining its physical product and continued use of their marketing tools to keep their brands in the minds of customers, he said.
The role of the network carrier "could be stronger than in the past" when travel demand returns, acknowledged Sir Tim. He said you "have to assume you will recapture the growth curve prior to the pandemic" and he believes there will be a demand driven bounce back which will return "sooner rather than later", although whether airlines are in "good enough shape to respond to that" is another question.
The airline is pivoting to support traveller requirements and has launched an integrated biometric path at Dubai International Airport – a contactless airport experience is now open to Emirates passengers travelling from and through its main hub.
The integrated biometric path offers passengers a seamless travel journey from specific check-in to boarding gates, improving customer flow through the airport with less document checks and less queuing.
Utilising the latest biometric technology – a mix of facial and iris recognition, Emirates passengers can now check in for their flight, complete immigration formalities, enter the Emirates Lounge, and board their flights, simply by strolling through the airport. The various touchpoints in the biometric path allow for a hygienic contactless travel journey, reducing human interaction and putting emphasis on health and safety.
The biometric touchpoints are currently installed at select first, business and economy class check-in desks in Terminal 3 at Dubai International; immigration gates including a "smart tunnel"; Emirates' premium lounge entrance at concourse B as well select boarding gates. Areas where biometric equipment are installed will be clearly marked and additional units will be installed at each touchpoint in the future, according to the carrier to meet returning demand.
The Smart Tunnel, a project by the General Directorate of Residence and Foreigners Affairs in Dubai (GDRFA) in collaboration with Emirates, is described as "a world-first for passport control," where passengers simply walk through a tunnel and are "cleared" by immigration authorities without human intervention or the need for a physical passport stamp.
Emirates says it is also the first airline outside America to receive approval for biometric boarding from the US Customs Border Protection (CBP) with customers flying from Dubai to the US able to choose facial recognition technology at the departure gates.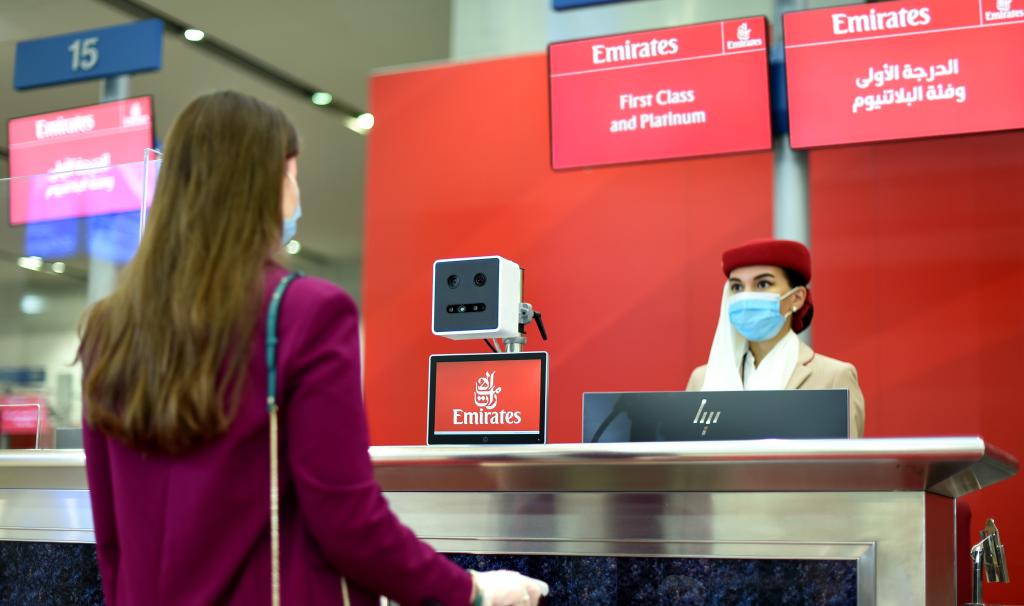 The biometric path is one of a number of initiatives by Emirates to provide a smart contactless journey and allow passenger confidence for their return to travel. Other services adopted included self-check-in and bag drop kiosks, flexible booking policies and free, global insurance cover for COVID-19 related medical expenses and associated costs.
Emirates has also implemented a comprehensive set of measures at every step of the customer journey to ensure the safety of its customers and employees on the ground and in the air, including the distribution of complimentary hygiene kits containing masks, gloves, hand sanitiser and antibacterial wipes to all customers.
The return to the old normal is also evident in Emirates' plan to reopen the lounge and bar area on the upper deck of its A380s as part of a redesigned onboard experience. This will be conducted under its inflight protocols with regards to social distancing "and everything else", although there won't be a "return to the halcyon" days of multiple people occupying the space, Sir Tim explained during the CAPA Live interview.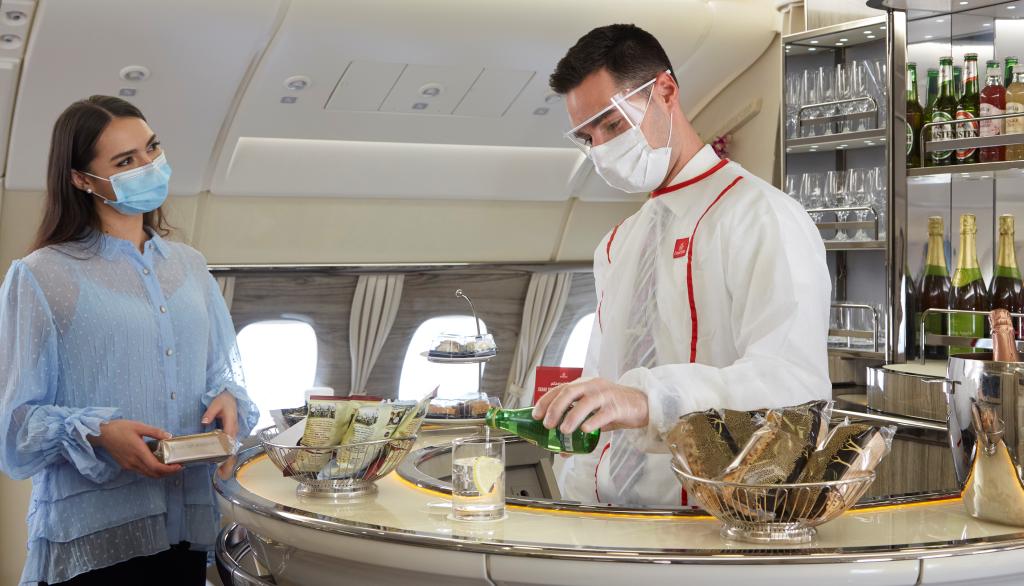 The A380 Onboard Lounge, which serves first and business class customers, will ultimately transform into a take-away bar with limited seating capacity and social distancing protocols in place. The bar will continue to serve wines, spirits, soft drinks and pre-packaged lounge bites for customers to take and enjoy in the comfort of their own seats. Customers can also make their orders from their seats if they prefer. The social areas in business class on select Boeing 777 aircraft and in First Class also re-opened with pre-packed snacks for customers to grab and go.
First class customers will also once again be able to have a shower at 40,000 feet. Luxury spa products will be provided in individual amenity bags to each customer. The sets include pamper essentials from award-winning, organic and sustainable Irish brand VOYA, a disposable bath towel and a menu to choose additional amenities.
From 01-Nov-2020, Emirates' onboard dining experience will also return to its signature service, but while observing strict hygiene protocols. Customers in all classes will be able to enjoy multi-course meals and choose from a complimentary selection of beverages including wine and beer, as well as juices and soft drinks.