There has been mixed views among the big Middle East hub airlines over the need – or even viability – of introducing a premium economy cabin, but in the continued COVID-impacted environment where corporate travel demand remains subdued, the arrival of this new 56-seat cabin could not have been better timed.
However, it will initially be a very niche product that is only available on just one of its Airbus A380 fleet. This aircraft will be deployed on the Dubai – London Heathrow route from 04-Jan-2021. Operating as EK003/004, the aircraft is scheduled to depart Dubai International daily at 14:30, arriving at 18:20 in London. The return flight departs London Heathrow at 20:20 and arrives in Dubai the next day at 07:20.
The cabin will be extended to additional services though as additional aircraft arrive. Its remaining order of five A380s will also be delivered with premium economy cabins over 2021 and 2022. The premium economy seats will also be installed on some of the airline's Boeing 777X aircraft which are only due to join the fleet in 2023. Emirates is also considering plans to retrofit its existing A380 fleet with the cabin, a decision that will likely be influenced by passenger demand.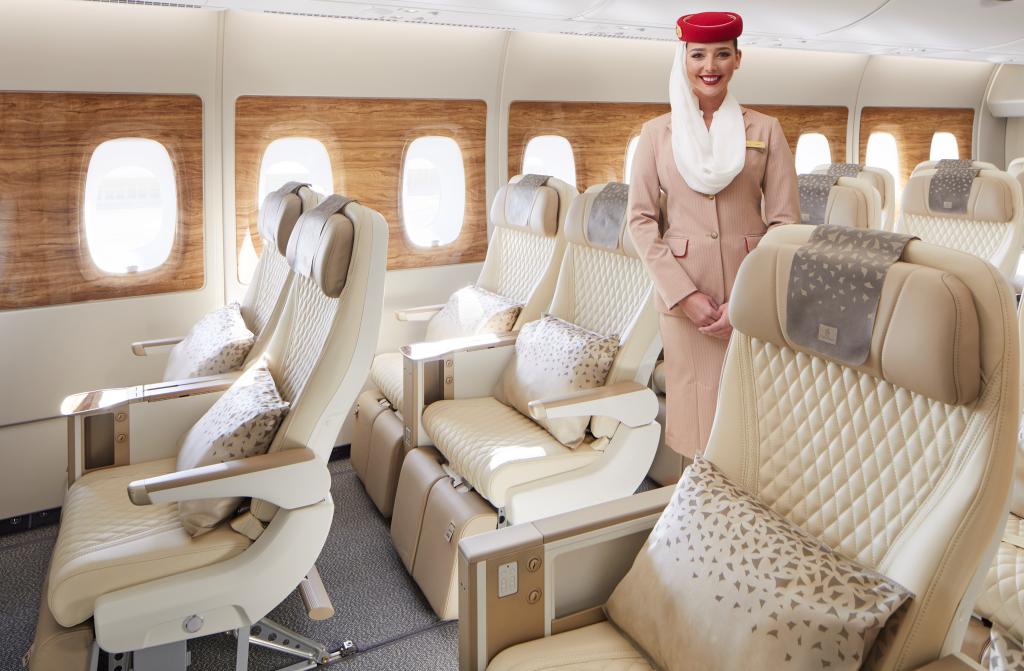 One big concern over the introduction of the new cabin space is that it does not see a downgrading of travellers from its premium offering and as such it was "carefully developed in keeping with Emirates' brand positioning as a full-service airline of the highest quality," explains Sir Tim Clark, president, Emirates Airline.
Until the airline has "a viable number of seats in its inventory to bring the product to market," it says it will initially offer the premium economy experience as a complimentary upgrade to its "most valued customers". The airline intends to offer these spot upgrades on a discretionary basis.
The new cabin offers 56 seats in a 2-4-2 cabin layout. It is located at the front of the main deck, with three lavatories dedicated to customers.
With a pitch of up to 40-inches, the seat is 19.5 inches wide, and reclines eight inches into a cradle position with room to stretch out. Covered in cream-coloured anti-stain leather with stitching details and a wood panel finishing similar to the airline's business class, each seat has six-way adjustable headrests, calf rests and footrests. In terms of amenities it has a 13.3 inch screen, includes in-seat charging points, and includes a wide dining table and side cocktail table.
Alongside the new cabin, this A380 sees a wider refresh of the Emirates interior. The airline's 14 first class private suites have been enhanced from the original suites, being slightly wider with taller doors, for even more privacy and comfort. Cabin detail and finishes have also been refreshed with new motifs and colours, from the sweeping stairs that lead from the main deck to the upper deck, to refreshed design trims and modern fittings in the Shower Spa.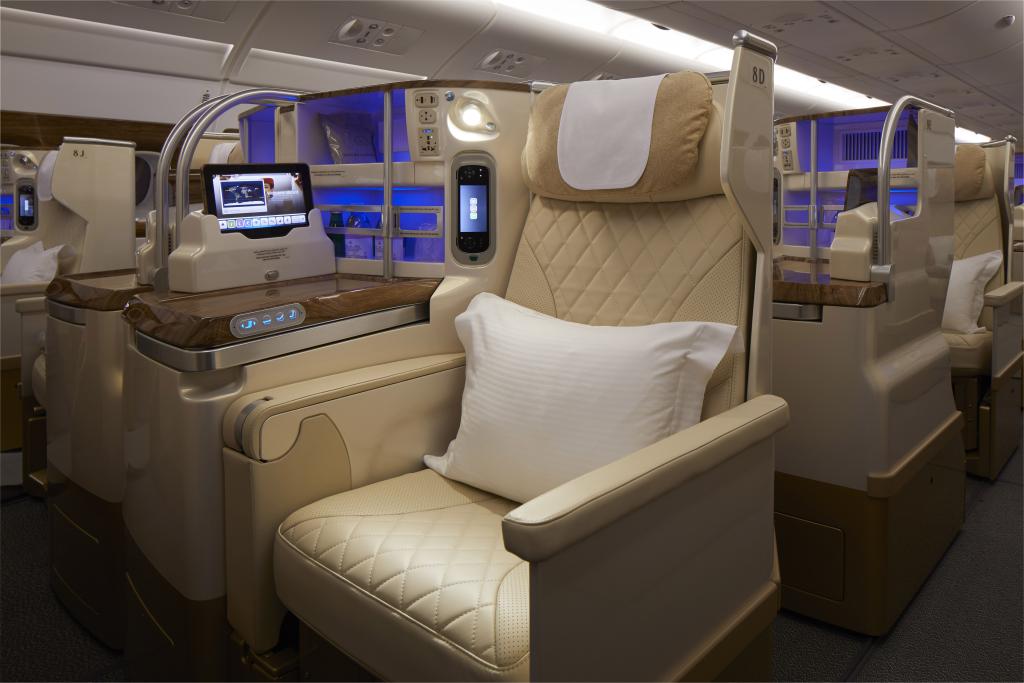 In business class, all 76 seats have been refreshed to feature champagne-coloured leather covers and wood finishing, inspired by executive jets. This same scheme has also been applied to the Onboard Lounge at the back of the upper deck, for the exclusive use of first and business class passengers.
Emirates has also replaced all 338 economy seats with ergonomically designed seats that come with full leather headrests and flexible side panels which can be adjusted vertically for optimum support. This latest seat model is a step up from the version currently installed on Emirates' Boeing 777. It is lighter and each seat features a wood grain finish on tray tables, as well as a 13.3 inch personal screen.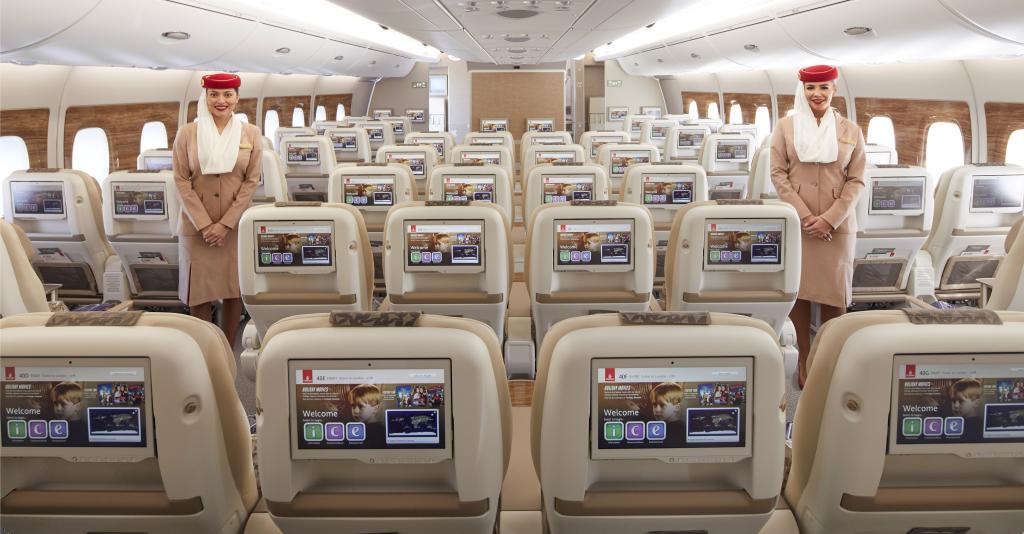 Throughout the interior, travellers will see new finishes and design touches featuring the Ghaf (prosopis cineraria) tree motif, as well as the champagne colour scheme with wood panelling and bronze accents. An indigenous evergreen plant, the Ghaf is considered the national tree of the United Arab Emirates, and has deep cultural and ecological significance.
All cabin classes are equipped with the latest generation of Emirates' award-winning ice inflight entertainment system. Each in-seat screen will feature ultra-wide viewing angles, a capacitive touch screen, LED backlight and full HD display.
The A380 fitted with the new premium economy offering was one of three of the type delivered to Emirates in Dec-2020. While many of the world's airlines have now retired their A380 fleets due to the significant demand drop last year, the UAE carrier continues to see an important role for the airliner.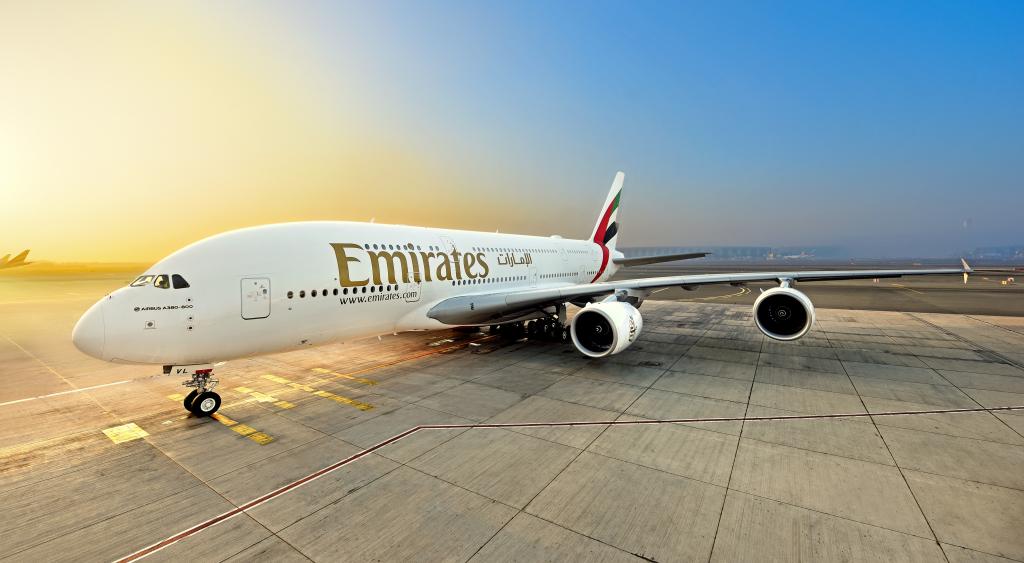 Since its entry into the Emirates fleet 12 years ago, the A380 has been the airline's flagship and a customer favourite, captivating the imagination of travellers by providing an unmatched travel experience with signature elements such as the A380 Onboard Lounge and Shower Spa, continuing to be talked about around the world.
Emirates believes this A380 experience will remain highly sought after by customers and the airline has recently reinstated its iconic products for customers to enjoy, balancing an elevated experience during the pandemic with measures that prioritise the health and wellbeing of passengers.
"The A380 has been a success story for Emirates, and this is reflected in the strong customer interest wherever we've deployed the aircraft over the years. The A380 has helped us efficiently serve customer demand at slot constrained airports and also on trunk routes, supporting our long-haul hub operations," explains Sir Tim Clark.

Emirates says it will continue to invest in the A380 product experience as the aircraft "will remain our flagship for the next decade, and we will re-deploy it on more routes as travel demand returns". The aircraft is also being utilised as a 'mini-freighter' on select cargo charter operations to transport urgently required cargo across the Emirates network.
The A380 currently flies to Cairo, Amman, Paris, London, Guangzhou, Manchester and Moscow and recently services have been ramped up to four daily A380s on London Heathrow and daily flights to Moscow. Emirates will also deploy the type on the Dubai – Sao Paulo route four times weekly between 09-Jan-2021 and 30-Jan-2021 in response to the summer season increase in demand for travel to and from Brazil.