The airline is the first in the world to provide such a service, a valuable initiative to safeguard passengers and crew, while helping to build consumer confidence in air transport. It is now working on plans to scale up testing capabilities in the future and extend it to other flights. "This will enable us to conduct on-site tests and provide immediate confirmation for Emirates passengers travelling to countries that require covid-19 test certificates," explains the airline's chief operating officer, Adel Al Redha.
The initiative highlights a pro-active approach from an airline, health authority and airport, and is something that will need to be replicated on a wider scale to help the aviation industry in its recovery. There is also a need for close public and private sector partnerships, but solutions need to be made at the international rather than national level if we are to allow aviation to take-off again efficiently.
Emirates is currently operating a skeletal service that is mainly supporting global repatriation efforts, but it has already outlined plans to quickly boost its operations once travel restrictions are lifted. Its current activity provide an insight into the new travel environment.
The airline's check-in and boarding formalities have also been adapted with social distancing in mind. Protective barriers have been installed at each check-in desk to provide additional safety measures to passengers and employees during any interaction. Gloves, masks and hand sanitisers have been made mandatory for all employees at the airport. Passengers are also required to wear their own masks when at the airport and on board the aircraft, and follow social distancing guidelines.
Emirates has also modified its inflight services for health and safety reasons. Magazines and other print reading material will not be available, and while food and beverages will continue to be offered on board, packaging and presentation will be modified to reduce contact during meal service and minimise risk of interaction.
Cabin baggage is also currently not accepted on flights. Carry-on items allowed in the cabin are limited to laptop, handbag, briefcase or baby items. All other items have to be checked in, and Emirates says it will add the cabin baggage allowance to customers' check-in baggage allowance. All aircraft will also go through enhanced cleaning and disinfection processes in Dubai, after each journey.
CAPA – Centre for Aviation analysis of OAG schedule data highlights that Emirates is currently operating around 200 weekly flights, a significant reduction on the over 3,750 offered during the first two months of this year. With its exclusive widebodied fleet, these provided around 1.5 million seats.
CHART – Emirates Airline has already filed planned schedules that will see its weekly capacity grow to around a third of the levels before- covid-19 from May-2020 and this week it has outlined wider tentative route returns from Jun-2020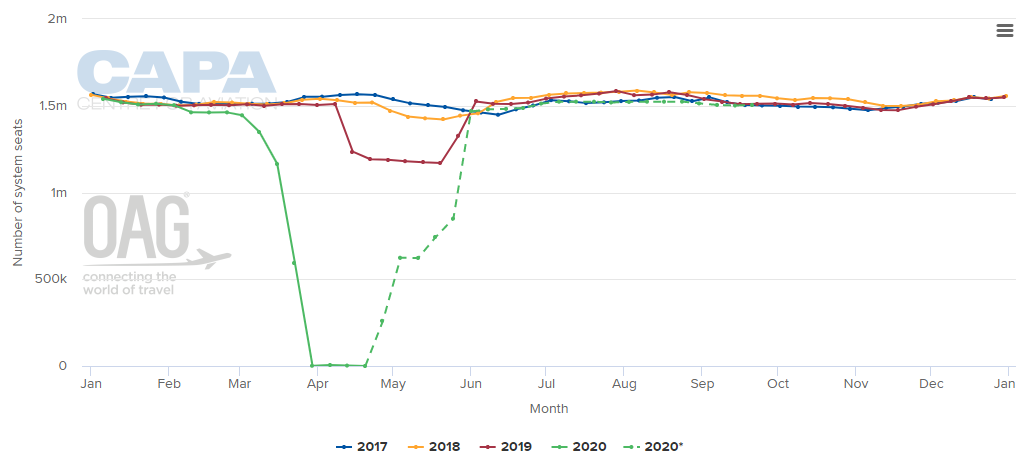 Source: CAPA – Centre for Aviation and OAG (data: at 13-Apr-2020)
With a limited current schedule, Emirates has also taken what it describes as a "customers first" attitude to its Covid-19 travel waiver policies, delivering a simplified approach for rebooking and refunds on tickets issued in all its global markets.
The travel and airline industry are well-known for having complicated rulebooks for how fares, re-bookings or refunds are applied, which also differ depending on market regulation. Many cheaper fare classes provide no rights for ticket changes or include expensive change or cancellation fees.
Emirates is currently offering a simplified waivers and refunds policy that provides a single unified approach worldwide. It offers the option of keeping tickets for 760 days, exchange tickets for travel vouchers valid for up to two years or the offer of full refunds on unused vouchers or ticket.
This includes extending an existing waiver policy to tickets issued before 31-May-2020, for travel before 31-Aug-2020 enabling travellers who have already, or plan to book travel over the coming months as governments start to lift their mobility restrictions.
As you would expect, Emirates has developed a fairly transparent and long-term offer to encourage customers to retain bookings, simply postponing travel rather than cancelling it so it can retain has much business liquidity while revenues coming into the business remain low.
"We sincerely hope that our customers will choose to rebook and fly with us again at a later time, and that is why we're offering up to two years validity on their current tickets, or travel vouchers which can be redeemed for any Emirates product or service," explains Adnan Kazim, the airline's chief commercial officer. He accepts that some will "still like to opt for a refund" and confirms the carrier "will process that," but warns that "refunds will take time as we have a significant backlog to manage".
It could be a tough, long path to recovery for Emirates. Local demand in and out of Dubai for both business and leisure will provide an underlying demand, but it is unclear how travellers will approach using Dubai as a transit point and those sixth freedom services that has turned it into one of the world's largest and best-known brands.