The airline will also continue to operate its business class lounge in Concourse B which has been opened since Jul-2020 for first and business class travellers as well as eligible Skywards members. Both are maintained with "comprehensive bio-safety protocols in place," says Emirates, so customers "can enjoy a full complement of trademark services".
In the case of the first class lounge, this includes complimentary facial treatments at the Timeless Spa, complimentary services at Shoeshine by Mr Cobbler, four fine champagne vintages at the dedicated Moet and Chandon bar, special offers at luxury wine and spirits retailer Le Clos, and limited-edition tea blends with Dilmah Tea.
The re-opened lounge also features "refreshed and spacious seating in the dining, rest, and social areas," says Emirates. In addition to a "generous selection" of fine wines, spirits, and cocktails, first class travellers can also enjoy an "entirely new menu" of over 55 individual dishes, including char-grilled wagyu burger, 72-hour braised beef short ribs, foie gras terrine, Black Angus tenderloin, and a traditional Emirati breakfast.
The re-opening of the lounge is the latest in a phased programme where the airline has steadily and safely restarted its exclusive ground services for premium customers over the past year. This includes complimentary Chauffeur Drive in 70 cities, and Emirates Lounge operations in Dubai, Cairo, New York JFK, Manchester, Boston, Milan, and Los Angeles.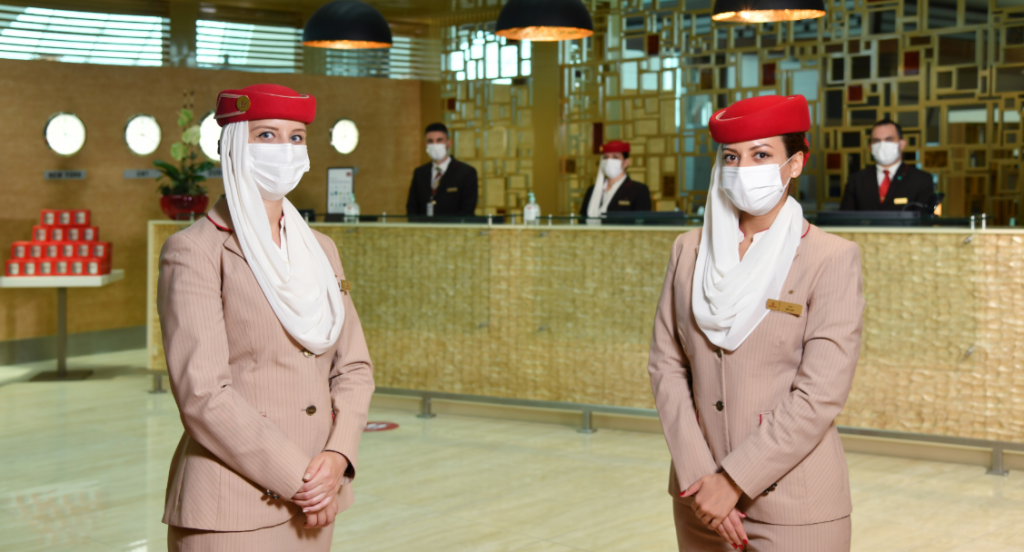 Meanwhile, Emirates has announced the launch of Emirates Pay, a new account-based payment method for purchasing air tickets. The platform is currently available for customers in Germany and the UK who are purchasing tickets via emirates.com. Emirates is the world's first airline to launch this payment alternative powered by a white-label solution jointly developed by the International Air Transport Association (IATA) in partnership with Deutsche Bank.
"Our aim is to provide our customers with choice, convenience, and the best possible experiences at every touchpoint," explains Michael Doersam, chief financial officer at the airline. "When it comes to payments solutions, we've always kept close to the latest innovations so that we can offer our customers in different markets the most secure and convenient options."
Customers who don't have a credit card, and those already using direct payments for other purchases, "will welcome the simplicity and security of this method when making travel purchases," he says.
Emirates Pay is an alternative method for travellers to pay for air tickets purchased online by directly debiting their bank account and is based on real time payments and open banking / request-to-pay schemes. With this new solution the airline provides all the necessary account and payment information and passengers approve the payment initiation in a convenient way via their online or mobile banking.
For airlines, the new payments solution offers a cost-competitive payment alternative with faster settlement times, supporting enhanced airline liquidity as well as reduced payment fraud. For consumers, the new payments solution addresses the demand for more secure and frictionless payment options, including account-to-account payments, for which a card is not required.
The UAE carrier has also reached a commercial agreement with travel retailer Travelport that will allow its connected travel agencies to avoid the airline's surcharge on bookings via Global Distribution Systems (GDS). Furthermore, the companies announced a new long-term agreement to enable the distribution of Emirates NDC content via Travelport's next-generation platform, Travelport+, and an extension to its longstanding IT agreement.
As of 01-Jul-2021, Travelport's global network of travel agency partners have automatically been upgraded to a dedicated channel that provides access to un-surcharged content. These agencies will also continue to benefit from a graphically rich experience when searching for and booking Emirates branded fares, as well as greater access to its ancillary offers, thanks to a long-term extension of the airline's existing agreement to use Travelport's Rich Content and Branding merchandising tool.
As part of the deal, Travelport-connected agencies will also be able to gain simplified access to Emirates' NDC content and services via Travelport Smartpoint and the company's enhanced RESTful / JSON APIs once the agencies sign new NDC specific agreements with both companies. Travelport and Emirates continue to progress the NDC technical solution for travel retailers worldwide and are now in the process of developing enhanced features and functionality that will, when complete, be gradually rolled out.
Travelport will also continue to provide Emirates with its pricing, shopping and ticket rebooking technology as part of the agreement, to support the airline in the delivery of advanced shopping and rebooking options within its own internal sales channels, including its NDC channel and www.emirates.com.
These new deals will "further cement Emirates as the airline of choice for travellers that want highly personalised offers and access to the world's best destinations," says Adnan Kazim, chief commercial officer at the airline. Emirates and Travelport will also "continue to work jointly on future travel retail solutions that will offer our travel community partners even better and more bespoke services," he adds.
CTC – Corporate Travel Community analysis of OAG schedule data highlights that Emirates Airline seat capacity will in Jul-2021 grow to its highest monthly level since the coronavirus pandemic commenced, albeit remains down around three fifths (-59.4%) on the levels seen in the corresponding month in 2019.