The first international travel corridor allowing reciprocal quarantine-free travel had started in Singapore, with the country launching vaccinated travel lanes with Germany and Brunei in Sep-2021 last year. Since then, the scheme has been extended to several major inbound markets including Canada, Australia, the UK, the US and a number of countries in the EU.
Now Singapore will lift quarantine requirements for all vaccinated travellers from next month, joining a string of countries in Asia moving more firmly toward a "living with the virus" approach. Others are following a similar course, albeit at different stages in the removal of the restrictions.
A growing trend to opening access to vaccinated travellers
This is a fluid situation and changes are occurring regularly. A recent survey of travel restrictions for the world's top 50 global air travel markets (comprising 88% of international demand in 2019 as measured by revenue passenger kilometres) by airline body International Air Transport Association (IATA) revealed the growing access available to vaccinated travellers.
The findings from early this month identified 25 markets representing 38% of 2019 international demand are now open to vaccinated travellers without quarantine measures or testing requirements –up from 18 markets (28% of 2019 international demand) in mid-Feb-2022. In total, 38 markets representing 65% of 2019 international demand were found open to vaccinated travellers with no quarantine requirements – up from 28 markets (50% of 2019 international demand) in mid-Feb-2022.
Travel in Asia remains heavily compromised by COVID restrictions
Repeated surveys of passengers by IATA during the pandemic has shown that testing and especially quarantine are major barriers to travel. Also, the regional variations in the degree of openness among the markets are stark.
Travel in Asia remains "heavily compromised by COVID restrictions," according to IATA. While North American and European international traffic rebounded to -42% of their 2019 peaks last year, traffic in Asia Pacific remained at -88%. Even in this region, however, there has been some progress, with India, Malaysia and Singapore among the countries recently announcing relaxation of restrictions.
The easing of measures reflects the growing consensus that travel restrictions such as border closures and quarantine do little to control the spread of COVID-19. A recent report by OXERA and Edge Health, looking at the spread of the Omicron variant in Europe, concluded that travel restrictions may only delay the peak of a wave by a few days.
The world is now 'largely open for travel' but Asia still lags behind
The world is now "largely open for travel," says Willie Walsh, IATA's director general and as population immunity grows, more governments are now managing COVID-19 through surveillance, as they do for other endemic viruses. "That is great news for a growing number of destinations that will receive a much-needed economic boost," he acknowledges.
However, Asia remains "the outlier," says Mr Walsh. Positively though, recent relaxations including Australia, Bangladesh, New Zealand, Pakistan, and the Philippines are seemingly paving the way towards restoring the freedom to travel that is more broadly enjoyed in other parts of the world.
Issued tickets to Asia Pacific travel are on the rise
New research from ForwardKeys shows that tickets for travel to key Asia Pacific destinations are on the rise with India leading the way forward.
Its research shows India had recovered 80% of 2019's level in the week of 05-Mar-2022. Next was the Pacific Island of Fiji, recovering 61% of pre-pandemic levels followed by the Philippines (48% of recovery); Singapore (43% recovery); and Australia (38% recovery).
Australia playing important role in reviving Asia Pacific travel
When observing the most recovering source markets to key destinations in the Asia-Pacific region, ForwardKeys notes the importance of Australian outbound travellers, especially when taking the examples of the strong India and Fiji recoveries.
Travel from Australia to India has been improving, with arrivals from this origin market at +16% vs 2019 during the same period. The pickup in tickets from Australia really started to jump at the beginning of Feb-2022 when India removed the requirement for quarantine and facilitated travel by adding more countries, including Australia to its "Category A" country list; allowing for entry with proof of vaccination. It was not alone though with other key Western markets showing a rise on 2019 India booking levels: USA, up by +10% and Ireland up by +4%.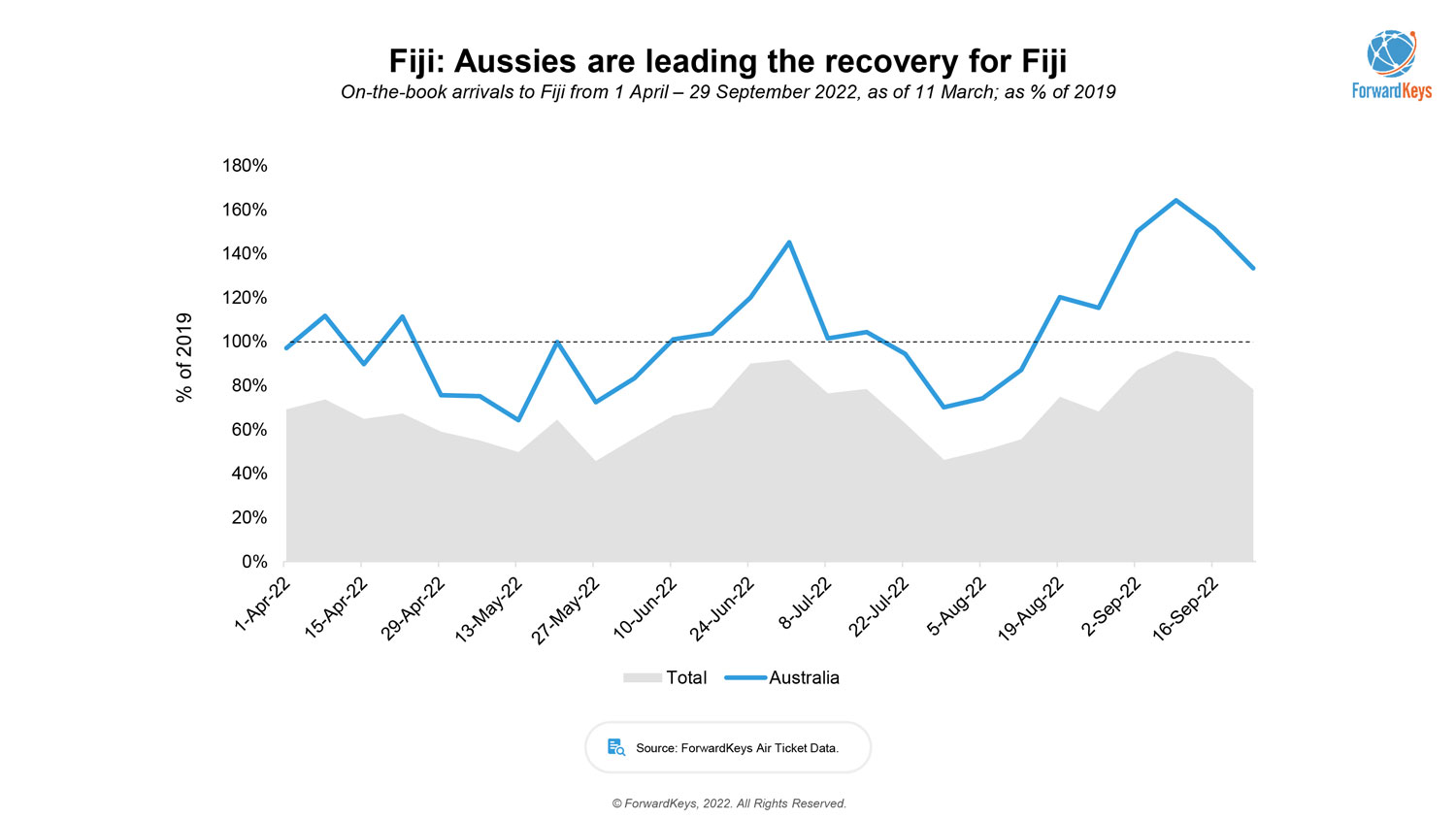 Similarly, Fiji, is also appreciating an uplift in future bookings from Australians, peaking and performing above 2019 levels in Apr-2022, Jun-2022, and Sep-2022, according to ForwardKeys analysis of bookings data.
Australia enjoying rise in premium arrivals
In the instance of Australia, while total inbound traveller numbers may still be low for now, the ForwardKeys data reveals a significant 14 percentage point growth in premium cabin class arrivals shared in 2022 versus 2019.