Etihad has been serving Sydney, its first destination in Australia, since 2007. Etihad upgraded its initial Abu Dhabi-Sydney flight to the A380 in Jun-2015. In Jan-2017 it added more capacity in the Sydney market by adding three weekly 777-300ER frequencies, resulting in its current schedule of seven 777-300ER and seven A380 frequencies.
Etihad has unveiled plans to upgrade all seven 777-300ER frequencies to the A380 from 29-Oct-2017. The new Sydney schedule will result in a 20% increase in seat capacity from 11,536 to 13,888 weekly seats.
Etihad configures its A380s with 496 seats compared to 328 seats on the 777-300ER. The A380 also features its flagship product including first class suites, known as The Residence. Etihad now operates the A380 on all its London flights and is introducing the A380 on the Paris route from 1-Jul-2017, providing an all A380 option for Sydney passengers heading to these popular European destinations. Etihad took delivery of its tenth and final A380 on 25-May-2017.
Etihad currently operates 42 weekly flights to Australia including 14 to Melbourne and Sydney and seven to Brisbane and Bali. Melbourne and Sydney are served for now with a mix of 777-300ERs and A380s while Brisbane and Perth is served with the 787.9
Flights to Brisbane were upgraded in 2015 from one-stop via Singapore to nonstop. In Perth, Etihad is adding capacity in Jun-2017 as it adds three weekly flights for a total of 10 frequencies. However, Etihad is reducing capacity to Melbourne in late Oct-2017 as one daily flight is downgauged from the A380 to 777-300ER and the other flight is downguaged from the 777-300ER to the 787-9. Etihad has only operated the A380 to Melbourne since Jun-2016, when it took over from a 777-300ER.
Despite the reduction in Melbourne, Etihad's overall Australia traffic will continue to grow due to the increases in Sydney and Perth. The airline's Australia traffic has grown every year since it launched services to Australia in 2007.
Etihad's Australia traffic was up 17% in 2016 to 1.2 million passengers, according to BITRE data. In the most recent data from Mar-2017, Etihad have seen a 7.5% increase on passenger numbers for the month, year on year, with Sydney seeing the largest increase up 17.6%. Etihad's average Australia load factor has been above 80% every year since 2011, an indication the market has been able to absorb the additional capacity.
Etihad Airways annual passenger traffic to/from Australia and average load factor: 2007 to 2016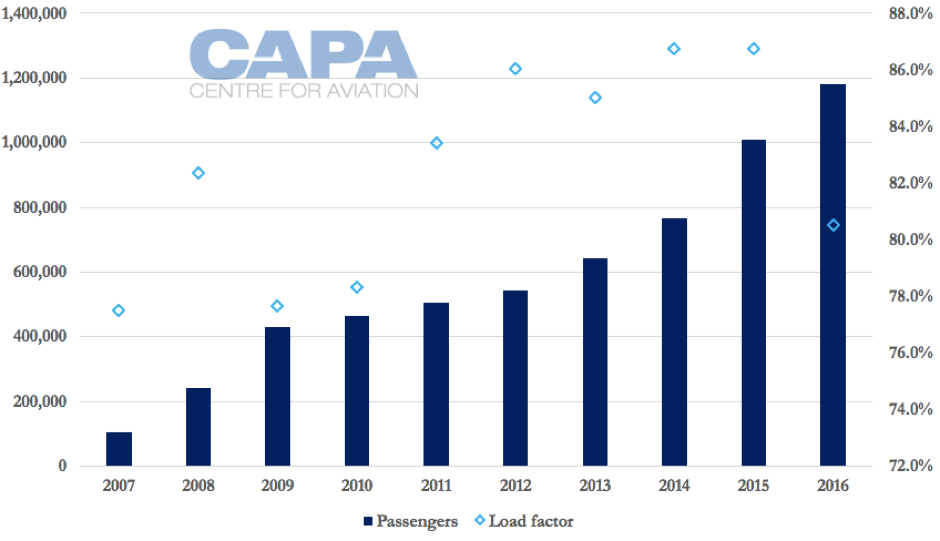 Source: CAPA – Centre for Aviation & Australia BITRE