The full year data in the ETC Market Intelligence Q4/2017 Quarterly Report shows the Continent welcomed 671 million travellers last year, consolidating, for the eight consecutive year, its position as the largest global travel region worldwide. Growth momentum "has been bolstered by economic growth in major source markets and the strong recovery of destinations previously affected by security concerns (e.g. Belgium, France and Turkey)," says the report.
The data shows growth was recorded in virtually all monitored destinations with more than half growing in excess of 10% or above the regional performance. Turkey (+28%) enjoyed a strong rebound in arrivals following years of decline as growth was held back by safety concerns and political turmoil, but Iceland (+24%) was the star performer in terms of arrivals expansion. Many destinations in Southern Mediterranean Europe also outperformed the regional average, notably Montenegro (+19%), Serbia (+18%), Malta (+16%), Slovenia, and Cyprus (both +15%) which all have proved success in overcoming seasonality.
CHART – International tourist arrivals in Europe were up +8.4% year over year in 2017 with many nations recording double-digit growth in visitor numbers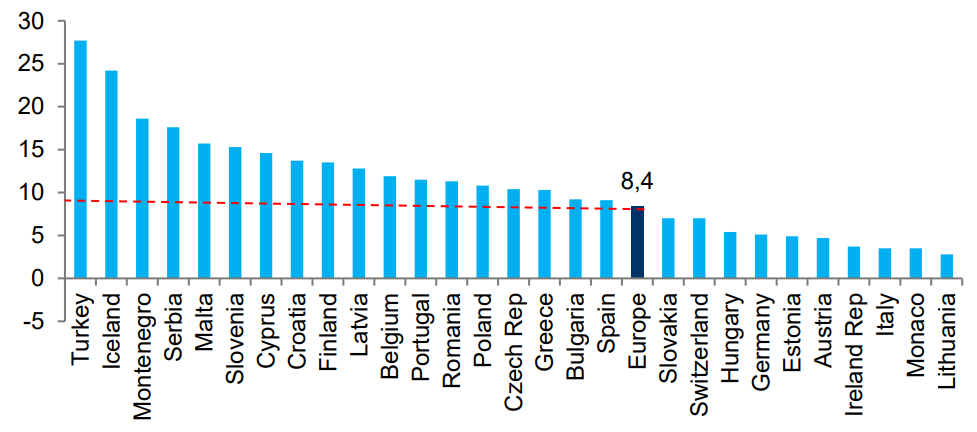 Source: TourMIS
The positive results in European tourism demand are consistent with indicators in the accommodation sector. According to the report, occupancy rates, up +2.4% alongside a +1.2% rise in daily rates, contributed to a +3.6% growth in revenue per available room (RevPAR). Interestingly, it notes, destinations in Southern Mediterranean Europe reported faster growth in arrivals than in overnights, highlighting a trend in shorter stays.
After the strong 2017 performance, the report predicts European travel demand to remain on a growth trajectory supported by a range of source markets with strengthening economic conditions in the Eurozone underpinning travel demand from key intra-regional source markets such as Germany, France and the UK.
The report says Germans are likely to continue travelling more this year "as low unemployment and wage gains supports private consumption". Last year, German demand for Turkish holidays, however, slumped (-8%) as German holidaymakers headed instead to south-eastern European destinations like Montenegro, Slovenia and Serbia. In France, it says, a rebound in tourism is supporting economic growth in the country which in turn "contributes to increasing numbers in tourist arrivals across many European destinations". In the UK, it says weaker exchange rates "seem not to have hindered British tourists' desire to travel" and although travel abroad has become more expensive for Britons, a clear majority of destinations have still reported double-digit increases in arrivals from the UK.
CHART – Hotel occupancy growth was recorded by countries across all of Europe with only one or two exceptions recording reductions in average daily room rates (ADR) or revenue per available room (RevPAR)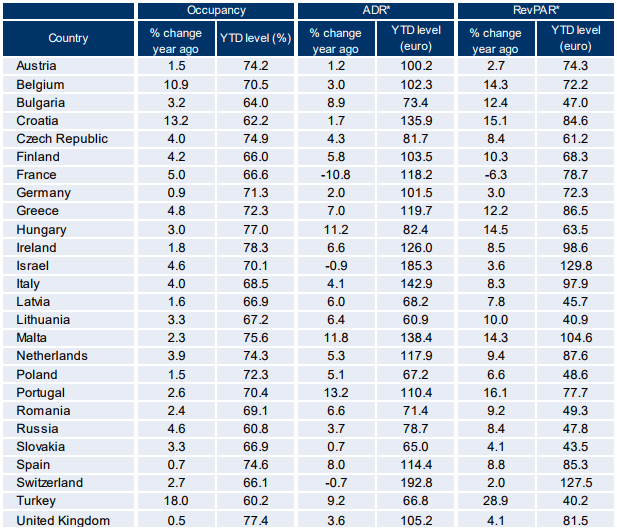 Source: STR
Having proven resilient to global challenges such as terror attacks and geopolitical woes last year, ETC says the outlook for European tourism in 2018 "remains positive". Global tourism demand grew for the eighth consecutive year in 2017, with rising travel to European destinations in each of these years. This is longer than the previous growth period from 2001-08, and comes close to the period of expansion in 1991-2000, notes the ETC report.
Further growth is expected in 2018 and the current upturn "will not simply die of old age," says ETC, but it does warn "growth rates may well moderate". However, economic growth is expected to continue into 2018 for most source markets and will certainly fuel further travel demand, albeit with a growth rate of around 3-4% this year.
"Overall, a continuation of travel growth is expected for European destinations into 2018. The increase in economic demand and wealth will be enough to offset any rising costs. But the premium of travel over economic growth will slow. Both long-haul and short-haul markets are set to slow from the stellar growth of 2017," says ETC.
According to the report, key trends for travel to Europe from major source markets in 2018 will see the Eurozone economic boom support continued travel growth; a slowdown in travel growth from the UK; USA travel growth to slow moderately; arrivals growth from China to remain strong and roughly consistent with the average growth; and Russia to be one of the fastest growing source markets again.
READ MORE: view the full European Travel Commission Quarterly Report (Q4/2017)