While 2017 will be remembered generally for hotel performance being on the rise across nearly every world region in 2017, Europe was the clear leader in terms of growth. "The region has seen substantial growth in both tourism and corporate business, and has remained resilient in the face of several terror attacks, with increasingly shorter turnaround periods needed for performance recovery," explains Robin Rossmann, managing director, STR.
The company's year-end data shows occupancy across the Continent rose +2.4% in 2017 to 71.9% with ADR up +3.1% to EUR110.51 and RevPAR increasing +5.6% to EUR79.46.
CHART - In addition to rising 2.4% over 2016, Europe's occupancy level in 2017 was nearly 10% higher than the previous peak in 2008, which came before the global financial crisis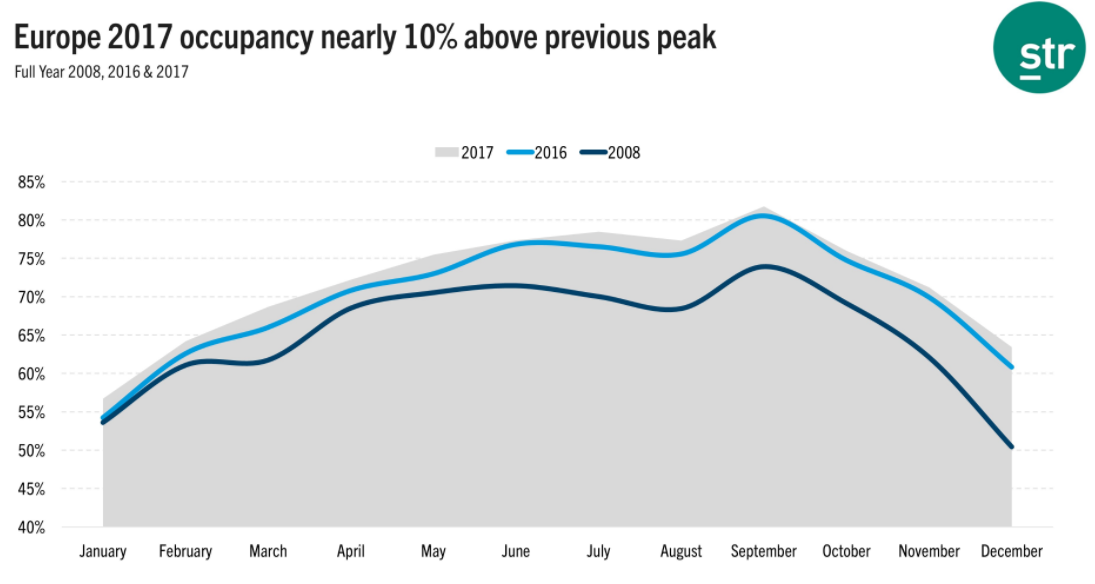 Source: STR
The performance suggests Europe has benefited from a limited supply growth in many markets, which coupled with steady demand growth, has allowed hotel operators "to capitalise on heightened occupancy levels by driving rate growth," says STR. Its data shows that during the months of July, August and September 2017, Europe recorded double-digit ADR growth compared with those same months in 2008.
STR notes that several key European cities have seen substantial uplifts in high compression nights between 2008 and 2017, meaning there have been more nights where occupancy levels have exceeded 90%, allowing for hotel operators to drive higher rates as the remaining rooms available become more valuable.
CHART - Occupancy growth at hotels across Europe is helping to drive up the ADR rates as the remaining rooms available become more valuable to hoteliers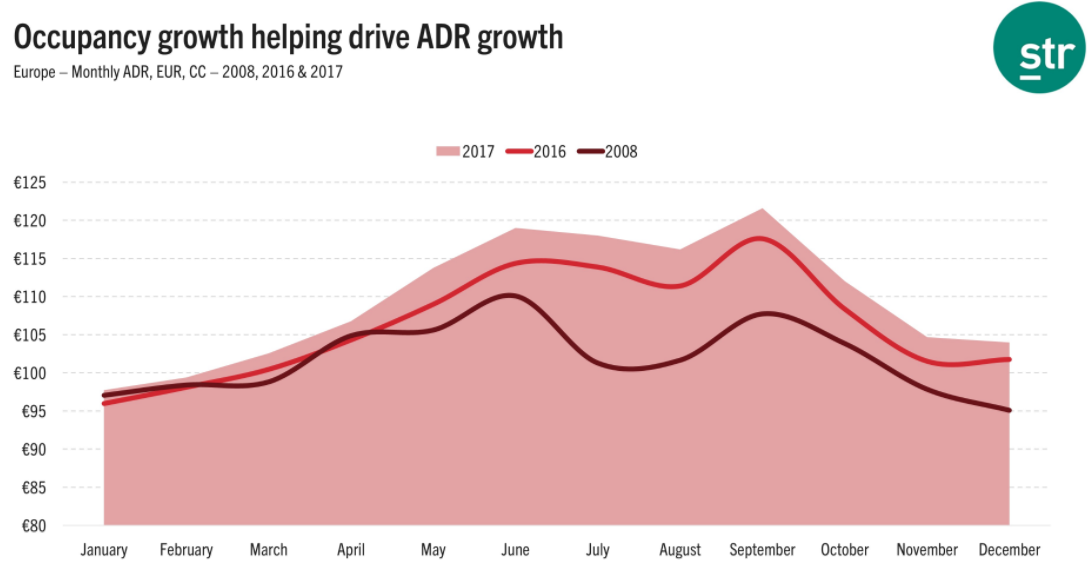 Source: STR
In addition to an increased amount of high compression nights, it says there has been a substantial increase in rate premiums charged on those nights. "London, for example, recorded roughly 75 nights with occupancy above 90% in both 2008 and 2017, but the market's ADR premium rose from 22% in 2008 to 33% in 2017. Dublin reported a dramatic increase in both the number of high compression nights, up from 14 in 2008 to 145 in 2017, and in its ADR premium, up from 25% in 2008 to 41% in 2017," says STR.
Looking at the year ahead STR projects strong performance growth in a number of key European cities, with Moscow, Athens, Paris, Brussels, Amsterdam, Madrid and Prague all expected to see RevPAR growth above +6%, mainly as a result of ADR growth. Paris' performance will likely be "driven by demand growth," says STR, as the market continues to see "increased tourism from terror attacks in recent years". Berlin hotels are expected to record a RevPAR increase around 5%, again mainly driven by growth in ADR.
After benefiting from the 'Brexit boost' of a weakened pound sterling following the UK's June 2016 EU Referendum, London's hotel performance has slowed in recent months as the sterling has recovered substantially against the dollar," says STR. Although London's demand (room nights sold) is expected to "continue growing," it will "likely be outweighed by supply growth," says STR, as the city's hotel inventory continues to expand. It predicts that ADR growth should still help the UK capital achieve year-end RevPAR growth around 2%.