In general travellers are looking to places which promise year-round warmth, such as the Middle East, Caribbean or South-East Asia. Or they're looking to the summer of the southern hemisphere, in places like Australia, New Zealand, Southern Africa or South America.
Latest research from online travel company Skyscanner highlights just how significant that seasonal shift in demand from European travellers can be. While, Spain and USA remain the top two markets year-round (the former due to stronger city break demand, together with winter sun options to the Canary Islands; the latter due to the diverse mix of travel options across the country), many others see significant shifts in demand.
Using its Travel Insight data tool that analyses the behaviour of 100 million users of the platform every month it has been able to make some observations about travellers and their habits. On the seasonality side it identifies that during the winter of 2018/19, 40% of all passengers were on long-haul flights from Europe – an increase from 31% in summer 2019.
The Skyscanner insight notes that on average, there's a longer lead time with long-haul travel, meaning the pre-season mix was even higher - with 40% of all passengers on long-haul trips. It's also interesting to see in its analysis that for winter 2019/20, the pre-season mix for long haul increased to 52% - up 4% on the same time last year.
CHART – There are significant shifts in destination country rankings between summer and winter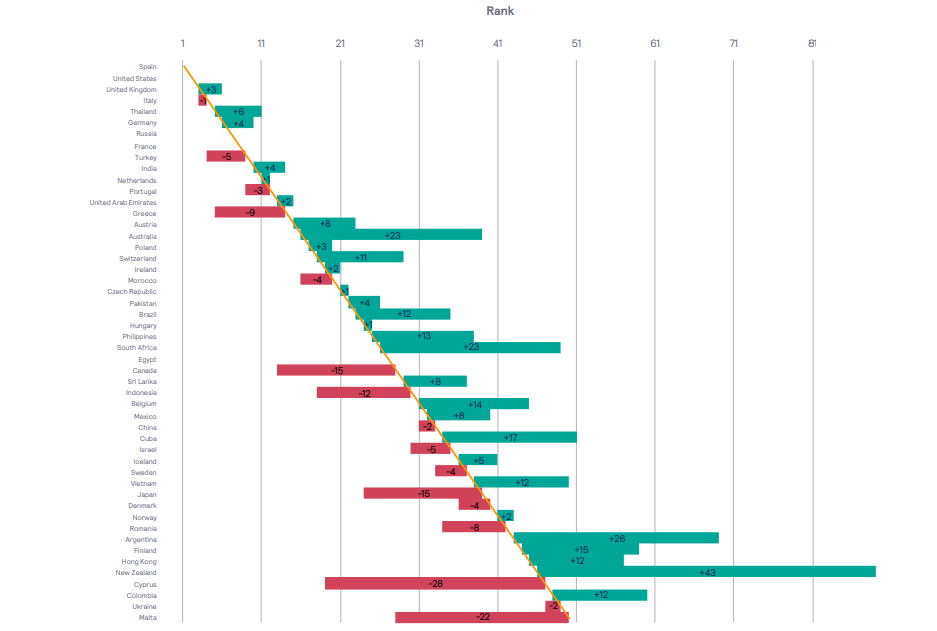 Source: Skyscanner
The seasonal shift between countries is more sizeable. Strong Mediterranean summer destinations drop significantly in the winter, examples include Greece (-9), Cyprus (-28), Malta (-22), Turkey (-5) and Portugal (-3). Similarly, winter demand for southern hemisphere countries in their summer period is reflected in jumps for Australia (+23), Brazil (+12), South Africa (+23), Argentina (+26) and New Zealand (+43).
Other long-haul destinations with a consistent year-round climate also attract more demand in the winter, such as Thailand (+6), UAE (+2), India (+4), Philippines (+13), Sri Lanka (+8), Mexico (+8), Cuba (+17) and Vietnam (+12).
Skyscanner's analysis highlights that northern European countries such as the UK, Germany, Belgium are less seasonal destinations so actually see an increase in their rankings during winter as large summer sun destinations drop away. It also highlights that not everyone is after heat – there are positives for countries that offer winter sports, such as Switzerland (+8), Austria (+11), Norway (+2) and Finland (+15).
The Blue Swan Daily's own analysis of European flight schedules from OAG for summer 2019 and winter 2019/2020 shows that system capacity has reduced by a fifth (-20.9%) between the two seasons, losing a million seats a day and falling from an average of 4.9 million seats per day to 3.9 million seats per day. The current winter schedules are down slightly (-0.2%) on winter 2018/2019.