---
Summary:
EVA Air took delivery of its first 787-9 at the start of Oct-2018 and plans to place it into service this week on the Taipei-Hong Kong route;
The airline plans to initially fly its 787-9s on regional routes within North Asia but will deploy the new type on long haul routes to Amsterdam and Vienna in 2019;
The transition from 777-300ERs to 787-9s in these European markets will result in a capacity reduction and a withdrawal of a premium economy option.
---
EVA Air took delivery of its first 787-9 on 2-Oct-2018 and is placing the aircraft into service on 1-Nov-2018, operating the Taipei-Hong Kong route. EVA also plans to operate 787-9s from Taipei to Osaka Kansai and Tokyo Narita by the end of 2018.
It currently has up to nine daily flights on Taipei Taoyuan-Hong Kong, which is the world's largest international route. Three flights will be operated with 787-9s by the end of November, at which point EVA will have two 787-9s in its fleet. EVA has two daily flights on Taipei Taoyuan-Tokyo Narita and four daily flights on Taipei Taoyuan-Osaka Kansai; EVA has scheduled one 787 flight on each route for December.
The Taiwanese carrier plans to take delivery of another two 787-9s in 2019 and mainly use the new fleet of four 787-9s on long haul flights to Europe. EVA has four destinations in Europe – Amsterdam, London, Paris and Vienna – which are all currently served with 777-300ERs.
Paris CDG is currently served with a nonstop daily flight from Taipei; London Heathrow is served with a daily one-stop service via Bangkok; and Amsterdam is served three times per week via Bangkok. Vienna is served three times per week nonstop from Taipei and four times per week one-stop via Bangkok.
EVA's president Clay Sun said on the sidelines of the recent Association of Asia Pacific Airlines (AAPA) Assembly of Presidents that the carrier plans to operate 787-9s to Amsterdam and Vienna. He added EVA will maintain three weekly flights to Amsterdam as it is unable to add frequencies due to bilateral limitations. It will continue to serve Amsterdam via Bangkok while Vienna will continue to be served with the same mix of nonstop and one stop flights.
The transition from 777-300ERs to 787-9s will result in a reduction in capacity for the Amsterdam and Vienna markets. EVA has configured its 787-9s with 304 seats (278 economy and 26 lie flat business) while its 777-300ERs have 323, 333 or 353 seats depending on the aircraft (all three configurations have lie flat business seats, premium economy and regular economy).
CHART - EVA Air has a sizeable premium economy offer versus the world average, but its 787-9s are configured with just business class and economy seats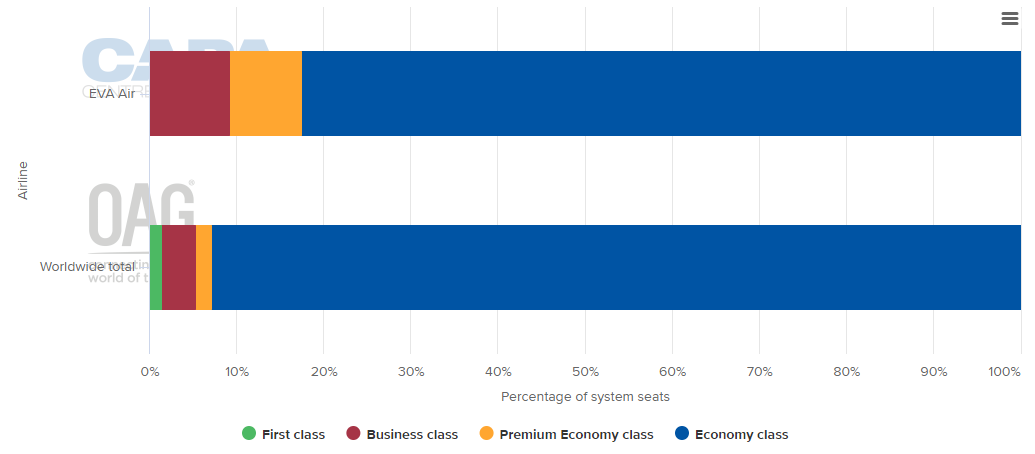 Source: CAPA - Centre for Aviation and OAG
EVA will also no longer offer premium economy in the Amsterdam and Vienna markets once it transitions to 787-9s. EVA was a pioneer with premium economy, having introduced the product in 1992, and currently offers premium economy on all its flights to Europe and North America as well as some flights within Asia.
While EVA's premium economy has been very successful it has not done well in all long-haul markets. Amsterdam and Vienna are relatively thin European markets where EVA believes it is better off with smaller more efficient aircraft without premium economy. EVA will continue to operate larger three-class 777-300ERs on the thicker London and Paris routes and to all eight of its North American destinations.
EVA also has 20 of the larger 787-10 variant on order which are slated to be delivered from 2Q2019 to 2022. However, it plans to only use the 787-10 on regional routes within Asia Pacific. At least for now EVA intends to have just four 787-9s. A larger fleet would be sensible as it would enable EVA is launch new thin long-haul routes and also more efficiently serve existing thinner North American destinations.