---
Summary:
Bahrain ranked as the best country for expatriate life in 2017 edition of Expat Insider, produced by InterNations.
After Bahrain, Costa Rica and Mexico make up the top three after ousting Taiwan, Malta and Ecuador from last year's podium places.
Malaysia, Norway, Portugal, Denmark, Kazakhstan and Sweden see biggest rise in latest annual edition of the report.
Australia sees the largest fall in the ranking (down from 7th to 34th), while Poland, Ukraine, Ecuador, Panama, Uganda and United Kingdom also slip significantly down the rankings.
Czech Republic ranked the best country for expats working abroad, ahead of New Zealand, Bahrain, Luxembourg and Malta.
---
The ranking of 65 destinations, now in its fourth year of publication, is based on how cities and countries were rated across more than 40 individual factors that influence an expat's experience of living in a foreign country in a survey of more than 12,500 respondents representing 166 nationalities and living across 188 countries. With more than 55 million expats worldwide the community is a key part of the corporate travel sector and underpin many leading travel flows across the globe.
Manama and Bahrain is an unlikely winner. Located between the Qatar peninsula and the north eastern coast of Saudi Arabia, to which it is connected by the 25 km King Fahd Causeway, it barely made the top 20 (19th place) last year, but improvements across all indices that factor into the ranking has seen the Gulf state take poll position in 2017.
"Bahrain really excels in making expats feel at home," says the report. The country tops the 'Ease of Settling in Index'. It also comes first for being able to get by without learning the local language. In fact, a quarter of expats say they started feeling at home almost straight away. It also ranks highly for careers. Not only does it rank third in the 'Working Abroad Index', it is also second in the 'Job & Career' as well as the 'Work-Life Balance subcategory.
Following Bahrain in the overall rankings were Costa Rica and Mexico. Costa Rica was rank first in the 'Finding Friends' subcategory, actually taking top spot for every question, as well as in the top ten for three of the five indices: 'Quality of Life', 'Ease of Settling In' and 'Family Life'. Mexico, maintaining its record of ranking in the top five in each of the annual surveys, was also ranked in the top five across indices: 'Ease of Settling In', 'Personal Finance' and 'Cost of Living'.
The three nations have replaced Taiwan, Malta and Ecuador at the top of the ranking, but it is Australia that has seen the largest fall from grace slipping 27 places from seventh in 2016 to 34th position, where a notable fall in the 'Working Abroad Index' and the 'Work-Life Balance' subcategory influenced its annual performance. However, a closer look at the numbers does not show a startling decline and the fall may simply be due to stronger performance from other countries.
CHART - Alongside Bahrain ranking number one in the country category, its capital Manama was ranked top of the Expat City Ranking 2017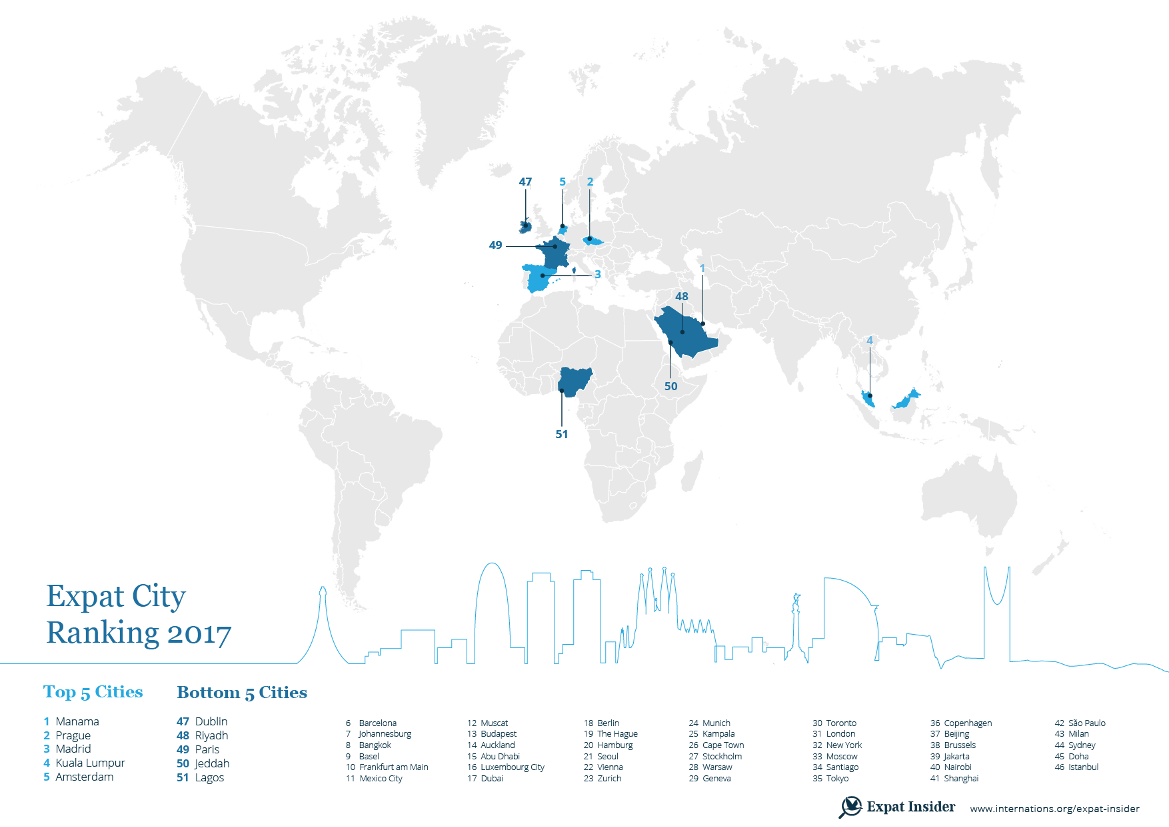 Source: InterNations - Expat Insider 2017
Other fallers in the survey in 2017 were Poland (down 25 to 49th), Ukraine (down 25 to 59th), Ecuador (down 22 to 25th), Panama (down 21 to 36th), Uganda (down 21 to 46th) and United Kingdom (down 21 to 54th). The biggest risers were Malaysia (up 23 to 15th), Norway (up 23 to 20th) and Portugal (up 23 to 5th). Denmark (up to 30th), Kazakhstan (up to 35th) and Sweden (up to 22nd) all also rose 20 places in 2017.
While there has been plenty of movement at the top of the rankings, Kuwait and Greece have found themselves in the bottom three for four consecutive years, and Nigeria has been in the bottom three since 2015. Finances and family life are causing headaches for expats in Greece, quality of life still remains a struggle in Kuwait which comes last for leisure options and personal happiness, while quality of life is also an issue in Nigeria, which comes last place in the 'Travel & Transport', 'Health & Well-Being' and 'Safety & Security' indices.
CHART - The Expert Insider 2017 ranking says expats can be sorted into one of ten different categories
Source: InterNations - Expat Insider 2017
Looking more closely at the 'Working Abroad' category and it is the Czech Republic that comes out as the number one destination for expats. The report shows three quarters of respondents are satisfied with their jobs, eleven percentage points more than the global average. About two in three expats also rate their career opportunities positively.
In the subcategories, Vietnam, Bahrain, Cambodia, Czech Republic and Kazakhstan lead for 'Job & Career'; Denmark, Bahrain, Norway, Czech Republic and New Zealand for 'Work-Life Balance'; and Luxembourg, Germany and Switzerland, Netherlands and Malta for 'Job Security'.
DOWNLOAD the full report: Expat Insider 2017